An anonymous tip from December of 2020 aged exceptionally well, with bad repercussions for the female fertility in girls born to both Covid-19 vaccinee parents.
Although it has been reported on by Igor Chudov a few days ago, I would like to add a bit more beef to this uncorroborated (so far) information, as it is the news no one wants to believe, but it deserves further investigation for the reasons outlined below.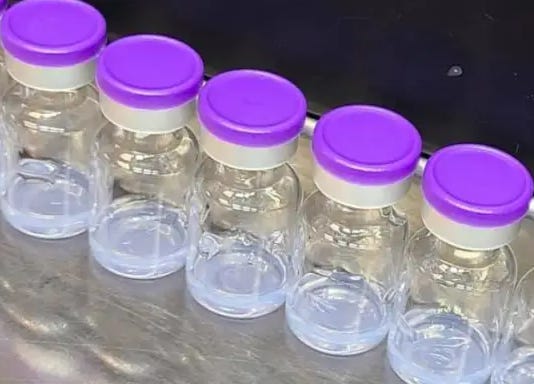 The original Moderna insider tip from Dec. 2020, from two anonymous engineers working there, goes like this:
I'm an industrial engineer at Moderna and the other one of us is a process development engineer. I'm sure the same thing is happening with Pfizer-BioNTech. It was hard to put things together based on the small quantities of additions happening in manual step (highly unorthodox for a continuous process production). The explanation we got was highly sensitive trade secret adjuvants being added. Digging in deeper showed how sensitive it actually was. Most people's understanding of this novel vaccine type is that it works as follows:`

Make mRNA coding for S protein
Make lipid nanoparticle delivery system
Profit

How it actually works from what we've uncovered:

Make mRNA coding for S protein
Make mRNA coding for mutant versions of CYP19A1 and CDKN1B in smaller amounts
Make sure that while delivery system for (1) mostly ends up in liver, most of (2) ends up in the gonads
Make sure form and quantity of additive upregulating LINE-1 reverse transcription activity makes it hard to detect among legit adjuvants
Effects from (2) integrated by (4) are recessive; mildly oncogenic effects in vaccine recipients unlikely to be noticed for many years
(5) recessive but since most of population vaccinated, in next generation female offspring have premature ovarian failure
The beef of this tip is that, in addition to the mRNA code for S spike, the vaccine vials will contain additional mRNA that codes both for a mutant version of CYP19A1 and a mutant version of CDKN1B. Both these mutant proteins are implicated in the female infertility issues. From the advantage of hindsight in March 2022, this information is credible for the following reasons:
2017: HCG Found in WHO Tetanus Vaccine in Kenya Raises Concern in the Developing World. Baby-Killing Vaccine: Is It Being Stealth Tested?: During the early 1990s, the World Health Organization (WHO) has been overseeing massive vaccination campaigns against tetanus in a number of countries, among them Nicaragua, Mexico, and the Philippines. In October 1994, Human Life International (HLI) received a communication from its Mexican affiliate, the Comite Pro Vida de Mexico, regarding that country's anti-tetanus campaign. Suspicious of the campaign protocols, the Comite obtained several vials of the vaccine and had them analyzed by chemists. Some of the vials were found to contain human chorionic gonadotrophin (hCG), a naturally occurring hormone essential for maintaining a pregnancy. Here are the known facts concerning the tetanus vaccination campaigns in Mexico and the Philippines:

Only women are vaccinated, and only the women between the ages of 15 and 45. (In Nicaragua the age range was 12-49).
Human chorionic gonadotrophin (hCG) hormone has been found in the vaccines.
The vaccination protocols call for multiple injections-three within three months and a total of five altogether. But, since tetanus vaccinations provide protection for ten years or more, why are multiple inoculations called for?
Allied with the WHO in the development of an anti-fertility vaccine (AFV) using hCG with tetanus and other carriers have been UNFPA, the UN Development Programme (UNDP), the World Bank, the Population Council, the Rockefeller Foundation, the All India Institute of Medical Sciences, and a number of universities, including Uppsala, Helsinki, and Ohio State.[5] The U.S. National Institute of Child Health and Human Development (part of NIH) was the supplier of the hCG hormone in some of the AFV experiments.
Again, a corroboration of the thrust of the allegations by the Moderna insiders.
The strange, irrational drive to vaccinate every last person on Earth, especially children and pregrant women, with the untested and clearly dangerous injections is another huge red flag as to the true goals of the Covid-19 vaccination of the world population. Especially that the population control has been a holy grail for the eugenicist cabal since the 19th century, and in the form of vaccines, no less. Read my post Going for Jugular Take 2 - All Ducks in Row (Dec. 2021) for complete, more or less, disclosure.

The new plant-based Canada-made non-mRNA vaccine still contains LNP material, for some inexplicable reason. Or should we suspect that it will also contain fertility-harming mRNA?
So, lots of indirect evidence that the Moderna insiders are trustworthy and that their whistle blowing deserves all the attention it can garner. In the form of vial analysis and vaccinee testing, for starters.
In the meantime, this post should serve as a fair warning and one of the elements on which to base your informed decision as to whether to accept any vaccine in 2022 and going onward. Or any injection, for that matter, from your caring health authorities and governments.