On January 8, 2023 the US has to release a federal prisoner who is known as one its most notable opponents of treatment of Cuba since its revolution. She is Ana Belén Montes, and she will be freed after over 21 years in a federal military prison.
She was a top official on Latin America in the Defense Intelligence Agency (DIA) who, solely out of moral conviction, gave Cuba information on top secret US military plans and operations. Unrepentant in her trial, she defended herself saying, "I obeyed my conscience rather than the law. … I felt morally obligated to help the island defend itself from our efforts to impose our values and our political system on it."
Ana Belén is one of the many Americans who have taken a moral stance in opposition to the actions of their government, and who were subsequently hunted as traitors or spies. Edward Snowden was another such figure, having exposed how the National Security Agency's spying on the US population and leaders of other countries. Rather than spend much of his life in a federal prison, Snowden has opted to live in exile in Russia.
While the US movement in defense of Cuba did not champion the case of Ana Belén as with the very similar situation of the Cuban Five, she is recognized as a hero in Cuba. In 2016, the famed Cuban singer-songwriter Silvio Rodriguez dedicated a song to her, explaining, "The prisoner I mentioned yesterday… is Ana Belén Montes and she was a high official of the US secret services. When she knew that they were going to do something bad to Cuba, she would pass on the information to us. That is why she is serving a sentence of decades…Much evil did not happen to us because of her. Freedom for her."
Silvio Rodríguez le dedicó esta canción a la presa política del imperialismo Ana Belén Montes, quien saldrá libre este fin de semana después de pasar 20 años de prisión en aislamiento total #FreeAnaBelen #FreeLeonardPeltier #FreeJulianAssange #FreeAlexSaab pic.twitter.com/4OphzkUXVp

— Roi Lopez Rivas (@RoiLopezRivas) January 4, 2023
Ana Belén did not receive any money from Cuba for her 16 years of work. Knowing the dire risks she faced, she acted out of a belief in justice and solidarity with Cuba. For over 60 years, the country has suffered under a US blockade – repeatedly condemned by the United Nations – imposed in retaliation for choosing national sovereignty over continued neocolonial status. US supported terrorism against Cuba has killed 3,478 and caused 2,099 disabling injuries over the years.
One of the charges brought against Ana Belén was having helped assure Bill Clinton and George W. Bush that Cuba represented no military threat to the US, and therefore contributed to avoiding another US regime change war that would have meant the death of countless Cubans. She also acknowledged having revealed the identities of four American undercover intelligence officers working in Cuba.
"The Queen of Cuba" hailed from a family of feds
Born in West Germany on February 28, 1957, a Puerto Rican citizen of the United States, and a high official in the Defense Intelligence Agency, Ana Belén was convicted as a spy for alerting Cuba to the interventionist plans that were being prepared against the Cuban people.
In 1984 while working as a clerk in the Department of Justice, Ana Belén initiated her relationship with Cuban security. She then applied for a job at the DIA, the agency responsible for foreign military intelligence to the Secretary of Defense and the Joint Chiefs of Staff. The DIA employed her in 1985 until her arrest at work 16 years later. She became a specialist in Latin American military affairs, was the DIA's principal analyst on El Salvador and Nicaragua, and later Cuba.
Because of her abilities, Ana Belén became known in US intelligence circles as "the Queen of Cuba". Her work and contributions were so valued that she earned ten special recognitions, including Certificate of Distinction, the third highest national-level intelligence award. CIA Director George Tenet himself presented it to her in 1997.
"She gained access to hundreds of thousands of classified documents, typically taking lunch at her desk absorbed in quiet memorization of page after page of the latest briefings," which she would later write down at home and convey to Cuba.
Avoiding capture through discretion, until the intercept came
On February 23, 1996, the Cuban Ministry of Defense asked visiting American Rear Admiral Eugene Carroll to warn off Miami Brothers to the Rescue planes that planned to again fly over Havana. Carroll immediately informed the State Department.
Instead of ending the provocations, the US let the planes fly, and two "Brothers to the Rescue" planes were shot down over Cuba the next day. The US exploited the flare-up to sabotage the growing campaign to moderate the US blockade of the island. The US official who arranged Admiral Carroll's meeting was Ana Belén. Her explanation that the date was chosen only because it was a free date on the Admiral's schedule was accepted.
Nevertheless, a DIA colleague reported to a security official that he felt Ana Belén might be under the influence of Cuban intelligence. He interviewed her, but she admitted nothing. She passed a polygraph test.
Ana Belén had access to practically everything the intelligence community collected on Cuba, and helped write final reports. Due to her rank, she was a member of the super-secret "inter-agency working group on Cuba", which brings together the main analysts of federal agencies, such as the CIA, the Department of State, and the White House itself.
The Washington Post reported, "She was now briefing the Joint Chiefs of Staff, the National Security Council and even the president of Nicaragua about Cuban military capabilities. She helped draft a controversial Pentagon report stating that Cuba had a 'limited capacity' to harm the United States and could pose a danger to U.S. citizens only 'under some circumstances.'"
Rolando Sarraff Trujillo, a US agent in Cuba's Ministry of Interior that Cuba had uncovered and imprisoned, was released and traded for three of the Cuban 5 in 2014. He had "provided critical information that led to the arrests of those known as the "Cuban Five;" of former State Department official Walter Kendall Myers and his wife, Gwendolyn Steingraber Myers; and of the Defense Intelligence Agency's top Cuba analyst, Ana Belén Montes."
In 1999 the National Security Agency intercepted a Cuban communication. It revealed a spy high in the hierarchy, who was associated with the DIA's SAFE computer system. It meant the spy was likely on staff of the DIA. The suspect had also traveled to Guantánamo Bay in July 1996. Coincidentally, Ana Belén worked in the DIA and had traveled to the Bay on DIA business. The spy was using a Toshiba laptop, and it was discovered she had one. A decision was taken to break into her flat and copy the hard drive.
Since the case being put together indicated she was providing information to Cuba, she was arrested by FBI agents on September 21, 2001 while in her DIA office. She was charged with conspiracy to commit espionage for Cuba. "She told investigators after her arrest that a week earlier she had learned that she was under surveillance. She could have decided then to flee to Cuba, and probably would have made it there safely." But her political commitment made her feel "she couldn't give up on the people (she) was helping."
Nigerian commentator Owei Lakemfa presented ten reasons he thought Ana Belén Montes avoided detection during her 16 years in the DIA. Among the most important was that she was extremely discreet and kept to herself. She lived alone in a simple apartment north of the US capital, and memorized documents, never taking any home. And she never received unexplainable funds.
Ironically, her brother was an FBI special agent, and her sister an FBI analyst who "played an important role in exposing the so-called Wasp Network of Cuban agents [the Cuban 5 and 7 others] operating in Florida."
Ana Belén avoided the death penalty for high treason, highly likely in the post September 11 atmosphere, by pleading guilty before the US federal court handling her case. Since she acknowledged her conduct, and told the court how she worked, she was sentenced to "only" twenty-five years. However, she was imprisoned in conditions designed to destroy her, as the case with Julian Assange today. She was sent to special unit of a federal prison for violent offenders with psychiatric problems.
"I obeyed my conscience rather than the law"
In her October 16, 2002 trial statement, she declared that she obeyed her conscience:
"There is an Italian proverb that is perhaps the one that best describes what I believe: The whole world is one country. In that 'world country', the principle of loving your neighbor as much as you love yourself, is an essential guide for harmonious relations between all our 'nation-neighborhoods'.
This principle implies tolerance and understanding for the different ways of others. It mandates that we treat other nations the way we wish to be treated – with respect and compassion. It is a principle that, unfortunately, I believe we have never applied to Cuba.
Your Honor, I got involved in the activity that has brought me before you because I obeyed my conscience rather than the law. Our government's policy towards Cuba is cruel and unfair, deeply unfriendly; I feel morally obligated to help the island defend itself from our efforts to impose our values ​​and our political system on it.
We have displayed intolerance and contempt for Cuba for four decades. We have never respected Cuba's right to make its own journey towards its own ideals of equality and justice. I do not understand how we continue to try to dictate how Cuba should select its leaders, who its leaders cannot be, and what laws are the most appropriate for that nation. Why don't we let Cuba pursue its own internal journey, as the United States has been doing for more than two centuries?
My way of responding to our Cuba policy may have been morally wrong. Perhaps Cuba's right to exist free of political and economic coercion did not justify giving the island classified information to help it defend itself. I can only say that I did what I thought right to counter a grave injustice.
My greatest wish would be to see a friendly relationship emerge between the United States and Cuba. I hope that my case in some way will encourage our government to abandon its hostility toward Cuba and work together with Havana in a spirit of tolerance, mutual respect and understanding.
Today we see more clearly than ever that intolerance and hatred – by individuals or governments – only spreads pain and suffering. I hope that the United States develops a policy with Cuba based on love of neighbor, a policy that recognizes that Cuba, like any other nation, wants to be treated with dignity and not with contempt.
Such a policy would bring our government back in harmony with the compassion and generosity of the American people. It would allow Cubans and Americans to learn from and share with each other. It would enable Cuba to drop its defensive measures and experiment more easily with changes. And it would permit the two neighbors to work together and with other nations to promote tolerance and cooperation in our one 'world-country,' in our only world-homeland."
Brutal prison conditions aimed to destroy Ana Belén
Jürgen Heiser of the German solidarity Netzwerk-Cuba reported that "Ana Belén has been isolated in conditions that the UN and international human rights organizations describe as 'cruel and unusual punishment.' and torture. Her prison conditions were further exacerbated after her trial, when she was placed in the Federal Medical Center (FMC) in Carswell, outside of Fort Worth, Texas. The FMC is located on a US marine compound and previously served as a military hospital… It includes a high security unit set aside for women of "special management concerns" that can hold up to twenty prisoners. A risk of "violence and/or escape" are specified as grounds for incarceration in the unit. This is where the "spy" Ana Belén is being held in isolation, in a single-person cell."
Her cell neighbors have included one who strangled a pregnant woman to get her baby, a longtime nurse who killed four patients with massive injections of adrenaline, and Lynette "Squeaky" Fromme, the Charles Manson follower who tried to assassinate President Ford.
The Fort Worth Star Telegram has regularly covered the abuses against the women inmates at Fort Carswell Carswell prison, which has also housed two other political prisoners Reality Winner and Aafia Siddiqui. Detainees have suffered gross violations of their human rights, including documented cases of police abuse, suspicious deaths where the investigations into them have been blatantly obstructed, deaths due to the denial of basic medical attention, rape of prisoners by guards, and exposure to toxic substances. In July 2020, 500 of the 1400 prisoners had Covid. The Star Telegram reported "the facility showed a systemic history of covering misconduct up and creating an atmosphere of secrecy and retaliation…"
Ana Belén wrote, "Prison is one of the last places I would have ever chosen to be in, but some things in life are worth going to prison for, or worth doing and then killing yourself before you have to spend too much time in prison."
She has been subjected to extreme conditions in that prison, akin to those imposed on Assange. The Federal Bureau of Prisons has reported that:
She can only have contact with her closest relatives, since her conviction is for espionage.
No one can inquire about her health or know why she is in a center for people with mental problems, when she does not suffer from them.
She cannot receive packages. When her defenders sent her a letter, it has been returned by certified mail.
Only people on a list (no more than 20 who have known her before her incarceration and have been approved by the FBI) ​​can correspond, send books, and visit Ana. Few people have visited her besides her brother and niece.
She cannot interact with other detainees in jail, and was always alone in her cell.
She is not allowed to talk on the phone, except to her mother once a week for 15-20 minutes.
She could not receive newspapers, magazines or watch television. After a dozen years in prison, the restrictions were slightly relaxed.
Karen Lee Wald noted in 2012, "If she is taken out of her cell in the isolation unit for any reason, all other prisoners are locked in their cells so they cannot speak to her. Basically, she has been buried alive."
David Kovics, the renowned leftist songwriter, was moved to pay tribute to her in song. Oscar Lopez Rivera, who was jailed by the US during his fight for Puerto Rican independence, said, "I think that every Puerto Rican who loves justice and freedom should be proud of Ana Belén. What she did was more than heroic. She did what every person who believes in peace, justice and freedom and in the right of every nation to govern itself in the best possible way and without the intervention or threat of anyone, would have done."
After the Second World War, modern international law was established with the idea of countering "war propaganda" United Nations General Assembly Resolution 110 of November 3, 1947 and Resolution 381 of November 17, 1950 "Condemnation of propaganda against peace". International legislators, i.e. sovereign states, soon agreed that war could only be fought against by ensuring the "free flow of ideas" resolution 819 of 11 December 1954 "Strengthening of peace through the removal of barriers to free exchange of ideas".
In recent years, however, we have witnessed an extraordinary backsliding that deprives us of the thoughts of others, exposes us to war propaganda, and ultimately leads us to a global conflict.
This phenomenon began with the private censorship on social networks of the incumbent president of the United States, and continued with the public censorship of Russian media in the West. Now the thoughts of others are no longer seen as a tool to prevent wars, but as a poison that threatens us.
Western states are setting up bodies to "rectify" information that they consider falsified (Fake News)"The West renounces freedom of expression", by Thierry Meyssan. NATO is considering the creation of a unit, called Information Ramstein, which will be responsible for censoring not Russian information sources, but Russian ideas within the 30 member states of the Atlantic Alliance "A 'Ministry of Truth' soon to be created within NATO".
This is a complete reversal of the values of the Atlantic Alliance, which was founded in the wake of the Atlantic Charter, which incorporated President Franklin Roosevelt's "four freedoms". The first of these freedoms was the freedom of expression.
However, before the invention of the Internet, when the United States and the Soviet Union had just guaranteed the "free circulation of ideas" with the Helsinki Agreements, the United Nations and more particularly its agency in this field, UNESCO, were worried about "information imperialism". The technical superiority of the West allowed them to impose their view of the facts on developing countries.
In 1976, during the Nairobi conference, the UN raised the question of the functioning of the media with regard to "the strengthening of peace and international understanding, the promotion of human rights and the fight against racism, apartheid and incitement to war.
Former Irish Foreign Minister and Nobel Peace Prize winner Seán MacBride formed a 16-member commission at Unesco. It included the Frenchman Hubert Beuve-Mery (founder of Le Monde), the Colombian Gabriel García Márquez (Nobel Prize for Literature) and the Canadian Marshall McLuhan (communication theorist). The United States was represented by Elie Abel, then dean of the Columbia University School of Journalism, and Russia by the director of the Tass agency, Sergei Losev. Only the fifth and final part of the report (Communication Tomorrow) was the subject of a general debate. The MacBride commission discussed the draft of the other parts, but could not question their final wording. In any event, its report, issued in 1978, seemed to be a consensus.
In fact, by pointing out that the same facts can be perceived differently and by opening up the question of the means of the media of the North and those of the South, he was opening a Pandora's box. At the same time, Unesco was confronted with the propaganda of the South African apartheid regime and the propaganda of Israel, which denies Muslim and Christian cultures. In the end, the United States and the United Kingdom ended the debate by withdrawing from Unesco. We know today that the British Empire had ensured its intellectual domination by creating news agencies. Whitehall closed the Information Research Department (IRD) just before the MacBride report was published "Britain's secret propaganda war, Paul Lashmar & James Oliver, Sutton". But the war against Syria has shown that the whole system has been reconstituted in another form "The fabrication of the myth of the "Syrian revolution" by the United States. Westerners continue to falsify information at its source.
In forty years, the media landscape has been transformed: the emergence of international television news channels, websites and social networks. At the same time, there has been a huge concentration of media in the hands of a few owners. However, none of the problems listed in 1978 have changed. On the contrary, with the unipolar world, they have become worse.
The journalistic profession today consists of either writing agency reports or contextualizing the news for the media. News agencies are factual and unsourced, while the media offer commentary and analysis by referring to news agencies. Contextualization requires a great deal of historical, economic and other knowledge, which today's journalists are largely lacking. The immediacy of radio and television does not give them the time to read books and even less to consult archives, except during in-depth investigations. Commentary and analysis have thus become considerably impoverished.
The dominant ideology in the West, which tends to become "global", has become a religion without God. There are now only two camps: that of the Good and that of the apostates. Truth is determined by a consensus among the elites, while the people reject it. Any criticism is considered blasphemous. There is no more room for debate and therefore for democracy.
The alternative press has become just as poor because it relies on the same data as the international media: news agency reports. It is indeed enough to control AFP, AP and Reuters to impose a vision of the facts on us. You can season it according to this or that tendency, Republican or Democrat, conservative or progressive, etc., but it will always be the same dish.
Since the September 11 attacks, those who challenge the official version of events have been called "conspiracy theorists ». Since the election of Donald Trump, those who contest the data of press agencies are accused of distorting reality and imagining Fake News. Journalists, after refraining from relaying the thoughts of "conspiracists", i.e. dissidents, try to correct Fake News with Checked News.
Yet, at the same time, belief in the versions of the mainstream media has collapsed. In the United States, the Gallup Institute has been measuring trust in the print media since 1973 and in the broadcast media since 1993. Trust in newspapers has fallen from 51 percent to 16 percent, and trust in radio and television has fallen from 46 percent to 11 percent.
The only solution is to increase the number of news agencies, i.e. the sources of information. Not to make them numerous, but diverse. Only then will we realize that the way an event is reported determines the way we think about it.
For example, today the three news agencies mentioned above present the conflict in Ukraine as a "Russian invasion". They claim that Moscow has not been able to take Kiev and overthrow President Zelenky, but commits war crimes every day. This is one way of looking at it. We don't have the means to publish dispatches all the time, but we publish a weekly identical bulletin. Our criterion is different. We refer to "International Law" and not to Western "rules". Therefore, we describe the same conflict as the application of the Security Council resolution 2202 and the "responsibility to protect" the oppressed populations since 2014. The events are the same, but for some the way they tell them leads to think that the Russians are wrong, while ours leads to think that the Russian position is legal. To tell the truth, there is another difference: we interpret the facts over time. For us and for the Security Council, there has been a civil war in Ukraine for eight years with 20,000 deaths, the three major agencies pretend to ignore it. For us, the "integral nationalists" have a long criminal history, having cost the lives of 4 million of their fellow citizens, the Western agencies also pretend to ignore it "Who are the Ukrainian integral nationalists?".
This difference can be applied to all subjects. For example, the major news agencies tell us that the West has imposed sanctions to punish Russia for invading Ukraine. We do not read events in this way. Once again, referring to "International Law" and not to Western "rules", we note that the decisions of the Anglo-Saxons and the European Union violate the UN Charter. These are not "sanctions", since there has been no judgment, but economic weapons to wage war against Russia, just as castles were besieged in the past to starve those who had taken refuge there.
Each difference in the interpretation of events provokes another. For example, when we point out that the Western pseudo-sanctions have not been endorsed by the Security Council, we are told that this is quite normal since Russia has a veto right in the Council. This is to forget why the UN was organized the way it was. Its purpose is not to say what is right, but to prevent wars. This is precisely what allowed the Council to adopt resolution 2202 to resolve the civil war in Ukraine. However, the West, despite the commitment of Germany and France, did not apply it, forcing Russia to intervene.
We could go on endlessly with this double reading. The important thing to remember is that the presentation of the facts radically changes the way they are perceived. To conclude, I invite you to found news agencies that describe the facts in their own way and not in the way of our leaders. It is in this way and not by glossing over biased information that we will regain our lucidity.
Hello, Mr. Waters! I read your answer to a girl from Ukraine and once again realised two things: the first one is that, unfortunately, Western media and politicians ignore the truth and say only what is beneficial to them, and the second one is that they are trying to deceive you, Mr. Waters. Politics is dirt. And when politicians – no matter from which country – cannot resolve the issue peacefully, the military comes.
My name is Faina. I am a little bit younger than Alina – I'm 13 years old. And I could also ask you to talk about the war in Ukraine, but not the one that began at the end of February, but the one that has lasted for 8 years and which, apparently, this girl did not guess about.
For 8 years now, Ukraine has been shelling Donbass, killing civilians with ease – the elderly, women and children. And all this time, the girl Alina was indifferent to our lives. Mr. Waters, I will not urge you to understand us, the residents of Donbass. But like you, we want peace more than anything in the world. This is our biggest dream for a long time, simply because we know what it's like to live in anticipation of the next shelling. If you think that Putin attacked Ukraine, accept the truth – Ukraine and the West have been killing us for 8 years and now Russia is protecting our lives. But is there anyone who is talking about this?
Now my friends/journalists living in Ukraine and calling for an end of the shelling of Donbass are forced to hide because of persecution by the same nationalists and the government of Ukraine.
Mr. Waters, I'm not asking you to change your mind about what's happening in Ukraine right now. Only time can show what was right and what was wrong. But you can't hide the truth. The wall of lies will surely collapse.
I wish you strength and health, and I ask you not to ban your works in Russia. Just because in this difficult time your songs help to believe that the war will end and life will win, as well as help many people cope with despair. Without peace in the heart, peace outside is impossible. Thanks.
With respect,
Faina Savenkova, 13 years old, writer and playwright, Lugansk
It's been raining incessantly for three days. It is a cool early morning in the beginning of July and I have just made a cup of coffee. Now an electrical power outage has occurred and so I am sitting in a rocking chair in the semi-darkness savoring my coffee and feeling thankful that I made it in time. I have a close relationship with coffee and the end of night and the break of day. As for time, that is as mysterious to me as the fact that I am sitting here in its embrace. The electric clocks have stopped. I think: To exist – how amazing!
More than the coffee, however, I am luxuriating in the sound of the tumbling rain. Its beautiful music creates a cocoon of peace within which I find temporary joy. The joy of doing nothing, of pursuing no purpose. Of knowing that whatever I do it will never be enough, for me or anyone, and the world will continue turning until time stands still, or whatever time does or is according to those who invented it. I will be gone and others will have arrived and the water will flow from the skies and the clocks will still tell people what they don't know – time – although they will continue to tell it.
Humans are the telling animals.
A few weeks ago, when this area was in a mini-drought, the local newspaper, in the typical wisdom of such cant, had a headline that said "there is a threat of rain later this week." They are experts at threats. This is the corporate media's purpose. Rain is a threat, joy is a threat, doing nothing is a threat, the sun is a threat – but the real threats they conceal. To create fear seems to be their purpose, as they do not tell us about the real threats. Their purpose is not to tell the truth, but if you listen closely you can hear it.
In the middle of the night I woke up to go to the bathroom, and outside the small bathroom window I watched the rain engulfing the lower roof and sluicing down the shingles in two heavy streams. I thought how the desiccated mind of the headline writer must be feeling now, but then I realized that he or she was asleep, as usual. There is a moist world and a dry one, and the corporate media is run by arid souls who would like to make the world a desert like their masters of war in Washington.
Then as I sit here my brief peace is roiled by the memory of reading Tacitus, the Roman historian, and his famous quote of Calgacus, an enemy of Rome:
These plunderers of the world [the Romans], after exhausting the land by their devastations, are rifling the ocean: stimulated by avarice, if their enemy be rich; by ambition, if poor; unsatiated by the East and by the West: the only people who behold wealth and indigence with equal avidity. To ravage, to slaughter, to usurp under false titles, they call empire; and where they make a desert, they call it peace.
I think of former Secretary of Defense Donald Rumsfeld on his recent deathbed. Here was a man whose entire life was dedicated to the American Empire. He spent all his allotted time making war or making money from the spoils of war. He was a desert maker, a slaughterer for the Empire. No doubt he died very rich in gold.
I can no longer hear the rain because my mind is filled with the loud thought of what Rumsfeld thought as he lay dying. Was he sorry? Did he believe in God or was his god Mars, the Roman god of war? Did he smile a bloody smile or say he was sorry and beg for forgiveness from all his innocent victims? Did he see the faces of the children of Iraq that he slaughtered? Or did he pull an Eichmann and say, "I will leap into my grave laughing"?
Your guess is as good as mine, but mine leans toward the bloody smile of a life well spent in desert making. But that is a "known unknown."
Rolling thunder and a lightning strike in the east jolt me back from my deaf dark thoughts. The sound of the rain returns. The coffee tastes great. Peace returns with the unalloyed gift of the ravishing rain.
Yet the more I sit and listen and watch it soundly stipple the garden and grass, the more thoughts come to me, as my father once told me: Thoughts think us as much as we think thoughts. It's what we do with our thoughts that count, he said, and like lightning, if we don't flash when we are given the gift of life, when we're gone, it will be as if we never were, like the lightning before it flashed.
Thomas Merton's prophetic words from his hermitage in the Kentucky woods in 1966 think me:
Let me say this before rain becomes a utility that they can plan and distribute for money. By 'they' I mean the people who cannot understand that rain is a festival, who do not appreciate its gratuity, who think that what has no price has no value, that what cannot be sold is not real, so that the only way to make something actual is to place it on the market. The time will come when they will sell you even your rain. At the moment it is still free, and I am in it. I celebrate its gratuity and its meaninglessness.
There are moments in many lives when, if one is lucky, they are initiated into a ritual that sustains them throughout life. To others these experiences can easily seem paltry and meaningless, but to the receiver they offer a crack into deeper dimensions of being and becoming. For me it was my introduction to coffee during a hurricane.
My father had driven my mother, three of my sisters, and me to Jones Beach on Long Island. This was before people checked the weather every minute. The sky in the southwest grew darker as we drove, but on we went. The beach was deserted except for some gulls and the parking lot empty. My father parked the car close to the beach and while my sisters and mother sat in the car, and my mother, listening to the weather reports, issued warnings to us, my father and I ran like wild dogs into the heavy surf despite her admonitions that the hurricane from the south was arriving sooner than expected. It started to rain hard. The surf picked up. We swam and got battered and shouted exultantly and came out shaking with the chills. A pure white sea gull landed on my wet head and my father laughed. Awe-struck, I stood stock still and my shaking stopped. In its mouth the sea gull held a purple ribbon, which it dropped at my feet as it flew off. I grabbed the ribbon and we jogged up to the concession building where there was one man working. My father ordered coffee and a hot chocolate for me. But they had run out of hot chocolate. So my father ordered two coffees and filled mine with three or four sugars. I had never sampled coffee and didn't like the smell, but my father said to drink it, with the sugar it will taste good and it will warm you up. It strangely tasted like hot chocolate. We toasted our adventure as I drank my Proustian madeleine at eleven-years-old.
I had put the ribbon on the counter as we drank. When we were going back to the car, I noticed there were words on the ribbon. They said: Rest in peace. I have long lost the ribbon but retain its message.
So now every morning between the end of night and the break of day, I sit with my coffee and listen. And even when it isn't raining, I watch the birds emerge from their nightly rests to greet the day with their songs. They tell me many things, and they are all free.
This morning I am wondering if Donald Rumsfeld ever heard them.
I suspect their message was an "unknown unknown" for him, just like the gift of rain. He preferred the rain of death from the skies in the form of bombs and missiles. He was only doing his job.
He made a desert and called it peace.
Ed Lehman is a Canadian Communist,and a comrade of mine. I don't say such things often or lightly, especially about Westerners. But he became my comrade, and we struggled shoulder to shoulder, for five days. Not in the South American wilderness, not in Afghanistan or Syria, but in Regina, a small Canadian city, the capital of theprovince of Saskatchewan.
I admit, before being invited there, I knew close to nothing about Regina. I did not even know how to pronounce it, correctly.But one day, an email arrived, and I was invited to become a keynote speaker at the Peace Conference there – in Regina. Spontaneously, I accepted.
The peace conference was called "Yes to Peace and Progress – No to NATO and War!"
I usually do not speak at peace conferences. I have always believed that oppressed and colonized countries have to fight for their independence and freedom, and that peace as it is propagated in the West is something that basically upholds thestatus quo. It is, as I mentioned in Canada, "when the bombs are not falling on Paris or Toronto". It is when the wretched of the earth are dying quietly and obediently, far away from camera lenses, in their looted countries and continents.
Actually, many peace movements in the West annoy me to the extreme. Their lack of sensitivity, as well as ignorance, are maddening.The desire of their members to 'do good' and 'feel good', is often self-serving, and has absolutely nothing to do with the struggle for justice in dozens of colonized, and plundered 'client' states.
But there was something very different in what I detected while reading the invitation from Regina. The organizers were actually talking about justice, not just about stopping conflict. They were full-heartedly defending Venezuela. And their main goal was to dismantle NATO, or 'at least' to convince Canadians that their country should not participate in the bloodstained 'adventures'which are ruining the lives of hundreds of millions of people all over the world. I felt that I was being approached by the real and solid Left. And therefore, without much hesitation, I accepted.
The program was mildly insane. In two Canadian cities – Regina and Winnipeg – I literally had to speak day and night, addressing the Peace Conference, a rally (called "No to NATO! No to "Regime Change Politics!" in downtown Regina in Victoria Park at the Cenotaph to the fallen soldiers of World War 1 and 2, Korea, and Afghanistan), as well as to students and professors at three universities and one high school. Simultaneously, Ihad to give interviews to both the printed media and radio stations. I was asked to show to the public two of my documentary films; one about North Korea (DPRK), and one about the devastating poverty and AIDS epidemic in the region of the African Great Lakes.
Why am I writing this; why do I give this detailed list of events? For one simple reason: it appeared to me that Canada is actually very different from the United States, despite its geographical proximity, and despite the fact it elected its embarrassingly right-wing government.
First of all, Canadians do listen. They may not always agree with Communist, revolutionary thinkers like me, but they do sit down, concentrate and listen to you. They want to know; to understand. That is already very impressive, in a world which is brainwashed by the Western propaganda.
...
Note: The International Plum Village Community of Engaged Buddhism has announced that Thich Nhat Hanh died on January 22, 2022, in Huế, Vietnam. The interview below with one of his senior disciples was first published in March 2019.
Thich Nhat Hanh has done more than perhaps any Buddhist alive today to articulate and disseminate the core Buddhist teachings of mindfulness, kindness, and compassion to a broad global audience. The Vietnamese monk, who has written more than 100 books, is second only to the Dalai Lama in fame and influence.
Nhat Hanh made his name doing human rights and reconciliation work during the Vietnam War, which led Martin Luther King Jr. to nominate him for a Nobel Prize.
He's considered the father of "engaged Buddhism," a movement linking mindfulness practice with social action. He's also built a network of monasteries and retreat centers in six countries around the world, including the United States.
In 2014, Nhat Hanh, who is now 92 years old, had a stroke at Plum Village, the monastery and retreat center in southwest France he founded in 1982 that was also his home base. Though he was unable to speak after the stroke, he continued to lead the community, using his left arm and facial expressions to communicate.
In October 2018, Nhat Hanh stunned his disciples by informing them that he would like to return home to Vietnam to pass his final days at the Tu Hieu root temple in Hue, where he became a monk in 1942 at age 16.
As Time's Liam Fitzpatrick wrote, Nhat Hanh was exiled from Vietnam for his antiwar activism from 1966 until he was finally invited back in 2005. But his return to his homeland is less about political reconciliation than something much deeper. And it contains lessons for all of us about how to die peacefully and how to let go of the people we love.
When I heard that Nhat Hanh had returned to Vietnam, I wanted to learn more about the decision. So I called up Brother Phap Dung, a senior disciple and monk who is helping to run Plum Village in Nhat Hanh's absence.
Our conversation has been edited for length and clarity.
Eliza Barclay: Tell me about your teacher's decision to go to Vietnam and how you interpret the meaning of it.
Phap Dung: He's definitely coming back to his roots.
He has come back to the place where he grew up as a monk. The message is to remember we don't come from nowhere. We have roots. We have ancestors. We are part of a lineage or stream.
It's a beautiful message, to see ourselves as a stream, as a lineage, and it is the deepest teaching in Buddhism: non-self. We are empty of a separate self, and yet at the same time, we are full of our ancestors.
He has emphasized this Vietnamese tradition of ancestral worship as a practice in our community. Worship here means to remember. For him to return to Vietnam is to point out that we are a stream that runs way back to the time of the Buddha in India, beyond even Vietnam and China.
Eliza Barclay: So he is reconnecting to the stream that came before him. And that suggests the larger community he has built is connected to that stream too. The stream will continue flowing after him.
Phap Dung: It's like the circle that he often draws with the calligraphy brush. He's returned to Vietnam after 50 years of being in the West. When he first left to call for peace during the Vietnam War was the start of the circle; slowly, he traveled to other countries to do the teaching, making the rounds. And then slowly he returned to Asia, to Indonesia, Hong Kong, China. Eventually, Vietnam opened up to allow him to return three other times. This return now is kind of like a closing of the circle.
It's also like the light of the candle being transferred, to the next candle, to many other candles, for us to continue to live and practice and to continue his work. For me, it feels like that, like the light is lit in each one of us.
Eliza Barclay: And as one of his senior monks, do you feel like you are passing the candle too?
Phap Dung: Before I met Thay in 1992, I was not aware, I was running busy and doing my architectural, ambitious things in the US. But he taught me to really enjoy living in the present moment, that it is something that we can train in.
Now as I practice, I am keeping the candlelight illuminated, and I can also share the practice with others. Now I'm teaching and caring for the monks, nuns, and lay friends who come to our community just as our teacher did.
Eliza Barclay: So he is 92 and his health is fragile, but he is not bedridden. What is he up to in Vietnam?
Phap Dung: The first thing he did when he got there was to go to the stupa [shrine], light a candle, and touch the earth. Paying respect like that - it's like plugging in. You can get so much energy when you can remember your teacher.
He's not sitting around waiting. He is doing his best to enjoy the rest of his life. He is eating regularly. He even can now drink tea and invite his students to enjoy a cup with him. And his actions are very deliberate.
Once, the attendants took him out to visit before the lunar new year to enjoy the flower market. On their way back, he directed the entourage to change course and to go to a few particular temples. At first, everyone was confused, until they found out that these temples had an affiliation to our community. He remembered the exact location of these temples and the direction to get there. The attendants realized that he wanted to visit the temple of a monk who had lived a long time in Plum Village, France; and another one where he studied as a young monk. It's very clear that although he's physically limited, and in a wheelchair, he is still living his life, doing what his body and health allows.
Anytime he's healthy enough, he shows up for sangha gatherings and community gatherings. Even though he doesn't have to do anything. For him, there is no such thing as retirement.
Eliza Barclay: But you are also in this process of letting him go, right?
Phap Dung: Of course, letting go is one of our main practices. It goes along with recognizing the impermanent nature of things, of the world, and of our loved ones.
This transition period is his last and deepest teaching to our community. He is showing us how to make the transition gracefully, even after the stroke and being limited physically. He still enjoys his day every chance he gets.
My practice is not to wait for the moment when he takes his last breath. Each day I practice to let him go, by letting him be with me, within me, and with each of my conscious breaths. He is alive in my breath, in my awareness.
Breathing in, I breathe with my teacher within me; breathing out, I see him smiling with me. When we make a step with gentleness, we let him walk with us, and we allow him to continue within our steps. Letting go is also the practice of letting in, letting your teacher be alive in you, and to see that he is more than just a physical body now in Vietnam.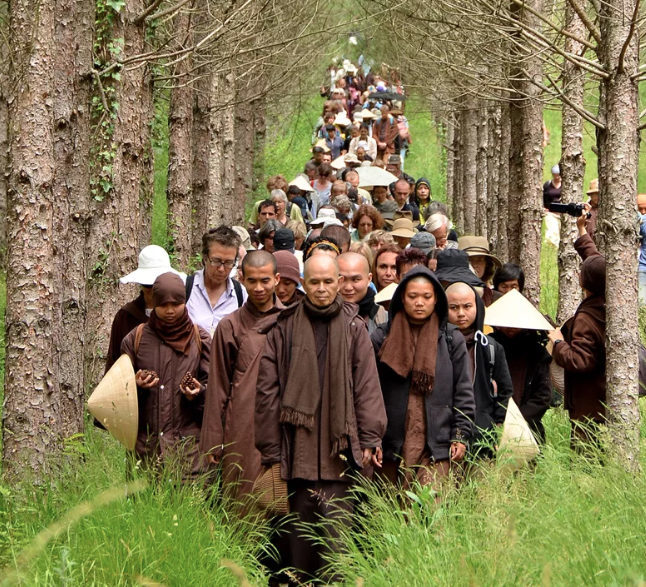 Thich Nhat Hanh leading a walking meditation at the Plum Village practice center in France in 2014. \© PVCEB
Eliza Barclay: What have you learned about dying from your teacher?
Phap Dung: There is dying in the sense of letting this body go, letting go of feelings, emotions, these things we call our identity, and practicing to let those go.
The trouble is, we don't let ourselves die day by day. Instead, we carry ideas about each other and ourselves. Sometimes it's good, but sometimes it's detrimental to our growth. We brand ourselves and imprison ourselves to an idea.
Letting go is a practice not only when you reach 90. It's one of the highest practices. This can move you toward equanimity, a state of freedom, a form of peace. Waking up each day as a rebirth, now that is a practice.
In the historical dimension, we practice to accept that we will get to a point where the body will be limited and we will be sick. There is birth, old age, sickness, and death. How will we deal with it?
Eliza Barclay: What are some of the most important teachings from Buddhism about dying?
Phap Dung: We are aware that one day we are all going to deteriorate and die - our neurons, our arms, our flesh and bones. But if our practice and our awareness is strong enough, we can see beyond the dying body and pay attention also to the spiritual body. We continue through the spirit of our speech, our thinking, and our actions. These three aspects of body, speech, and mind continues.
In Buddhism, we call this the nature of no birth and no death. It is the other dimension of the ultimate. It's not something idealized, or clean. The body has to do what it does, and the mind as well.
But in the ultimate dimension, there is continuation. We can cultivate this awareness of this nature of no birth and no death, this way of living in the ultimate dimension; then slowly our fear of death will lessen.
This awareness also helps us be more mindful in our daily life, to cherish every moment and everyone in our life.
One of the most powerful teachings that he shared with us before he got sick was about not building a stupa [shrine for his remains] for him and putting his ashes in an urn for us to pray to. He strongly commanded us not to do this. I will paraphrase his message:
"Please do not build a stupa for me. Please do not put my ashes in a vase, lock me inside, and limit who I am. I know this will be difficult for some of you. If you must build a stupa though, please make sure that you put a sign on it that says, 'I am not in here.' In addition, you can also put another sign that says, 'I am not out there either,' and a third sign that says, 'If I am anywhere, it is in your mindful breathing and in your peaceful steps.'"
...
I recently did a couple of public debates with a professor from the U.S. Army's West Point Academy. The question was whether war can ever be justified. He argued yes. I argued no. Like many people who argue his side, he spent a fair amount of time talking not about wars but about finding yourself confronted in a dark alleyway, the idea being that everyone must simply agree that they would be violent if confronted in a dark alleyway, and therefore war is justifiable. I responded by asking him not to change the subject, and by claiming that what one person does in a dark alleyway, whether violent or not, has very little in common with the collective enterprise of constructing massive equipment and preparing massive forces and making the calm and deliberate choice to drop explosives on distant people's homes rather than negotiate or cooperate or make use of courts or arbitration or aid or disarmament agreements.
But if you've read this excellent book that's being given to these outstanding students today, Sweet Fruit from a Bitter Tree, then you know that it simply is not true that a person alone in a dark alleyway never has any better option than violence. For some people in some cases in dark alleyways and other similar locations, violence could prove the best option, a fact that would tell us nothing about the institution of war. But in this book we read numerous stories — and there are many, no doubt millions, more just like them — of people who chose a different course.
It sounds not just uncomfortable but ridiculous to the dominant culture we live in to suggest starting a conversation with a would-be rapist, making friends with burglars, asking an attacker about his troubles or inviting him to dinner. How can such an approach, documented to have worked over and over again in practice ever be made to work in theory? (If anyone here is planning to attend college, you can expect to encounter just that question quite often.)
Well, here's a different theory. Very often, not always, but very often people have a need for respect and friendship that is much stronger than their desire to inflict pain. A friend of mine named David Hartsough was part of a nonviolent action in Arlington trying to integrate a segregated lunch counter, and an angry man put a knife up to him and threatened to kill him. David calmly looked him in the eye and said words to the effect of "You do what you have to do, my brother, and I am going to love you anyway." The hand holding the knife began to shake, and then the knife fell to the floor.
Also, the lunch counter was integrated.
Humans are a very peculiar species. We don't actually need a knife to the throat to feel uncomfortable. I may say things in a speech like this one that don't threaten anyone in any way, but nonetheless make some people pretty darn uncomfortable. I wish they didn't, but I think they have to be said even if they do.
A little over a year ago there was a mass shooting at a high school in Florida. Many people have, quite rightly I think, asked the people just up the street here at the NRA to consider what role their corruption of government may play in the endless epidemic of gun violence in the United States. Thank you to Congressman Connolly for having voted for background checks, by the way. But almost nobody mentions that our tax dollars paid to train that young man in Florida to kill, trained him right in the cafeteria of the high school where he did it, and that he was wearing a t-shirt advertising that training program when he murdered his classmates. Why wouldn't that upset us? Why wouldn't we all feel some responsibility? Why would we avoid the subject?
...
The House has passed the antiwar Yemen resolution, H.J.Res. 37, by a vote of 248-177. Rep. Ro Khanna, the lead sponsor of the resolution, issued a statement following the historic vote:
Today is historic. This is the culmination of several years of legislative efforts to end our involvement in the Saudi war in Yemen. I'm encouraged by the direction people are pushing our party to take on foreign policy, promoting restraint and human rights and with the sense they want Congress to play a much larger role.

I applaud all cosponsors for supporting this historic effort and thank my 248 colleagues who voted yes on passage today, especially Speaker Pelosi and Leader Hoyer, HASC Chair Smith, HFAC Chair Engel, Rules Chair McGovern, CPC Co-Chair Pocan and nearly 100 cosponsors of my resolution. I'd also like to thank Senator Sanders for being my thought partner and co-lead on this work in the upper chamber.
Like last year's passage of S.J.Res. 54, the passage of this resolution is a significant assertion of Congressional authority in matters of war. While opponents of the measure desperately tried to deny that the U.S. was involved in hostilities in Yemen, the evidence of extensive U.S. involvement over the last four years made that an untenable claim. Despite years of lies from this administration and the Pentagon, most House members could recognize an unauthorized U.S. war when they saw one. Despite the constant fear-mongering of pro-Saudi hawks in both houses, most House members understood that the war serves no American interests and implicates us in war crimes and crimes against humanity. When the only argument that the war's supporters had was to keep shouting "Iran!" at the other side, it was just a matter of time before they lost.
It is unfortunate that it has taken almost four years for Congress to act on U.S. involvement in the war, but it has not been for lack of effort on the part of the war's opponents. In just the last two years, we have seen the war on Yemen go from being almost completely invisible and ignored to becoming the focus of the most important antiwar vote in modern U.S. history. The successful passage of H.J.Res. 37 has once again forced the issue to center stage, and it sets up an overdue fight with the executive over war powers and over our relationship with the Saudis and the rest of the coalition.
There is still much more to be done. The people of Yemen remain in dire need of help as they face famine, cholera, displacement, poverty, and continued war, and we know that the Trump administration will fight to keep U.S. support for the war going as long as they can. Nonetheless, today's vote was a huge step in the right direction, and it is a success that advocates for peace and restraint can be proud of.
Born in American Samoa, Representative (Major) Tulsi Gabbard of Hawaii, a Democrat and, far more than Trump, someone who stands against hypocrisy and fakery of every kind, is now running for President of the United States. Unlike Trump or Clinton or Obama or Romney or so many, Tulsi is military, a decorated combat veteran.
Unlike all of them, she is openly against war as a basis for American "diplomacy."
Gabbard continues to serve as a Major in the Army National Guard after two combat tours in Iraq, one in 2004 as enlisted and a second as a platoon commander in 2009.
Gabbard is known, in particular, for a bill she introduced to Congress, H.R. 608 – Stop Arming Terrorists Act. The Israeli/GOP controlled House of Representatives shelved the bill and America's love affair with ISIS and al Qaeda went on as it does today, while a deeply censored American press has begun a smear campaign against Gabbard. From Congress.gov:
"Stop Arming Terrorists Act
Sponsor: Rep. Gabbard, Tulsi (D-HI-2) (Introduced 01/233/2017)

This bill prohibits the use of federal agency funds to provide covered assistance to: (1) Al Qaeda, Jabhat Fateh al-Sham, the Islamic State of Iraq and the Levant (ISIL), or any individual or group that is affiliated with, associated with, cooperating with, or adherents to such groups; or (2) the government of any country that the Office of the Director of National Intelligence (ODNI) determines has, within the most recent 12 months, provided covered assistance to such a group or individual.

"Covered assistance" is defined as:

defense articles, defense services, training or logistical support, or any other military assistance provided by grant, loan, credit, transfer, or cash sales;
intelligence sharing; or
cash assistance. "
All discussion or reporting of this bill and how it was shelved and why, is censored in the US. Why would the Republican Party want to kill a bill prohibiting the US from aiding terrorist groups it claims to be at war with is telling. What is simple here is this, this is a confession that the United States isn't simply arming and supporting ISIS and al Qaeda but has been all along.
Did America found al Qaeda? Has it always been American controlled, including before, during and most certainly after 9/11? A "yes" answer to all of the above is supportable as no evidence to the contrary has ever been substantiated and, of course, no salient questions have ever been asked.
Not asking questions and staging fake investigations is what Republicans in congress, every single one financed by gambling boss and Israeli "kingpin" Sheldon Adelson, does best. In fact, it is all they do.
As an analog, perhaps John Kerry comes to mind, a democratic candidate in 2004 who was crushed by rampant "Russian free" election rigging involving vote counts, poll interference, laundered voter registration lists, the world was turned on end to keep anti-war Kerry out of the oval office.
Tulsi and John have something else in common, both have met with Syrian President Assad. Insiders know the Kerry family and the Assads are good friends. When Assad was accused by the now discredited White Helmets of gassing his own people, then Secretary of State Kerry was quick to tell President Obama that the accusation wasn't just false but absurd.
Tulsi Gabbard, who met with President Trump, passing on what she learned after meeting with President Assad, wasn't taken seriously. Trump, now clearly in the pocket of Kosher Nostra gangsters, has not just repeatedly attacked Syria openly but Trump's military has staged "accidents" that have killed thousands of Syrian civilians as well.
In January 2014, more than one hundred scholars, peace activists and artists from around the world issued a statement condemning the Japanese and U.S. governments' plans to close MCAS Futenma, which is located in the middle of a congested urban neighbourhood, and build a new base for the US Marine Corps offshore from the coastal village of Henoko in Northern Okinawa. While we applauded shutting the Futenma base, we strongly objected to the idea of relocating it inside Okinawa.
Okinawa has suffered at Japanese and American hands for more than a century. It was incorporated by force into both the pre-modern Japanese state in 1609 and into modern Japan in 1879. In 1945, it was the scene of the final major battle of World War Two, resulting in the deaths of between one-third and one-quarter of its population. It was then severed from the rest of Japan under direct US military rule for another 27 years during which the Pentagon constructed military bases, unfettered by Japanese residual sovereignty or Okinawan sentiment. Reversion to Japan took place in 1972, bases intact. In the continuing post-Cold War era, Okinawa has faced the pressure of state policies designed to reinforce that base system, not only by construction of the Henoko facility but also by the building of "helicopter pads" for the Marine Corps in the Yambaru forest of northern Okinawa and by the accelerating fortification of the chain of "Southwest" (Nansei) islands that stretch from Kagoshima to Taiwan (including Amami, Miyako, Ishigaki, and Yonaguni).
Signatories of our 2014 statement included linguist and philosopher Noam Chomsky, filmmakers Oliver Stone, Michael Moore and John Junkerman, Nobel Laureate Mairead Maguire, historians Norma Field, John Dower, Alexis Dudden and Herbert Bix, former US Army Colonel Ann Wright, authors Naomi Klein and Joy Kogawa, former UN Special Rapporteur for Palestine Richard Falk, and former Defense and State Department official Daniel Ellsberg. The present statement follows on from that of four years ago and from subsequent statements such as those in January and August 2015. It includes many of the original signatories.
Uri Avnery, one of Israel's most prominent journalists and a seminal peace activist who was among the first Israelis to advocate for a sovereign Palestinian state, died in Tel Aviv on Monday morning. He was 94 years old.
Born Helmut Ostermann to a bourgeois family in Beckum, Germany in 1923, Avnery's family moved to Palestine in 1933, shortly after the Nazis came to power. They settled in Tel Aviv. Just a few years after their arrival, Avnery joined the Irgun, the pre-state right-wing Zionist militia. Too young to take part in its militant actions, which included attacks against British soldiers and Arab civilians, Avnery distributed leaflets and edited the Revisionist journal Ba-Ma'avak ("In the Struggle").
He left the Irgun in 1942, because he was uncomfortable with its harsh anti-Arab position, and joined the Givati Brigade of the Haganah during the 1948 War. During the war he wrote dispatches from the field for Haaretz newspaper, which he later compiled into a book. Avnery was wounded twice — the second time, toward the end of the war, seriously; he spent the last months of his army service convalescing and was discharged in the summer of 1949.
Avnery initially supported the idea of one state, in which a single nation would arise as a union of Arabs and Hebrews — the latter a term he preferred over Jews, since he advocated a state for the Hebrew nation rather than the Jewish people.
During the mid-1960s, Avnery believed that the national Hebrew movement was a natural ally of the Arab nation; he advocated cooperation between the two, under a joint name. By the end of the June 1967 war, however, Avnery changed his views: He advocated the establishment of a Hebrew state alongside an Arab one, as per the 1947 UN Partition Plan.
It is a strange world where in some parts of the globe children are left to drown when the rubber dinghies they are put in to escape warfare and poverty in order to reach a place where they are expected to be able to grow up in peace and safety and have an education and a future, fail to carry them there, while in other parts they are put in cages and camps, torn away from their families, simply for looking for a better life and future, and at the same time other children just like them are rescued by heroes bigger than life from all over the planet, from a cave they are trapped in, in a no holds or costs barred operation.
What is the difference between these children that could ever justify such divergent treatments? They themselves surely would never be able to answer such a question. But that is all the more reason to ask them. And if they don't understand, how can we? And if we don't understand, why is it happening? Why do we allow it to happen? In Thailand, mankind shows it very much possesses humanity. In the Mediterranean and along the US border, it shows that it has none. The two can't both be true at the same time.
What now? It's not difficult. From Arab Weekly, writing about the EU's request to Egypt to set up 'Regional Disembarkation Centres' in the country:
Instead of asking economically struggling countries to act as refugee hosts, European leaders need to solve the problems that cause these refugees to leave their countries in the first place, particularly the unrest that has engulfed many countries, Egyptian specialists said.
"The solution to the problem will be to resettle these refugees in their countries," said Youssef al-Metany, a refugee lawyer at local NGO Egyptian Network for International Law. "This can only happen when the conflicts raging in these countries are settled."
See? We all know the answer. What we need is the same courage and selflessness that the cave divers in Thailand have demonstrated over the past week. Yes, one died, bless his soul, but he knew there are more important things than one's own life. One of them is children. Another is honor. And yet another is humanity. Let's make it happen. Let's save them all.
Hooyah!
About half of Afghanistan's population — around 33 million — is young enough to have never seen a day of peace. The milestones of their young lives have been marked by loss and violence. For 38 years now, peace in my country has remained a dream, a prayer on our lips.
On June 15, on the festival of Eid, our prayers were answered. A few days earlier, as the month of Ramadan was coming to an end, almost 3,000 Islamic scholars convened in Kabul and issued a fatwa reminding us that the quest for peace is a commandment of Allah and a national imperative. They requested the government to declare a cease-fire.
For the first time in nearly four decades of fighting, the Afghan government announced a unilateral cease-fire for eight days. The Taliban reciprocated shortly after with a cease-fire for three days over the Eid holiday.
Afghans across the country reacted instantly and without hesitation, mustering compassion, conviction and courage to show a different face of Afghanistan to ourselves and to the world. Many had been waiting for this day their entire lives. Taliban fighters entered our cities and towns across the country to join the Eid celebrations with government officials and citizens.
Afghans living in cities returned to their homes in the countryside — some for the first time in years — without fear. Parents allowed children to play on the streets and walk to parks without fear of a suicide attack. Shops stayed open until midnight as the Taliban and government forces embraced and danced in the streets, many posing for selfies.
Afghan women across the country took the opportunity to confront Taliban fighters, bravely voiced their concerns and reinforced their demands for peace and inclusion. Government officials and Taliban fighters laid down their weapons to eat and pray together, embracing one another simply as fellow countrymen.
For three days, it made no difference whether you were a Talib or an Afghan soldier; a woman or a man; a Tajik, a Pashtun or a Hazara. For three days, Afghans were united and elated by the possibility of peace. We rediscovered tolerance and acceptance within us.
As president of Afghanistan, the most difficult decision I have made was to ask my people to join me in this bold experiment to reject the perceived wisdom of the analysts and observers. The cease-fire proved the wisdom of the Afghan people over all other assumptions.
The celebration was brief, as the Taliban did not reciprocate our decision to extend the unilateral cease-fire for 10 more days. But those three days showed that we must challenge our assumptions about peace in Afghanistan.
To begin with, Kennedy clearly rejected the kind of "peace" that the geopoliticians have been taking us towards in recent years. "What kind of peace do I mean? What kind of peace do we seek?" he asked rhetorically. "Not a Pax Americana enforced on the world by American weapons of war. Not a peace of the grave or the security of the slave. I'm talking about genuine peace – the kind of peace that makes life on earth worth living – the kind that enables men and nations to grow and to hope and to build a better life for their children – not merely peace for Americans but peace for all men and women – not merely in our time but peace for all time."
Remember, this was about eight months after the Cuban Missile Crisis. Kennedy was very acutely aware of the danger that nuclear weapons represented. Weapons of such power made no sense, he said, and the accumulation of weapons that could never be used except to keep the peace couldn't possibly be the only way, much less the most efficient way, to keep the peace. "I speak of peace, therefore, as the necessary rational end of rational men," he said.
Kennedy called on his audience to not only look at the leadership of the then-Soviet Union, but also to look inward at our own attitudes "as individuals and as a nation – for our attitudes are as essential as theirs." He rejected the notion that peace was impossible. "By defining our goal more clearly – by making is seem more manageable and less remote – we can help all peoples to see it, to draw hope from it, and to move irresistibly towards it."
Secondly, Kennedy rejected demonization of the Soviet Union. While he found Communism repugnant, he said "we can still hail the Russian people for their many achievements – in science and space, in economic and industrial growth, in culture and in acts of courage." He also made a number of points which are even more relevant today. "Almost unique among the major world powers we have never been at war with each other," he said. "And no nation in the history of battle ever suffered more than the Soviet Union suffered in the course of the Second World War. At least 20 million lost their lives. Countless millions of homes and farms were burned or sacked. A third of the nation's territory, including nearly two-thirds of its industrial base, was turned into a wasteland – a loss equivalent to the devastation of this country east of Chicago."
Today, Kennedy went on, it is the US and the Soviet Union that are in the most danger of devastation. "All we have built, all we have worked for, would be destroyed in the first 24 hours," he said. "So, let us not be blind to our differences," Kennedy advised, "but let us also direct attention to our common interests and to the means by which these differences can be resolved. And if we cannot end now our differences, at least we can help make the world safe for diversity. For in the final analysis, our most basic common link is that we all inhabit this planet. We all breathe the same air. We all cherish our children's future. And we are all mortal."
Last week I had the honour of joining a number of incredible writers and orators in Derry, Ireland, in a panel, "Imperialism on Trial". The five speakers were: John Wight, writer and host of Hard Facts; the former British Ambassador to Syria Peter Ford; author, journalist and broadcaster Neil Clark; former MP and host of Sputnik Orbiting the World, George Galloway; and myself.
Organized by Derry resident Gregory Sharkey, the panelists addressed a wide range of issues. As one of the speakers, author Neil Clark, wrote:
"Five passionate and well-informed speakers, who included the former British Ambassador to Syria Peter Ford, detailed the carnage and chaos that has been unleashed around the globe by the aggressive, warmongering policies of the US and its closest allies.