In the first part of this essay, I gave my interpretation of the background of the current confrontation in Korea. I argued that, while the past is the mother of the present, it has several fathers. What I remember is not necessarily what you remember; so, in this sense, the present also shapes or reshapes the past.
A nuclear test detonation carried out in Nevada on April 18, 1953.
In my experience as a policy planner, I found that only by taking note of the perception of events as they are differently held by the participants could one understand or deal with present actions and ideas. I have tried to sketch out views of the past as we, the North Koreans and the South Koreans, differently view them in Part 1 of this essay.
Now I want to undertake a refinement of the record I have laid out. I want first to show how our perception, the interpretation we place on the events that swirl past us, adds a new and formative element to them. Whether consciously or not, we tend to put events into a pattern. So the pattern itself becomes part of the problem we face in trying to understand events. Staking out a path – an interpretation or a theory of what random bits and pieces mean or how they will be interpreted and acted upon by others — is a complex and contentious task.
Getting it wrong can lead us astray or even be very dangerous. So the interpreter, the strategist, must always be tested to see if his interpretation makes sense and the path he lays out is the one we want to travel. I will make this explicit below.
My experience in what was certainly the most dangerous situation America ever experienced, the Cuban Missile Crisis, led me to believe that at least in a crisis how we think about events and what we remember of the past often determines our actions and may be the deciding difference between life and death. So here I will begin with the mindset that underlay American policy for the last half century.
Anyone who reads the press or watches TV is beset with countless scraps of information. In my experience in government service, the deluge of information was almost paralyzing. Some of my colleagues joked that the way to defeat our adversaries was to give them access to what passed over our desks every day. It would immobilize them as it sometimes immobilized us.
How to separate from the flow the merely interesting from the important and how to relate one event to others were demanding tasks. Making them useful has been undertaken by strategists time after time over the last several thousand years. Machiavelli is the best known among us, but he was far from the first. [I have dealt with these issues in detail in Neighbors and Strangers: The Fundamentals of Foreign Affairs (Chicago: University of Chicago Press, 1997).]
Theory of Deterrence
The latest and arguably the most persuasive recent attempt to develop a sort of framework or matrix to bring some sense of order and some ability to understand events has been the theory of deterrence. While "just a theory," it set American policy toward the Soviet Union in the Cold War. It was developed to understand and deal with the Soviet Union in the Cold War, but it will determine much of what America tries to do with North Korea today.
President John F. Kennedy addressing the nation regarding the October 1962 Cuban Missile Crisis.
To simplify and summarize, Cold War strategists led by such men as Henry Kissinger, Thomas Schelling and Bernard Brodie believed that ultimately relationships among nations were mathematical. Deterrence thus meant gathering the elements that could be added up by both sides. If country "A" had overwhelming power, country "B" would be deterred in its own interest from actions that were detrimental to them. Failure to "do the sums" correctly in the "game of nations" was to "misplay."
Emotion and even politics had no role; in the real world. It was realpolitik that governed. Put another way, the weak would add up their capabilities and would necessarily give way to the strong to avoid being destroyed.
The great Greek historian Thucydides long ago set the tone: "Right, as the world goes," he wrote, "is only in question between equals in power; the strong do what they can and the weak suffer what they must." Only by acting in this mindset would the national interests, the real interests, of each country be preserved and peace among nations be achieved.
Deterrence worked reasonably well up to and including the Cuban Missile Crisis. But during that crisis, as some of the theory's critics had long held, a potentially fatal flaw became evident.
The flaw is that "national interest" – what can be added up or quantified as the assets and what gives it its strength — is not necessarily always coincident with "interest of government." That is, governments may not always be guided by a rational calculation of national interest. There are times when leaders cannot afford, even if they precisely add up the figures, to act according to such slow-moving impulses as national interest. They may be subject to quite different and more urgent impulses. They may be emotional or otherwise be irrational, fearful of their lives or worried that they would lose their positions, or they may be driven by public opinion or by the different calculations of such other centers of power as the military. Being guided by the abstract calculation of national interest may then be impossible.
Let me illustrate this from my experience in the Cuban Missile Crisis, then in a war game the Department of Defense (DOD) organized to reexamine the Missile Crisis and finally in a meeting in Moscow with my Russian counterparts.
In the Missile Crisis, both President Kennedy (certainly) and Chairman Khrushchev (probably) were under almost unbearable pressure not only in trying to figure out how to deal with the events but also from the warnings, importuning and urging of their colleagues, rivals, supporters and from their military commanders. Whether either leader was in danger of overthrow of his regime or assassination is still unknown, but both were at least potentially at risk because the stakes were, literally, the fate of the world and opinions on how to deal with the possibility of ruinous war were strongly held.
Obviously, the loss to both of their nations in the event of a nuclear exchange would have been catastrophic so the national interest of both was clear: it was to avoid war. But how to avoid it was disputatious. And it was not nations that were making decisions; it was the leaders, and their interests were only in part coincident with national interest.
We were lucky that at least Kennedy realized this dilemma and took steps to protect himself. What he did is not well understood so I will briefly summarize the main points. First, he identified General Lyman Lemnitzer, then chairman of the Joint Chiefs of Staff (JCS), as the main hawk. Lemnitzer was pushing him toward a nuclear war and had shown his hand by presenting a "black" plan ("Operation Northwoods") to be carried out by the JCS to trigger war with Cuba.
[Curiously, "Operation Northwoods" is hardly known even today. It was described by the eminent scholar on intelligence James Bamford in Body of Secrets (New York: Doubleday, 2001), 82 ff, as the "launching [of] a secret and bloody war of terrorism against their own country in order to trick the American public into supporting an-ill-conceived war they intended to launch against Cuba." Provocations were to be manufactured: hijacking of aircraft, murders and the explosion of the rocket that was carrying astronaut John Glenn into space. Lemnitzer lied to Congress, denying the plan's existence, and had many of documents destroyed. Although he was dismissed as chairman of the JCS by Kennedy, the organization he formed within the JCS continued to plan covert actions. It would have been surprising if Kennedy did not worry about a possible attempt on his government.]
Fearing a Coup d'Etat
Apparently realizing that the plan could easily have been turned into a coup d'état, Kennedy removed Lemnitzer as far from Washington as he could (to Europe to be the NATO commander). Kennedy also assembled a group of elder statesmen, most of whom had served under the Eisenhower and Truman administrations in positions senior to the current military commanders and were identified as conservatives — far from Kennedy's image as a liberal.
President John F. Kennedy meeting with Soviet premier Nikita Khrushchev on June 3, 1961, in Vienna. (State Department photo)
Ostensibly, he sought their advice, but in practice what he sought was their approval of his decisions. He also was careful to instruct the public in his speech on the Monday, the first public acknowledgement of the crisis, that he was firmly in control and was determined to protect American interests.
Then, in the solution to the crisis, removing the American missiles from Turkey, he pretended that their removal was not a price he had to pay to end the crisis. Thus, in several ways, he neutralized potential critics, at least during the crucial time of the Crisis. But, not long afterwards, he was assassinated by persons, forces, or interests about whom and whose motivation there is still much controversy. At minimum, we know that powerful people, including Lemnitzer, thought Kennedy had sold out national interest in pursuit of the interest of his administration.
At the same time in Moscow, Mr. Khrushchev probably risked his life by accepting the humiliation imposed on his regime by the forced withdrawal of Russian missiles from Cuba. Apparently, for of course we do not know, he felt less immediate danger than Kennedy because the Soviet system had always distrusted and guarded against its military commanders. A Lemnitzer there would probably have been "disappeared," not just sent into a polite exile. And hovering beside each of the senior officers of the Soviet army was a political commissar who was responsible to the civilian administration – that is, to the Communist Party leadership – for the officer's every move, every contact, almost every thought. The military did what the civil leadership told it to do.
I presume Khrushchev believed that he had his colleagues with him, but that cannot have been very reassuring given the record of the Politburo. And, when he died, Khrushchev or at least his reputation paid a price: he was refused the supreme accolade of Soviet leadership; he was not buried with other Soviet heroes in the Kremlin Wall. That we know; what we cannot know is whether or not he thought he was, or actually was, in danger of being overthrown.
What is clear is that he was strong enough – and faced with no blatant or destructive action by America – that he was able to surmount the "interest of government" to protect "national interest." In short, he was not backed into a corner.
Were it not for the strength and bravery of both men, we might not have survived the Missile Crisis. Obviously, we cannot always be so served. Sometimes, we are apt to be dependent on weaker, more timorous and less steady men. This is not an abstract issue, and it has come back to haunt us in the Korean confrontation as it surely will in other confrontations. Understanding it may be a matter of our survival. That was not just my view but was also was even then the nagging worry of the DOD.
Thus, in the aftermath of the crisis, the DOD sought reassurance that deterrence had worked and would continue to work. That is, it sought to test the theory that leaders would add up the sums and be governed by what they found rather than by political, emotional or other criteria.
A Nuclear War Game
To this end, the DOD commissioned the conflict strategist Thomas Schelling to design and run a politico-military war game to push the experience of the Missile Crisis to the extreme, that is to find out what the Russians would they do if they were dealt a severe, painful and humiliating nuclear blow?
A scene from "Dr. Strangelove," in which the bomber pilot (played by actor Slim Pickens) rides a nuclear bomb to its target in the Soviet Union.
Schelling's game pitted two small teams of senior, fully-briefed U.S. government officers against one another in the Pentagon. Red Team represented the USSR and Blue Team the U.S. Each was provided with all the information Khrushchev would have had. Shortly after assembling, we were told that Blue team destroyed a Red Team city with a nuclear weapon. What would Red Team do?
Since it was far weaker than the United States, by the deterrence theory it would cave in and not retaliate.
To Schelling's exasperation, the game proved the opposite. It showed that action only in part depended on a rational calculation of national interest but rather in circumstances of crisis, would be governed by the political imperatives faced by the government. I have discussed this in detail elsewhere, but in brief, the members of Red Team, who were among the most experienced and gifted men from the State Department, the White House, the CIA and the DOD, chaired by the very conservative admiral who was Chief of Naval Operations, decided unanimously that Red Team had no option but to go to general war as fast and as powerfully as it could.
Shelling stopped the game, saying that we had "misplayed" and that if we were right he would have to give up the theory of deterrence. We laid out the reasons for our decision.
That decision was taken on two grounds: the first was that acquiescence was not politically possible. No government, Russian or American or other, could accept the humiliation of the loss of a city and survive the fury of those who felt betrayed. Even if at ruinous cost, it would strike back. This is a lesson apparently still unlearned.
Indeed, it could cause the death of each person reading this essay if applied in real life in a nuclear first strike as I will shortly make clear in discussing the Korean crisis.
The second basis for the decision was that, despite Kissinger, Schelling and other "limited nuclear war" advocates, there is no such thing as limited nuclear war in the real world. A nuclear strike would inevitably lead to retaliation, nuclear if possible, and that retaliation would lead to counter-retaliation.
In the war game, Red Team realized that if Mr. Khrushchev were to retaliate for America's destruction of Baku by incinerating St. Louis, it would have posed a challenge, regardless of who was at fault or what the odds of success were, that Kennedy could not have ducked. He would certainly have been overthrown and almost certainly assassinated if he had not responded. He almost certainly would have destroyed a second Russian city.
Tit-for-tat had no stopping point. Each response would lead to the next and quickly to general war. So Red Team went immediately to the best of its bad options: hitting back immediately with everything it had: in short, we opted for general war.
Fortunately that scenario was not tested. In the real Cuban Missile Crisis, no city was incinerated. Neither Kennedy nor Khrushchev was pushed beyond "calculation." But it was a very close call. My own hunch, from having been one of the 25 or so civilians closely involved in the real-life crisis, is that Kennedy and his team could not have held firm much longer than the Thursday or Friday of that terrible week.
The implications are clear – and terrifying – but neither Shelling nor other Cold Warriors have accepted them. We are still today approaching the conflict in Korea with the mindset that our war game showed was fatally flawed.
The last test of the result of the war game came when I lectured on strategic planning and participated in a seminar on the Missile Crisis with the members of the then principal advisory group to the Politburo, the Institute of World Economy and International Affairs of the Soviet Academy of Sciences. In a word, my opposite numbers there agreed with the analysis I have just laid out: Khrushchev could not have accepted an American nuclear attack. He would have responded even though he realized that the overwhelming advantage – the "numbers" – were against him.
They also agreed that in practical terms there was no such thing as limited nuclear war. A "limited" nuclear strike would be, inevitably, the first step in a general war.
Lacking Wise Leaders
I will speculate below on how the actual events of the Cuban Missile Crisis and the result of the war game might apply to the current conflict in Korea. Here let me anticipate by saying that we have no reason to believe that the men who will decide the issue are of the caliber of Kennedy and Khrushchev.
President Donald Trump, speaking in Warsaw, Poland, on July 6, 2017. (Screen shot from Whitehouse.gov)
Both Kennedy and Khrushchev were strong, pragmatic, experienced and well supported men. In today's conflict between the United States and North Korea, neither Donald Trump nor Kim Jong Un evince similar attributes. Some critics even question their sanity. But, they will make the decisions, so I focus on them, their motivations and their capacities. I begin with Mr. Trump.
I have never met Mr. Trump and our backgrounds are very different so I am driven to two, admittedly incomplete and questionable, ways of understanding him. The first of these is his own description of his thought process and way of acting. The three characteristics that seem to me most germane to foreign affairs and particularly to the confrontation in Korea are these:
–On November 12, 2015, Mr. Trump declared, "I love war." In fact, as the record showed, he went to considerable trouble to deny himself the pleasures of going into harm's way during the Vietnam War. And, now, should he decide to take America to war, he would not put his own life in danger.
In my time in Washington, such "war-lovers from afar" were often referred to as "chicken-hawks." They loved to talk about war and to urge others to get into it, but, like Mr. Trump, they never volunteered for action and never, in their pronouncements, dwelt on the horror of actual combat. For them war was another TV episode where the good guys got a bit dusted up but always won.
Mr. Trump presumably meant by the word "war" something very different from real war since he explained, "I'm good at war. I've had a lot of wars on my own. I'm really good at war. I love war, in a certain way but only when we win."
For Mr. Trump, as his actions show, every business deal was a sort of war. He conducted it as what military strategists call a zero-sum game: the winner took all and the loser got nothing. There was little or no negotiation. "Attack" was the operational mode and his opponent would be driven to defeat by the threat of financial ruin. This was the "certain way" he called his many "wars on my own."
The record bears him out. He overwhelmed rivals with lawsuits against which they had to defend themselves at ruinous cost, convinced them that if they did not acquiesce he would destroy them and was unrelenting. He was very good at it. He made his fortune in this form of "war." He seems to believe that he can apply his experience in business to international affairs. But nations are not so likely to go out of business as the rivals he met in real estate transactions and some of them are armed with nuclear weapons.
–On several occasions, Mr. Trump set out his understanding of the role of nuclear weapons. In 2015, as a candidate, he was quoted as saying, "For me, nuclear is just the power, the devastation is very important to me." But I find no evidence that he realizes what "devastation" really means. It is one thing to drive a business rival into bankruptcy and quite another to oversee the burning to death of hundreds of thousands or millions of people and relegating still more to homelessness and starvation in a ruined environment.
One supposes that he is aware of what happened in Hiroshima and Nagasaki, but they are misleading. Modern nuclear weapons are far more powerful: a one megaton weapon, for example, is about 50 times as powerful as the weapon that destroyed Hiroshima. Those of us who dealt with the threat of nuclear war in the Cuban Missile Crisis were aware of the effects of such "standard" weapons.
I see no evidence that Mr. Trump knows what a nuclear war would actually do. Indeed, he is quoted as saying, "what is the point of having nuclear weapons if you don't use them?" He will find advisers who will tell him that they must be used. The ghost of General Lemnitzer hovers near the Oval Office.
Proud of Unpredictability
–Mr. Trump prides himself on unpredictability. Unpredictability was his business strategy. As he told an interviewer from CBS on January 1, 2016, "You want to be unpredictable … And somebody recently said — I made a great business deal. And the person on the other side was interviewed by a newspaper. And how did Trump do this? And they said, he`s so unpredictable. And I didn`t know if he meant it positively or negative. It turned out he meant it positively."
Graphic for "The Celebrity Apprentice" when it was starring Donald Trump.
Another time Trump said on TV "I want to be unpredictable." The record shows his use of the ploy, but perhaps it is more than just a ploy. Perhaps it is a manifestation of his personality, so I want to probe its meaning.
Years ago, I was informed that the CIA maintained a staff of psychoanalysts to profile foreign leaders. If the office still exists, the doctors presumably do not practice their arts on American officials, and certainly not on the President. As part of their professional code, psychiatrists are not supposed to diagnose anyone they have not personally examined, and I doubt that anyone will be able to get Mr. Trump to lie down on the coach.
But, as psychiatrists Peter Kramer and Sally Satel have pointed out, Mr. Trump has shown himself to be "impulsive, erratic, belligerent and vengeful" so "many experts believe that Mr. Trump has a narcissistic personality disorder." Reacting to having such a leader with his hand on the nuclear trigger, Maryland Congressman Jamie Raskin introduced a bill to establish an "Oversight Commission on Presidential Capacity" (H.R. 1987) as authorized by the 25th Amendment to the Constitution. It has not been acted upon and it allows the President latitude to "pardon" himself.
Since his actions and the efforts of others do not offer much insight, I suggest his actions lend themselves to a perhaps instructive analogy, the game of "chicken."
–In "chicken," two drivers aim their speeding cars at one another. The one who flinches, turns aside, or (as Secretary of State Dean Rusk put it to me during the Cuban Missile Crisis) "blinks," is the chicken. The winner is the driver who convinces the loser that he is irrational, deaf to all appeals and blind to danger. He cannot get out of the way.
In Mr. Trump's strategy of war, the irrational man wins because he cannot be reached with any warning, argument or advice. Knowing this, the other man loses precisely because he is rational. Three things follow from this analogy. They seem evident in Mr. Trump's approach to the issues or war or peace:
The first is that irrationality, ironically becomes a rational strategy. If one can convince his opponents that he is cannot be reasoned with, he wins. This has worked for years in business for Mr. Trump. I see no reason to believe that he will give it up.
The second is that the driver of the car does not need information or advice. They are irrelevant or even detrimental to his strategy. So, we see that Mr. Trump pays no attention to the professionals who man the 16 agencies set up by previous administrations to provide information or intelligence.
One example where his professed plan of action flies in the face of the intelligence appreciation is Iran. As the former deputy director of the CIA David Cohen found "disconcerting," Mr. Trump has repeatedly said that Iran was not abiding by the terms of the Iranian-American deal on nuclear weapons before "finding the intelligence to back it up." But that is inherent in Trump's strategy of confrontation. He surely knows – but does not care — that the entire intelligence community holds that Iran has abided by the deal.
In Trump's mind, intelligence analysts are "back seat drivers" and should keep quiet. By questioning his blindness, they suggest to the driver of the other car that Mr. Trump might swerve aside. Thus, they threaten to destroy the irrationality that is the essence of his strategy.
And, third, what Mr. Trump, the "driver" of the car in the "chicken" confrontation, does need is absolute loyalty. Those who sit beside him must never question how he is driving. Any hint of their trying to dissuade his actions threatens to destroy his strategy. So, as we see almost daily, at any hint of disagreement, he pushes his copilots out of the car. Indeed, at least one hardly even got into the "car" before being pushed out the door.
His actions both in business and in the presidency illustrate these points. He takes pride in irrational actions, shifting from one position to another, even its opposite, on what appears to be a whim. He disdains advice even from the intelligence services and also from presumably loyal members of his inner circle. What he demands is absolute loyalty.
Finally, it seems to me that Mr. Trump has understood, far better than most of us, that the public likes to be entertained. It is bored by consistency. It doesn't pay much attention to explanation or analysis. And as the financially successful record of the TV industry and the sorry record of the book publishing industry show, the public wants entertainment. Mr. Trump caters to popular taste: every episode is new; every remark, simple; every threat, dramatic; and, perhaps most powerfully of all, he echoes angers, disappointments, hurts, desires that many of his supporters also feel.
This mode of operation worked for Trump in the business world. His image of ruthlessness, determination and even irrationality caused some of the biggest potential rivals to get out of his way and many others to accept his terms rather than risk a collision. It is not Trump or his mode of operation that has changed but the context in which he operates. Citibank with which he clashed did not have nuclear weapons; North Korea does. So how does Kim Jong Un measure up?
Measuring Kim Jong Un
Kim Jong Un is the third generation of the North Korean leadership. That position is almost beyond the comprehension of modern Westerners. Ruling dynasties went out of fashion in the First World War. But perhaps consideration of "dynasty" can be made to yield useful insights. One who tried to learn what dynastic succession could tell us was the great medieval North African philosopher of history, Ibn Khaldun.
North Korean leader Kim Jong Un.
Observing Berber and Arab societies, Ibn Khaldun found that the first dynasty, sweeping in from the desert, was made up of men who were rough and vigorous; their sons still remembered times of struggle and retained their hardihood, but the third generation grew use to ease and settled into luxury. Its leaders kept power by relying on outside forces. The fourth generation lost it all.
The fit to Korea is far from exact, but it is provocative. Kim Il-sung was a guerrilla warrior, not unlike the warring tribal leaders with whom Ibn Khaldun dealt. Sweeping in from Siberia he took power (admittedly with Soviet help), ruled for nearly half a century and established the dynasty; in the second generation, his son Kim Jong-Il came seamlessly to power on his death in 1994. While he shared little of his father's war-like experiences, he seems to have been a hard man, as Ibn Khaldun expected. But he gives just a hint of the growth of the enjoyment of the new environment. The luxury he enjoyed was exactly what Ibn Khaldun would have predicted. He took as his mistress a beautiful dancer. From this union came Kim Jong Un, the personification of the third dynasty.
Young Kim Jong Un grew up in what was, in Korean terms, the lap of luxury and as a child was allowed to play the child's game of soldiers. His soldiers, however, were not toys; they were real. There is no certain information, but it is believed that he was made a senior officer in the North Korean army when he was just a child. When he was 12 years old, his father sent him to a private school in Switzerland. Being provided with a personal chef to cook Korean dishes as well as a tutor and a driver/bodyguard, he does not seem to have really been "in" Europe.
He was taken out of the Swiss school when he was 15 and put into a public school in Korea. Those few who knew him have commented that he was intensely patriotic. At his father's choice, although he was not the elder son, he was singled out as the successor, the man of the third generation.
Despite this unusual background he seems remarkably like an ordinary American schoolboy: he loved sports, particularly basketball, spent a lot of time watching movies and was an indifferent student. This is just about all know about his background. He did not emerge in public until about the time his father was dying.
In 2009, he is thought to have married a beautiful young women who has been variously described as a singer in a popular music group, a cheerleader in a sports event and a doctoral candidate in a Korean university. When his father finally died in 2011, the 32-year-old Kim Jong-un became North Korea's leader. But on assuming power, he showed himself a more ruthless, determined and absolute ruler than Ibn Khaldun would have predicted.
Almost immediately, he purged his father's top general among other senior officials, and allegedly he ordered or tolerated the murder of his elder brother whom he must have seen as a potential rival. More generally, he proved himself skillful in organizing the bitter memories of the Korean War among his people to support his regime.
To explain in part the inconsistency of what he did and what was expected of the third generation, I suggest that that he must have constantly had before him lesson of Saddam Husain who lacked nuclear weapons, could not defend himself and was hanged. Watching these events as a young man, Kim Jong Un must have been convinced that he could not afford to give himself up to luxury. As his opponents charge, he may have many vices but sloth is not one of them.
Policy Options
From this sketchy background of the two men whose hands are on the nuclear trigger, I turn to what their choices are. That is, what is the range of policies they must be considering or enacting to accomplish what they say are their objectives.
A map of the Korean Peninsula showing the 38th Parallel where the DMZ was established in 1953. (Wikipedia)
As I understand his objectives, the ruler of North Korea is determined to protect his regime (and of course his own life) and believes he can do so only if he has the capacity to deliver a blow sufficiently painful to any attacker that would deter him.
As Siegfried Hecker, the former director of the Los Alamos National Laboratory who has visited North Korea seven times and toured its nuclear facilities, has written (Bulletin of the Atomic Scientists, 7 August 2017), Kim Jong Un "is determined to develop an effective deterrent to keep the United States out." His answer is a missile-carried nuclear weapon.
Contrariwise, President Trump's announced objective (which in general echoes that of previous administrations) is to get the North Korean government to stop its development of both nuclear weapons and missiles. He has, theoretically, a range of policies to effect his objective.
Taking back my former role as a policy planner, I would divide the possible courses of American action, the cost of each and its likelihood of being accomplished as follows:
–The first possible policy is what could be called "bluster and threat without armed action." This is what President Trump is doing today. His outbursts apparently go over well with his loyal supporters but his words have not apparently at least so far affected Kim Jong Un.
However his words have delivered the worst possible result: it has increased North Korean fear of U.S. invasion, has increased Kim Jong Un's determination to develop a deliverable nuclear weapons capability and has probably stoked the war fever of the Koreans.
Thomas Schelling, with whom I disagreed on other issues, got this one right. As he wrote in The Strategy of Conflict, "madmen, like small children, can often not be controlled by threats" and "if he is not to react like a trapped lion, [an opponent] must be left some tolerable recourse. We have come to realize that a threat of all-out retaliation gives the enemy every incentive, in the event he should choose not to heed the threat, to initiate his transgression with an all-out strike on us; it eliminates lesser courses of action and forces him to choose between extremes."
In making that choice, Kim Jong Un hears President Trump. threatening "fire and fury, the likes of which this world has never seen before." (Kim responded with the threat to bomb America's air base on Guam island "to teach the U.S. a severe lesson.")
Mr. Trump said America was "locked and loaded" and its "patience is over." And, in addition to remarks on the internet and to audiences all over America, he authorized a simulated war exercise (known as Foal Eagle 2017) by some 300,000 troops armed with live ammunition in and around South Korea which, of course, the government of the North regarded as provocative. But the U.S. did not alert its troops in South Korea nor its aircraft on Guam nor its ships at sea that an outbreak of hostilities was imminent. In short, the threat appeared all talk but no action.
Sen. John McCain, a man with some experience in combat, commented that President Trump's recent fiery rhetoric on North Korea would only ratchet up the heat for a possible confrontation but nothing else.
As the conservative political commentator Anthony Cordesman wrote on August 5, 2017, "One would hope that the North Korean 'crisis' is moving away from bluster and counter bluster … [since] gross overreaction and issuing empty threats discredits the U.S. in terms of allies support and is not a meaningful bargaining tool in dealing with fellow blusterers like Kim Jong Un."
Conclusion: the likelihood of this line of action accomplishing the stated objective of American policy is near zero, but the costs are twofold: first, the threat of intervention forces the North Korean government to accelerate its acquisition of the very weapons America wishes it to relinquish and serves to keep its armed forces on alert lest the Americans convert threat to attack or stumble into war; the second cost is that such a policy undercuts the image Americans wish to project as the upholders of peace and stability even if not always of democracy and independence.
The Limited Strike Option
–The second possible policy would be to attack selected targets, including members of North Korea's government, with Special Forces and/or drones. Employment of such tactics even in less organized societies, such as Somalia, Libya, Iraq and Afghanistan, have created chaos but have not produced what their advocates predicted.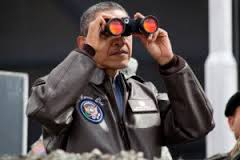 Near the ceasefire line between North and South Korea, President Barack Obama uses binoculars to view the DMZ from Camp Bonifas, March 25, 2012. (Official White House Photo by Pete Souza)
North Korea is a regimented state with a high level of "security" comparable to China. In the 1960s, I once was ordered to find out what the CIA might be able to do with this or a similar option to slow down Chinese nuclear development. The CIA was then sending agents into China from secret bases on Quemoy and Matsu. I asked what they found out. The responsible CIA officer replied that he did not know because none ever returned. That experience would probably be repeated in Korea.
Conclusion: the likelihood of such action accomplishing the stated objective of American policy is near zero, but the cost could be catastrophic: An American attack, even if denied and covert, almost certainly would trigger a North Korean response that might provoke an American counterstroke that could escalate to nuclear war.
–The third possible policy would be to encourage North Korea's neighbors to attempt to coerce it to disarm and/or to scale back its military policy. Such a policy could aim to get China to control the North Koreans and possibly then encourage or allow Japan and/or South Korea to acquire nuclear weapons and so, themselves, pose a threat to North Korea and indirectly to Chinese interests.
Mr. Trump has several times called on the Chinese to effect the American policy on North Korea and has expressed his disappointment that they have not done so. When their own interests were at stake, the Chinese did impose sanctions and cut back on the import of Korean coal, iron ore and seafood. But China can hardly be expected to lend itself to be a tool of American policy. It too has memories of the Korean War and of attempts to weaken or overthrow it. Today, it also sees the U.S. as its rival in the Pacific. So, it is unlikely that Mr. Trump's saying that "they do Nothing for us with North Korea, just talk. We will no longer allow this to continue" — will win Chinese support.
If not the Chinese, what about the Japanese? As I have pointed out in Part 1 of this essay, Japan is tarred by the nearly half century of its brutal regime in Korea. Korean "comfort women," sexual slaves, are still seeking compensation for the misery inflicted on them and their plight is standard fare in Korean media.
Prime Minister Shinzo Abe, who has been pushing for Japanese rearmament and is known for his hard line on North Korea, is not a good choice to convince North Korea to cooperate with America. Encouraging militarism in Japan will raise bitter memories all over East Asia.
Moreover, were Japan to rearm itself with nuclear weapons or were South Korea to be given them, as Mr. Cordesman thinks Mr. Trump may feel forced to do, the overall and long-range objectives of the United States would be severely damaged: the "cure would be worse than the malady."
We don't need more nuclear weapons powers; the political history of South Korea gives little assurance of a "responsible" nuclear policy; and there is no reason to believe that a nuclear-armed South Korea or a nuclear-armed Japan would be more successful than a nuclear-armed America.
Worse, if South Korea and Japan were to develop or acquire nuclear weapons, such action might set off a scramble by other nations to acquire them. The world was already deadly dangerous when only two states had nuclear weapons; the danger of use by design or accident was multiplied when five more states acquired them and if the number keeps on growing accidental or deliberate use will become almost inevitable.
To spread weapons further is against America's national interest although some of President Trump's advisers apparently discount the danger and believe enhanced nuclear power at home and selective spread aboard is to the interest both of the nation and of his administration.
Conclusion: the likelihood of getting others to successfully accomplish American objectives vis-à-vis North Korea is near zero. Faced with nuclear-armed South Korea and Japan, North Korea would logically accelerate rather than cut back its weapons program. China has its own policies and is unlikely to serve as an American proxy. Moreover, the costs of giving South Korea and Japan nuclear weapons is potentially enormous.
The Nuclear Option
–The fourth theoretical policy option would be an American or American-led "coalition" attack on North Korea similar to our two attacks on Iraq and our attack on Afghanistan. America could hit the country with almost any level of destruction it chose from total annihilation to targeted demolition. Knowing that they could not prevent attacks, the North Koreans have adopted a policy that sounds very like America's Cold War strategy against the Soviet Union, mutual assured destruction or MAD. What would this amount to in the Korean conflict?
North Korean missile launch on March 6, 2017.
The cost of war to North Korea would be almost unimaginable. If nuclear weapons were used, much of North Korea would be rendered unlivable for a generation or more. General Douglas MacArthur had wanted to use the nuclear bomb during the first Korean War in the early 1950s, but even with only conventional weapons used in that conflict, the Koreans suffered casualties, reportedly, of about one in each three persons.
If the U.S. used nuclear weapons this time, millions, perhaps as many as 8 million to 12 million, would be killed and many of the rest of the 26 million inhabitants would be wounded or afflicted with radiation sickness. Once initiated, the attack would have done this damage in minutes or hours. So how would the North Koreans respond?
Their government would order them to retaliate. That is what they are constantly being trained to do. As the Korean War demonstrated, the North Koreans are determined fighters. It would be foolish to expect them to surrender.
The North Korean army is said to be the fourth largest in the world, roughly 1 million men, and is backed up by an active reserve about 5-6 times that many from a potential enrollment of about 10 million. This force is equipped with perhaps 10,000 tanks and self-propelled cannon.
The numbers are impressive but, as in chess, it is position that counts in war. The North is believed to have about 12,000 cannon and roughly 2,300 rockets within range of Seoul, the capital of South Korea. Seoul has a population of somewhat more than 10 million people and, in the event of an American attack on North Korea, the North Koreans have said they would obliterate it.
As David Wood wrote on April 18, 2017, "In a matter of minutes, these heavy, low-tech weapons could begin the destruction of the South Korean capital with blizzards of glass shards, collapsed buildings and massive casualties that would decimate this vibrant U.S. ally and send shock waves through the global economy."
In addition to the South Koreans who would suffer and die, there are about 30,000 US troops in the armistice zone. They, and the hundreds of thousands of dependents, supporters and families of the troops living in Seoul, are hostages to U.S. policy. They also would suffer terrible casualties.
Could the North Koreans carry out such massive counterstrikes? There seems little or no doubt that they could, even if they were subjected to massive first strikes even with nuclear weapons. The North Koreans learned from the first Korean War to use mobile, hard to detect or target, launchers and to go underground to prepared firing points.
Probably many of the North Korean weapons would be destroyed, but there are so many that the surviving pieces could inflict massive casualties. Almost incredible photos, from North Korean television, published in The Sun on April 26, 2017, showed demonstration by hundreds of North Korean artillery pieces and rocket launchers firing into the sea. In the event of war, they would be firing into Seoul.
Then there are the missiles. Japan generally and U.S. bases in Japan and on the island of Guam are within the range of North Korean mid-range rockets. And Alaska and the U.S. West Coast are either already or soon will be within range. Would North Korea use them as a counterstrike? On August 7, as Business Insider reported, "North Korea issued a stark warning to the US: If you attack us, we will retaliate with nuclear weapons."
Judging from my experience in the Cuban Missile Crisis, I am sure that we would have done so. It is unlikely that Kim Jong Un would do less than John F. Kennedy.
Losing Los Angeles
If in reply to an American attack, the North Koreans struck the United States what would be the result? Loren Thompson speculated in the August 30, 2017 issue of Forbes on "What a Single North Korean Nuclear Warhead Could Do To Los Angeles." He picked Los Angeles because it is or soon will be in range of North Korean missiles and would be an obvious choice against which to threaten retaliation. With a population of more than 13 million, it is the second largest city in America.
Illustration by Chesley Bonestell of nuclear bombs detonating over New York City, entitled "Hiroshima U.S.A." Colliers, Aug. 5, 1950.
As I write this, North Korea appears to have demonstrated a somewhat less powerful thermonuclear weapon, about seven times the power of the bomb that obliterated Hiroshima, but Thompson speculates on the result of Los Angeles being hit by a bomb that North Korea presumably will soon have, about 33 times as powerful as the Hiroshima bomb.
Hit by it, all structures, no matter how securely built with reinforced concrete, within a radius of half a mile from ground zero "would be either totally destroyed or rendered permanently unusable." The enormous pressure created by the fireball would heavily damage the adjoining circle of 2½ to 3 miles. Virtually all civic facilities (electrical grids, water mains, transport facilities, etc.) would be rendered inoperative and civil services (fire departments, police, hospitals, schools) would be destroyed or severely damaged.
A cloud of radioactive materials would be spread over a far larger area. And perhaps as many as a million people would have been burned to death immediately with many more grievously wounded and unable to get help. And that would be only in the first hours or days. In the following days, the wounded, often suffering from burns, hungry, thirsty, terrified and desperate, would limp out of the core area into the suburbs and surrounding towns, overwhelming their facilities.
Los Angeles would be only one target. North Korea would have nothing to lose by using all of its missiles and bombs. Some might go astray or malfunction, but some might hit San Francisco, Seattle, perhaps Denver and more remotely St. Louis, Dallas and perhaps Chicago. If one reached New York, the damage would be far greater than in Los Angeles.
Conclusion: As Steven Bannon, President Trump's former "Chief Strategist" is quoted as saying, "There's no military solution [to North Korea's nuclear threats], forget it. Until somebody solves the part of the equation that shows me that ten million people in Seoul don't die in the first 30 minutes from conventional weapons, I don't know what you're talking about, there's no military solution here, they got us."
That may explain why he was fired. And retired Lt. General James Clapper, who as the former Director of National Intelligence was not in danger of losing his job, told CNN, we must "accept the fact that they are a nuclear power."
An attack on North Korea, while almost certainly devastating to North Korea, would be prohibitively expensive for America. Moreover, while it would temporarily prevent North Korea from posing a nuclear threat, it would create another area of chaos, like those created in Iraq, Libya, Somalia and Afghanistan. Attacking North Korea is not a rational policy choice.
Trying to Talk
–The remaining policy option is negotiation. What would be negotiable and what not? What would be the modalities? What would constitute success and what would be the result of failure? How could a result be made believable and how could it be enforced?
U.N. Secretary-General António Guterres (left) addresses the Security Council ministerial-level meeting on the nuclear weapon and ballistic missile programs of North Korea. At right is U.S. Secretary of State Rex W. Tillerson, Behind Tillerson is U.S. Ambassador to the U.N. Nikki Haley. (UN Photo/Eskinder Debebe)
I think we must begin by recognizing that it would be irrational for North Korea to give up missiles and nuclear weapons. Despite the horror with which I view nuclear weapons, they are very attractive to small nations. They level the playing field. A Texas saying from my youth sums it up: Mr. Colt's invention of the cowboy's pistol "made all men equal." The nuclear weapon is pistol writ large. It is the ultimate defense.
For Kim Yong Un to give up his nuclear weapons, while we keep ours and have announced that we intend to overthrow his regime, would be tantamount to his committing suicide. He may be evil, as many believe, but there is no reason to believe that he is a fool.
Could not America offer in the course of negotiations a series of graduated steps in which over time a slow-down and ultimate elimination of missiles and nuclear weapons could be traded for ending of sanctions and increased aid? The answer, I think, is "yes, but." The "but" is that Kim Yong Un would almost certainly insist on three things: the first is that he would not give up all his weapons and so would insist that North Korea be recognized as a nuclear power; the second is that he not be humiliated in the negotiated cut; and the third is that some formula be worked out to guarantee the deal. I have dealt with the first two issues above; I turn now to the third, how to guarantee the agreement.
The Bush administration invasion of Iraq in 2001 showed that America could create excuses to void any commitment it might make and provide excuses for any action it wished to take. The current push by the Trump administration to renege on the treaty made with Iran and written into American law by the Senate must convince the North Koreans that a treaty with America is just a scrap of paper. He must be convinced that America cannot be trusted.
But, if China and Russia were prepared to guarantee the deal and Japan and South Korea acquiesced to it and also gave up their option to manufacture or otherwise acquire nuclear weapons, that could be the first step in a phased series of steps that might be productive. At the same time, America would have to give up its ineffective sanctions, stop such provocative acts as the massive war game on the frontier and the barrage of threats and undertake a sort of Marshall Plan to lift North Korea out of poverty and hunger.
Conclusion: I am convinced that it will not be possible in the foreseeable future to get Kim Jong Un or any conceivable successor to give up deliverable nuclear weapons. Thus, there can be no "success," as described in current policy statements by the Trump administration. But, arrangements can be created – by enlisting China and Russia as partners in negotiations and by renouncing threats and such damaging (and ineffective) policies as sanctions – to gradually create an atmosphere in which North Korea can be accepted as a partner in the nuclear "club."
Failure to move in this direction will leave us, at best, in the limbo of fear and the possibility of stumbling into war. This is obviously a gambit that may fail. What is clear, however, is that none of the alternatives has worked or is likely to work. To embark on this path will require a degree of statesmanship, which we may not have.
How to Do It
If the United States government should decide to try this option, I think the following steps will have to be taken to start negotiations:
First, the U.S. government must accept the fact that North Korea is a nuclear power;
Second, it must commit itself formally and irrevocably to a no-first-strike policy. That was the policy envisaged by the Founding Fathers when they denied the chief executive the power to initiate aggressive war;
Third, it must remove sanctions on North Korea and begin to offer in a phased pattern aid to mitigate the current (and potentially future) famines caused by droughts and crop failures; helping North Korea to move toward prosperity, and reducing fear; and
Fourth, stop issuing threats and drop the unproductive and provocative war games on the DMZ.
Will, or even can, any American administration move in this direction? I think the answer will depend in large part on the education of the government leaders and the public among both of whom the level of ignorance of the real costs of war, especially nuclear war, is politically crippling.
As I have suggested, Mr. Trump has shown no comprehension of the costs of war in a nuclear context. Nor has the general public. The pictures of children on Guam being told not to look at the flash of the fireball reminds one of the ridiculous advice to school children in America in the Cold War to take refuge under their desks.
The reality of a modern war must be explained and taught. I do not know if Korean children are so taught, but their parents or grandparents knew it firsthand. This generation of Americans has never seen war up-close in America although some of their fathers saw it in Korea, Vietnam, Iraq and Afghanistan. Unfortunately, memories fade and Americans today do not want to be informed of the danger of a new war. Escapism is one of the great dangers we face.
In the American tradition, the President is the nation's teacher. We must insist he perform that task or we could pay the supreme price of falling off the edge into the dark void of nuclear war.
William R. Polk is a veteran foreign policy consultant, author and professor who taught Middle Eastern studies at Harvard. President John F. Kennedy appointed Polk to the State Department's Policy Planning Council where he served during the Cuban Missile Crisis. His books include: Violent Politics: Insurgency and Terrorism; Understanding Iraq; Understanding Iran; Personal History: Living in Interesting Times; Distant Thunder: Reflections on the Dangers of Our Times; and Humpty Dumpty: The Fate of Regime Change.
The U.S. and North Korea are on the brink of hostilities that if begun would almost certainly lead to a nuclear exchange. This is the expressed judgment of most competent observers. They differ over the causes of this confrontation and over the size, range and impact of the weapons that would be fired, but no one can doubt that even a "limited" nuclear exchange would have horrifying effects throughout much of the world including North America.
A Korean girl carries her brother on her back, trudging past a stalled M-26 tank, at Haengju, Korea., June 9, 1951. (U.S. military photo)
So how did we get to this point, what are we now doing and what could be done to avoid what would almost certainly be the disastrous consequences of even a "limited" nuclear war?
The media is replete with accounts of the latest pronouncements and events, but both in my personal experience in the closest we ever came to a nuclear disaster, the Cuban Missile Crisis, and from studying many other "flash points," I have learned that failure to appreciate the background and sequence of events makes one incapable of understanding the present and so is apt to lead to self-defeating actions. With this warning in mind, I will recount in Part 1 how we and the Koreans got to where we are. Then in Part 2, I will address how we might go to war, what that would mean and what we can do to stay alive.
Throughout most of its history, Korea regarded China as its teacher. It borrowed from China Confucianism, its concepts of law, its canons of art and its method of writing. For these, it usually paid tribute to the Chinese emperor.
With Japan, relations were different. Armed with the then weapon of mass destruction, the musket, Japan invaded Korea in 1592 and occupied it with more than a quarter of a million soldiers. The Koreans, armed only with bows and arrows, were beaten into submission. But, because of events in Japan, and particularly the decision to give up the gun, the Japanese withdrew in less than a decade and left Korea on its own.
Nominally unified under one kingdom, Korean society was already divided between the Puk-in or "people of the North" and the Nam-in or "people of the South." How significant this division was in practical politics is unclear, but apparently it played a role in thwarting attempts at reform and in keeping the country isolated from outside influences. It also weakened the country and facilitated the second intrusion of the Japanese. In search of iron ore for their nascent industry, they "opened" the country in 1876. Hot on the Japanese trail came the Americans who established diplomatic relations with the Korean court in 1882.
American missionaries, most of whom doubled as merchants, followed the flag. Christianity often came in the guise of commerce. Missionary-merchants lived apart from Koreans in segregated American-style towns, much as the British had done in India earlier in the century. They seldom met with the natives except to trade. Unlike their counterparts in the Middle East, the Americans were not noted for "good works." They spent more time selling goods than teaching English, repairing bodies or proselytizing; so while Koreans admired their wares all but a few clung to Confucian ways.
China's Protection
It was to China rather than to America that Koreans turned for protection against the Japanese "rising sun." As they grew more powerful and began their outward thrust, the Japanese moved to end the Korean relationship to China. In 1894, the Japanese invaded Korea, captured its king and installed a "friendly" government. Then, as a sort of byproduct of their 1904-1905 war with Russia, the Japanese seized control, and, in accord with the policies of all Western governments, they took up "the White Man's burden." American politicians and statesmen, led by Theodore Roosevelt, found it both inevitable and beneficial that Japan turned Korea into a colony. For the next 35 years, the Japanese ruled Korea much as the British ruled India and the French ruled Algeria.
A map of the Korean Peninsula showing the 38th Parallel where the DMZ was established in 1953. (Wikipedia)
If the Japanese were brutal, as they certainly were, and exploitive, as they also were, so were the other colonial powers. And, like other colonial peoples, as they gradually became politically sensitive, the Koreans began to react. Over time, they saw the Japanese intruders not as the carriers of the "white man's burden" but as themselves the burden. Some Koreans reacted by fleeing.
Best known among them was Syngman Rhee. Converted to Christianity by American missionaries, he went to the West. After a torturous career as an exile, he was allowed by the American military authorities at the end of the Second World War to become (South) Korea's first president.
But most of those who fled the Japanese found havens in Russian-influenced Manchuria. The best known of these "Eastern" exiles, Kim Il-sung, became an anti-Japanese guerrilla and joined the Communist Party. At the same time Syngman Rhee arrived in the American-controlled South, Kim Il-sung became the leader of the Soviet-supported North. There he founded the ruling "dynasty" of which his grandson Kim Jong-un is the current leader.
During the 35 years of Japanese occupation, no one in the West paid much attention to Syngman Rhee or his hopes for the future of Korea, but the Soviet government was more attentive to Kim Il-Sung. While distant Britain, France and America played no active role, the near-by Soviet Union, with a long frontier with Japanese-held territory, had to concern itself with Korea.
It was not so much from strategy or the perception of danger that Western policy (and Soviet acquiescence to it) evolved. Driven in part by sentiment, America forced a change in the tone of relations with the colonial world during the Second World War and, driven by the need to appease America, Britain and France acquiesced. It was the tide of war, rather than any preconceived plan, that swept Korea into the widely scattered and ill-defined group of "emerging" nations.
As heir to the dreams of Woodrow Wilson, Franklin Roosevelt proclaimed that colonial peoples deserved to be free. Korea was to benefit from the great liberation of the Second World War. So it was that on December 1, 1943, the United States, Britain and (then Nationalist) China agreed at the Cairo Conference to apply the revolutionary words of the 1941 Atlantic Charter: "Mindful of the enslavement of the people of Korea," Roosevelt and a reluctant Churchill proclaimed, they "are determined that in due course Korea shall become free and independent."
At the April-June 1945 San Francisco conference, where the United Nations was founded, Korea got little attention, but a vague arrangement was envisaged in which Korea would be put under a four-power (American, British, Chinese and Soviet) trusteeship. This policy was later affirmed at the Potsdam Conference on July 26, 1945, and was agreed to by the Soviet Union on August 8 when it declared war on Japan. Two days later Russian troops fanned out over the northern area. It was not until almost a month later, on September 8, that the first contingents of the U.S. Army arrived.
Aftermath of War
Up to that point, most Koreans could do little to effect their own liberation: those inside Korea were either in prison, lived in terror that they soon would be arrested or collaborated with the Japanese. The few who had reached havens in the West, like Syngman Rhee, found that while they were allowed to speak, no one with the power to help them listened to their voices. They were to be liberated but not helped to liberate themselves. It was only the small groups of Korean exiles in Soviet-controlled areas who actually fought their Japanese tormentors. Thus it was that the Communist-led Korean guerrilla movement began to play a role similar to insurgencies in Indochina, the Philippines and Indonesia.
As they prepared to invade Korea, neither the Americans nor the Russians evinced any notion of the difference between the Puk-in or "people of the North" and the Nam-in or "people of the South." They were initially concerned, as least in their agreements with one another as they had been in Germany, by the need to prevent the collision of their advancing armed forces. The Japanese, however, treated the two zones that had been created by this ad hoc military decision separately.
As a Soviet army advanced, the Japanese realized that they could not resist, but they destroyed as much of the infrastructure of the north as they could while fleeing to the south. On reaching the south, both the soldiers and the civil servants cooperated at least initially with the incoming American forces. Their divergent actions suited both the Russians and the Americans — the Russians were intent on driving out the Japanese while the Americans were already beginning the process of forgiving them. What happened in this confused period set much of the shape of Korea down to the present day.
The Russians appear to have had a long-range policy toward Korea and the Communist-led insurgent force to implement it, but it was only slowly, and reluctantly, that the Americans developed a coherent plan for "their" Korea and found natives who could implement it. What happened was partly ideological and partly circumstantial. It is useful and perhaps important to emphasize the main points:
The first point is that the initial steps of what became the Cold War had already been taken and were quickly reinforced. Although the Yalta Conference included the agreement that Japan would be forced to surrender to all the allies, not just to the United States and China, President Truman set out a different American policy without consulting Stalin.
Buoyed by the success of the test of the atomic bomb on July 16, 1945, he decided that America would set the terms of the Pacific war unilaterally; Stalin reacted by speeding up his army's attack on Japanese-held Korea and Manchuria. He was intent on creating "facts on the ground." Thus it was that the events of July and August 1945 anchored the policies – and the interpretations of the war – of each great power. They shaped today's Korea.
Arguments ever since have focused on the justifications for the policies of each Power. For many years, Americans have argued that it was the atomic bomb attack on Hiroshima and Nagasaki on August 6 and 9, not the threat or actuality of the Soviet invasion, that forced the Japanese to surrender.
Spoils of War
In the official American view, it was America that won the war in the Pacific. Island by island from Guadalcanal, American soldiers had marched, sailed and flown toward the final island, Japan. From nearby islands and from aircraft carriers, American planes bombed and burned its cities and factories. Hiroshima and Nagasaki were the final blows in a long, painful and costly process.
The mushroom cloud from the atomic bomb dropped on Hiroshima, Japan, on Aug. 6, 1945.
Truman held that the Russians appeared only after the Japanese were defeated. Thus, he felt justified – and empowered – to act alone on Japan. So when General Douglas MacArthur arranged the ceremony of surrender on September 2, he sidelined the Russians. The procedure took place on an American battleship under an American flag. A decade was to pass before the USSR formally ended its war with Japan.
The second crucial point is what was happening on the peninsula of Korea. There a powerful Russian army was present in the North and an American army was in control of the South. The decisions of Cairo, San Francisco and Potsdam were as far from Korea as the high-flown sentiments of the statesmen were from the realities, dangers and opportunities on the scene. What America and the Soviet Union did on the ground was crucial for an understanding of Korea today.
As the Dutch set about doing in Indonesia, the French were doing in Indochina and the Americans were doing in the Philippines, the American military authorities in their part of Korea pushed aside the nationalist leaders (whom the Japanese had just released from prison) and insisted on retaining all power in their own (military) government. They knew almost nothing about (but were inherently suspicious of) the anti-Japanese Koreans who set themselves up as the "People's Republic." On behalf of the U.S., General John Hodge rejected the self-proclaimed national government and declared that the military government was the only authority in the American-controlled zone.
Hodge also announced that the "existing Japanese administration would continue in office temporarily to facilitate the occupation" just as the Dutch in Indonesia continued to use Japanese troops to control the Indonesian public. But the Americans quickly realized how unpopular this arrangement was and by January 1946 they had dismantled the Japanese regime.
In the ensuing chaos dozens of groups with real but often vague differences formed themselves into parties and began to demand a role in Korean affairs. This development alarmed the American military governor. Hodge's objective, understandably, was order and security. The local politicians appeared unable to offer either, and in those years, the American military government imprisoned tens of thousands of political activists.
Cold War in Vitro
Although not so evident in the public announcements, the Americans were already motivated by fear of the Russians and their actual or possible local sympathizers and Communists. Here again, Korea reminds one of Indochina, the Philippines and Indonesia. Wartime allies became peacetime enemies. At least in vitro, the Cold War had already begun.
At just the right moment, virtually as a deux ex machina, Syngman Rhee appeared on the scene. Reliably and vocally anti-Communist, American-oriented, and, although far out of touch with Korean affairs, ethnically Korean, he was just what the American authorities wanted. He gathered the rightist groups into a virtual government that was to grow into an actual government under the U.S. aegis.
Meanwhile, the Soviet authorities faced no similar political or administrative problems. They had available the prototype of a Korean government. This government-to-become already had a history: thousands of Koreans had fled to Manchuria to escape Japanese rule and, when Japan carried the war to them by forming the puppet state they called Manchukuo in 1932, some of the refugees banded together to launch a guerrilla war. The Communist Party inspired and assumed leadership of this insurgency. Then as all insurgents – from Tito to Ho Chi-minh to Sukarno – did, they proclaimed themselves a government-in-exile.
The Korean group was ready, when the Soviet invasion made it possible, to become the nucleus of the Democratic People's Republic of Korea (DPRK). The USSR recognized it as the sole government of (all) Korea in September 1948. And, despite its crude and often brutal method of rule, it acquired a patina of legitimacy by its years of armed struggle against the Japanese.
Both the USSR and the U.S. viewed Korea as their outposts. They first tried to work out a deal to divide authority among themselves. But they admitted failure on December 2, 1945. The Russians appeared to expect the failure and hardly reacted, but the Americans sought the help of the United Nations in formalizing their position in Korea. At their behest, the U.N. formed the "Temporary Commission on Korea." It was supposed to operate in all of Korea, but the Russians regarded it as an American operation and excluded it from the North. After a laborious campaign, it managed to supervise elections but only in the south, in May 1948.
The elections resulted in the formation on August 15 of a government led by Syngman Rhee. In response, a month later on September 9, the former guerrilla leader, Communist and Soviet ally Kim Il-sung, proclaimed the state of North Korea. Thus, the ad hoc arrangement to prevent the collision of two armies morphed into two states.
The USSR had a long history with Kim Il-sung and the leadership of the North. It had discreetly supported the guerrilla movement in Manchukuo (aka Manchuria) and presumably had vetted the Communist leadership through the purges of the 1930s and closely observed them during the war. The survivors were, by Soviet criteria, reliable men. So it was possible for the Russians to take a low profile in North Korean affairs. Unlike the Americans, they felt able to withdraw their army in 1946. Meanwhile, of course, their attention was focused on the much more massive tide of the revolution in China. Korea must have seemed something of a sideshow.
The position of the United States was different in almost every aspect. First, there was no long-standing, pro-American or ideologically democratic cadre in the South.
The Rise of Rhee
The leading figure, as I have mentioned, was Syngman Rhee. While Kim Il-sung was a dedicated Communist, Rhee was certainly not a believer in democracy. But ideology aside, Rhee was deeply influenced by contacts with Americans. Missionaries saved his eyesight (after smallpox), gave him a basic Western-style education, employed him and converted him to Christianity. Probably also influenced by them, as a young man he had involved himself in protests against Korean backwardness, corruption and failure to resist Japanese colonialism. His activities landed him in prison when he was 22 years of age. After four years of what appears to have been a severe regime, he was released and in 1904 made his way into exile in America.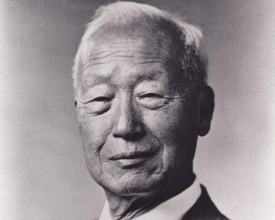 South Korean leader Syngman Rhee
Remarkably for a young man of no particular distinction – although he was proud of a distant relationship to the Korean royal family – he was at least received if not listened to by President Theodore Roosevelt. Ceremonial or perfunctory meetings with other American leaders followed over the years. The American leaders with whom he met did not consider Korea of much importance and even if they had so considered it, Rhee had nothing to offer them. So I infer that his 40-year wanderings from one university to the next (BA in George Washington University, MA in Harvard and PhD in Princeton) and work in the YMCA and other organizations were a litany of frustrations.
It was America's entry into the war in 1941 that gave Rhee the opportunity he had long sought: he convinced President Franklin Roosevelt to espouse at least nominally the cause of Korean independence. Roosevelt's kind words probably would have little effect — as Rhee apparently realized. To give them substance, he worked closely with the OSS (the ancestor of the CIA) and developed contacts with the American military chiefs. Two months after the Japanese surrender in 1945, he was flown back to Korea at the order of General Douglas MacArthur.
Establishing himself in Seoul, he led groups of right-wing Koreans to oppose every attempt at cooperation with the Soviet Union and particularly focused on opposition to the creation of a state of North Korea. For those more familiar with European history, he might be considered to have aspired to the role played in Germany by Konrad Adenauer. To play a similar role, Rhee made himself "America's man." But he was not able to do what Adenauer could do in Germany nor could he provide for America: an ideologically controlled society and the makings of a unified state like Kim Il-sung was able to give the Soviet Union. But, backed by the American military government and overtly using democratic forms, Rhee was elected on a suspicious return of 92.3 percent of the vote to be president of the newly proclaimed Republic of Korea.
Rhee's weakness relative to Kim had two effects: the first was that while Soviet forces could be withdrawn from the North in 1946, America felt unable to withdraw its forces from the South. They have remained ever since. And the second effect was that while Rhee tried to impose upon his society an authoritarian regime, similar to the one imposed on the North, he was unable to do so effectively and at acceptable cost.
The administration he partly inherited was largely dependent upon men who had served the Japanese as soldiers and police. He was tarred with their brush. It put aside the positive call of nationalism for the negative warning of anti-Communism. Instead of leadership, it relied on repression. Indeed, it engaged in a brutal repression, which resembled that of North Korea but which, unlike the North Korean tyranny, was widely publicized. Resentment in South Korea against Rhee and his regime soon grew to the level of a virtual insurgency. Rhee may have been the darling of America but he was unloved in Korea. That was the situation when the Korean War began.
Resumption of War
The Korean War technically began on June 25, 1950, but of course the process began before the first shots were fired. Both Syngman Rhee and Kim Il-sung were determined to reunite Korea, each on his own terms. Rhee had publicly spoken on the "need" to invade the North to reunify the peninsula; the Communist government didn't need to make public pronouncements, but events on the ground must have convinced Kim Il-sung that the war had already begun. Along the dividing line, according to one American scholar of Korea, Professor John Merrill, large numbers of Koreans had already been wounded or killed before the "war" began.
In this July 1950 U.S. Army file photograph once classified "top secret," South Korean soldiers walk among some of the thousands of South Korean political prisoners shot at Taejon, South Korea, early in the Korean War. (AP Photo/National Archives, Major Abbott/U.S. Army, File)
The event that appears to have precipitated the full-scale war was the declaration by Syngman Rhee's government of the independence of the South. If allowed to stand, that action as Kim Il-sung clearly understood, would have prevented unification. He regarded it as an act of war. He was ready for war. He had used his years in power to build one of the largest armies in the world whereas the army of the South had been bled by the Southern rulers.
Kim Il-sung must have known in detail the corruption, disorganization and weakness of Rhee's administration. As the English journalist and commentator on Korea Max Hastings reported, Rhee's entourage was engaged in a massive theft of public resources and revenues. Money intended by the foreign donors to build a modern state was siphoned off to foreign bank accounts; "ghost soldiers," the military equivalent of Gogol's Dead Souls, who existed only on army records, were paid salaries which the senior officers pocketed while the relatively few actual soldiers went unpaid and even unclothed, unarmed and unfed. Bluntly put, Rhee offered Kim an opportunity he could not refuse.
We now know, but then did not, that Stalin was not in favor of the attack by the North and agreed to it only if China, by then a fellow Communist-led state, took responsibility. What "responsibility" really meant was not clear, but it proved sufficient to tip Kim Il-sung into action. He ordered his army to invade the South. Quickly crossing the demarcation line, his soldiers pushed south. Far better disciplined and motivated, they took Seoul within three days, on June 28.
Syngman Rhee proclaimed a fight to the death but, in fact, he and his inner circle had already fled. They were quickly followed by thousands of soldiers of the Southern army. Many of those who did not flee, defected to the North.
Organized by the United States, the United Nations Security Council – taking advantage of the absence of the Soviet delegation – voted on June 27, just before the fall of Seoul, to create a force to protect the South. Some 21 countries led by the United States furnished about three million soldiers to defend the South. They were countries like Thailand, South Vietnam and Turkey with their own problems of insurgency, but most of the fighting was done by American forces. They were driven south and nearly off the Korean peninsula by Kim Il-sung's army. The American troops were ill-equipped and nearly always outnumbered. The fighting was bitter and casualties were high. By late August, they held only a tenth of what had been the Republic of Korea, just the southern province around the city of Pusan.
The Chinese Prepare
Wisely analyzing the actual imbalance of the American-backed southern forces and the apparently victorious forces commanded by Kim Il-sung, the Chinese statesman Zhou Enlai ordered his military staff to guess what the Americans could be expected to do: negotiate, withdraw or try to break out of their foothold at Pusan. The staff reported that the Americans would certainly mobilize their superior potential power to counterattack.
Seriously wounded North Korean soldiers lie where they fell and wait for medical attention by Navy hospital corpsmen accompanying the Marines in their advance. September 15, 1950. (Photo by Sgt. Frank Kerr, USMC)
To guard against intrusion into China, Zhou convinced his colleagues to move military forces up to the Chinese-Korean frontier and convinced the Soviet government to give the North Koreans air support. What was remarkable was that Zhou's staff exactly predicted what the Americans would do and where they would do it. Led by General Douglas MacArthur, the Americans made a skillful and bold counterattack. Landing at Inchon on September 15, they cut the bulk of the Northern army off from their bases. The operation was a brilliant military success.
But, like many brilliant military actions, it developed a life of its own. MacArthur, backed by American Secretary of State Dean Acheson and General George Marshall — and ordered by President Truman — decided to move north to implement Syngman Rhee's program to unify Korea. Beginning on September 25, American forces recaptured Seoul, virtually destroyed the surrounded North Korean army and on October 1 crossed the 38th parallel. With little to stop them, they then pushed ahead toward the Yalu river on the Chinese frontier. That move frightened both the Soviet and Chinese governments which feared that the wave of victory would carry the American into their territories. Stalin held back, refusing to commit Soviet forces, but he reminded the Chinese of their "responsibility" for Korea.
In response, the Chinese hit on a novel ploy. They sent a huge armed force, some 300,000 men to stop the Americans but, to avoid at least formally and directly a clash with America, they categorized it as an irregular group of volunteers — the "Chinese People's Volunteer Army." Beginning on October 25. the lightly armed Chinese virtually annihilated what remained of the South Korean army and drove the Americans out of North Korea.
Astonished by the collapse of what had seemed a definitive victory, President Truman declared a national emergency, and General MacArthur urged the use of 50 nuclear bombs to stop the Chinese. What would have happened then is a matter of speculation, but what did happen was that MacArthur was replaced by General Matthew Ridgeway who restored the balance of conventional forces. Drearily, the war rolled on.
During this period and for the next two years, the American air force carried out massive bombing sorties. Some of the bombing was meant to destroy the Chinese and North Korean ability to keep fighting, but Korea is a small territory and what began as "surgical strikes" grew into carpet-bombing. (Such bombing would be considered a war crime as of the 1977 Protocol I of the Geneva Conventions).
The attacks were enormous. About 635,000 tons of high explosives and chemical weapons were dropped – that was far more than was used against the Japanese in the Second World War. As historian Bruce Cumings has pointed out, the U.S. Air Force found that "three years of 'rain and ruin'" had inflicted greater damage on Korean cities "than German and Japanese cities firebombed during World War II." The North Korean capital Pyongyang was razed and General Curtis LeMay thought American bombings caused the deaths of about 20 percent — one in five — North Koreans.
Carpet-Bombing the North
LeMay's figure, horrifying as it is, needs to be borne in mind today. Start with the probability that it is understated. Canadian economist Michel Chossudovsky has written that LeMay's estimate of 20 percent should be revised to nearly 33 percent or roughly one Korean in three killed. He goes on to point to a remarkable comparison: in the Second World War, the British had lost less than 1 percent of their population, France lost 1.35 percent, China lost 1.89 percent and the U.S. only a third of 1 percent. Put another way, Korea proportionally suffered roughly 30 times as many people killed in 37 months of American carpet-bombing as these other countries lost in all the years of the Second World War.
U.S. Air Force Gen. Curtis LeMay
In all, 8 million to 9 million Koreans were killed. Whole families were wiped out and practically no families alive in Korea today are without close relatives who perished. Virtually every building in the North was destroyed. What General LeMay said in another context – "bombing them back to the Stone Age" – was literally effected in Korea. The only survivors were those who holed up in caves and tunnels.
Memories of those horrible days, weeks and months of fear, pain and death seared the memories of the survivors, and according to most observers they constitute the underlying mindset of hatred and fear so evident among North Koreans today. They will condition whatever negotiations America attempts with the North.
Finally, after protracted battles on the ground and daily or hourly assaults from the sky, the North Koreans agreed to negotiate a ceasefire. Actually achieving it took two years.
The most significant points in the agreement were that (first) there would be two Koreas divided by a demilitarized zone essentially on what had been the line drawn along the 38th parallel to keep the invading Soviet and American armies from colliding and (second) article 13(d) of the agreement specified that no new weapons other than replacements would be introduced on the peninsula. That meant that all parties agreed not to introduce nuclear and other "advanced" weapons.
What needs to be remembered in order to understand future events is that, in effect, the ceasefire created not two but three Koreas: North, South, and the American military bases.
The North set about recovering from devastation. It had to dig out from under the rubble and it chose to continue to be a garrison state. It was certainly a dictatorship, like the Soviet Union, China, North Vietnam and Indonesia, but close observers thought that the regime was supported by the people. Most observers found that the memory of the war, and particularly of the constant bombing, created a sense of embattlement that unified the country against the Americans and the regime of the South. Kim Il-sung was able to stifle such dissent as arose. He did so brutally. No one can judge for certain, but there is reason to believe that a sense of embattled patriotism remains alive today.
South's Military Dictatorships
The South was much less harmed by the war than the North and, with large injections of aid and investment from Japan and America, it started on the road to a remarkable prosperity. Perhaps in part because of these two factors – relatively little damage from the war and growing prosperity – its politics was volatile.
To contain it and stay in power, Syngman Rhee's government imposed martial law, altered the constitution, rigged elections, opened fire on demonstrators and even executed leaders of the opposing party. We rightly deplore the oppression of the North, but humanitarian rights investigations showed little difference between the Communist/Confucian North and the Capitalist/Christian South. Syngman Rhee's tactics were not less brutal than those of Kim Il-sung.
Employing them, Rhee managed another electoral victory in 1952 and a third in 1960. He won the 1960 election with a favorable vote officially registered to be 90 percent. Not surprisingly, he was accused of fraud. The student organizations regarded his manipulation as the "last straw" and, having no other recourse, took to the streets. Just ahead of a mob converging on his palace — much like the last day of the government of South Vietnam a few years later — he was hustled out of Seoul by the CIA to an exile in Honolulu.
The third Korea, the American "Korea," would have been only notional except for the facts that it occupied a part of the South (the southern perimeter of the demilitarized zone and various bases elsewhere), had ultimate control of the military forces of the South (it was authorized to take command of them in the event of war) and, as the British had done in Egypt, Iraq and India, it "guided" the native government it had fostered. Its military forces guaranteed the independence of the South and at least initially, the United States paid about half the costs of the government and sustained its economy.
At the same time, the United States sought to weaken the North by imposing embargos. It kept the North on edge by carrying what the North regarded as threatening maneuvers on its frontier and, from time to time, as President Bill Clinton did in 1994 (and President Donald Trump is now doing), threatened a devastating preemptive strike. The Defense Department and the Joint Chiefs of Staff also developed OPLN 5015, one of a succession of secret plans whose intent, in the words of commentator Michael Peck, was "to destroy North Korea."
And, in light of America's worry about nuclear weapons in Korea, we have to confront the fact that it was America that introduced them. In June 1957, the U.S. informed the North Koreans that it would no longer abide by Paragraph 13(d) of the armistice agreement that forbade the introduction of new weapons. A few months later, in January 1958, it set up nuclear-tipped missiles capable of reaching Moscow and Peking. The U.S. kept them there until 1991. It wanted to reintroduce them in 2013 but the then South Korean Prime Minister Chung Hong-won refused.
As I will later mention, South Korea joined the Nuclear Non-Proliferation Treaty in 1975, and North Korea joined in 1985. But South Korea covertly violated it from 1982 to 2000 and North Korea first violated the provisions in 1993 and then withdrew from it in 2003. North Korea conducted its first underground nuclear test in 2006.
There is little moral high ground for any one of the "three Koreas."
South Korean leader Park Chung-hee
South Korean leader Park Chung Hee
New elections were held in the South and what was known as the Second Republic was created in 1960 under what had been the opposition party. It let loose the pent-up anger over the tyranny and corruption of Syngman Rhee's government and moved to purge the army and security forces. Some 4,000 men lost their jobs and many were indicted for crimes. Fearing for their jobs and their lives, they found a savior in General Park Chung-hee who led the military to a coup d'état on May 16, 1961.
General Park was best known for having fought the guerrillas led by Kim Il-sung as an officer in the Japanese "pacification force" in Manchukuo. During that period of his life, he even replaced his Korean name with a Japanese name. As president, he courted Japan. Restoring diplomatic relations, he also promoted the massive Japanese investment that jump-started Korean economic development. With America he was even more forthcoming. In return for aid, and possibly because of his close involvement with the American military – he studied at the Command and General Staff school at Fort Sill – he sent a quarter of a million South Korean troops to fight under American command in Vietnam.
Not less oppressive than Rhee's government, Park's government was a dictatorship. To protect his rule, he replaced civilian officials by military officers. Additionally, he formed a secret government within the formal government; known as the Korean Central Intelligence Agency, it operated like the Gestapo. It routinely arrested, imprisoned and tortured Koreans suspected of opposition. And, in October 1972, Park rewrote the constitution to give himself virtual perpetual power. He remained in office for 16 years. In response to oppression and despite the atmosphere of fear, large-scale protests broke out against his rule. It was not, however, a public uprising that ended his rule: his chief of intelligence assassinated him in 1979.
An attempt to return to civilian rule was blocked within a week by a new military coup d'état. The protests that followed were quickly put down and thousands more were arrested. A confused scramble for power then ensued out of which in 1987 a Sixth Republic was announced and one of the members of the previous military junta became president.
The new president Roh Tae-woo undertook a policy of conciliation with the North and under the warming of relations both North and South joined the U.N. in September 1991. They also agreed to denuclearization of the peninsula. But, as often happens, the easing of suppressive rule caused the "reformer" to fall. Roh and another former president were arrested, tried and sentenced to prison for a variety of crimes — but not for their role in anti-democratic politics. Koreans remained little motivated by more than the overt forms of democracy.
Relations between the North and the South over the next few years bounced from finger on the trigger to hand outstretched. The final attempt to bring order to the South came when Park Geun-hye was elected in 2013, She was the daughter of General Park Chung-hee who, as we have seen, had seized power in a coup d'état 1963 and was president of South Korea for 16 years. Park Geun-hye, was the first women to become head of a state in east Asia. A true daughter of her father, she ruled with an iron hand, but like other members of the ruling group, she far overplayed her hand and was convicted of malfeasance and forced out of office in March 2017.
The Kim Dynasty
Meanwhile in the North, as Communist Party head, Prime Minister from 1948 to 1972 and president from 1972 to his death in 1994, Kim Il-sung ruled North Korea for nearly half a century. His policy for his nation was a sort of throw-back to the ancient Korean ideal of isolation. Known as juche, it emphasized self-reliance. The North was essentially an agrarian society and, unlike the South, which from the 1980s welcomed foreign investment and aid, it remained closed. Initially, this policy worked well: up to the end of the 1970s, North Korea was relatively richer than the South, but then the South raced ahead with what amounted to an industrial revolution.
North Korean leader Kim Il-sung
Surprisingly, Kim Il-sung shared with Syngman Rhee a Protestant Christian youth; indeed, Kim said that his grandfather was a Presbyterian minister. But the more important influence on his life was the brutal Japanese occupation. Such information as we have is shaped by official pronouncements and amount to a paean. But, probably, like many of the Asian nationalists, as a very young man he took part in demonstrations against the occupying power. According to the official account, by the time he was 17, he had spent time in a Japanese prison.
At 19, in 1931, he joined the Chinese Communist Party and a few years later became a member of its Manchurian fighting group. Hunted down by the Japanese and such of their Korean collaborators as Park Chung-hee, Kim crossed into Russian territory and was inducted into the Soviet army in which he served until the end of the Second World War. Then, as the Americans did with Syngman Rhee, the Russians installed him as head of the provisional government.
From the first days of his coming to power, Kim Il-sung focused on the acquisition of military power. Understandably from his own experience, he emphasized training it in informal tactics, but as the Soviet Union began to provide heavy equipment, he pushed his officers into conventional military training under Russian drillmasters. By the time he had decided to invade South Korea, the army was massive, armed on a European standard and well organized. Almost every adult Korean man was or had been serving in it.
The army had virtually become the state. This allocation of resources, as the Korean War made clear, resulted in a powerful striking force but a weakened economy. It also caused Kim's Chinese supporters to decide to push him aside. How he survived his temporary demotion is not known, but in the aftermath of the ceasefire, he was again seen to be firmly in control of the Communist Party and the North Korean state.
The North Korean state, as we have seen, had virtually ceased to exist under the bombing attack. Kim could hope for little help to rebuild it from abroad and sought even less. His policy of self-reliance and militarization were imposed on the country. On the Soviet model of the 1930s, he launched a draconian five-year plan in which virtually all economic resources were nationalized. In the much-publicized Sino-Soviet split, he first sided with the Chinese but, disturbed by the Chinese Cultural Revolution, he swung back to closer relations with the Soviet Union.
In effect, the two neighboring powers had to be his poles. His policy of independence was influential but could not be decisive. To underpin his rule and presumably in part to build the sense of independence of his people, he developed an elaborate personality cult. That propaganda cult survived him. When he died in 1994 at 82 years of age, his body was preserved in a glass case where it became the object of something like a pilgrimage.
Unusual for a Communist regime, Kim Il-sung was followed by his son Kim Jong-Il. Kim Jong-Il continued most of his father's policies, which toward the end of his life, had moved haltingly toward a partial accommodation with South Korea and the United States. He was faced with a devastating drought in 2001 and sequential famine that was said to have starved some 3 million people. Perhaps seeking to disguise the impact of this famine, he abrogated the armistice and sent troops into the demilitarized zone. However, intermittent moves including creating a partly extra-territorialized industrial enclave for foreign trade, were made to better relations with the South.
Then, in January 2002, President George Bush made his "Axis of Evil Speech" in which he demonized North Korea. Thereafter, North Korea withdrew from the 1992 agreement with the South to ban nuclear weapons and announced that it had enough weapons-grade plutonium to make about 5 or 6 nuclear weapons. Although he was probably incapacitated by a stroke in August 2008, his condition was hidden as long as possible while preparations were made for succession. He died in December 2011 and was followed by his son Kim Jong-un.
With this thumbnail sketch of events up to the coming to power of Kim Jong-un and Donald Trump, I will turn in Part 2 of this essay to the dangerous situation in which our governments – and all of us individually – find ourselves today.
William R. Polk is a veteran foreign policy consultant, author and professor who taught Middle Eastern studies at Harvard. President John F. Kennedy appointed Polk to the State Department's Policy Planning Council where he served during the Cuban Missile Crisis. His books include: Violent Politics: Insurgency and Terrorism; Understanding Iraq; Understanding Iran; Personal History: Living in Interesting Times; Distant Thunder: Reflections on the Dangers of Our Times; and Humpty Dumpty: The Fate of Regime Change.
Unless "the fundamental economic question, viz., the question of the economic essence of imperialism … is studied, it will be impossible to understand and appraise modern war and modern politics." – Vladimir Ilyich Ulyanov (Lenin), 1917
March 15, 2020
By Stephen Gowans
I wrote a book in 2018 book titled, Patriots, Traitors, and Empires: The Story of Korea's Fight for Freedom.
The word "patriots" in the title, refers to the people who founded the state of North Korea, and I argue that North Korea is a patriot state because it was founded by anti-Japanese resistance fighters guided by the mission of freeing Korea from foreign domination.
"Traitors" refers to the people who collaborated with the United States in founding the Republic of Korea, or what we informally call South Korea, and who collaborated before that with the Japanese, to enforce Japan's colonial rule over Korea from 1910 to 1945. When the United States occupied the southern part of Korea in 1945 at the end of the Second World War, it established an administration in the southern half of Korea made up largely of Koreans who had collaborated with the Japanese.
"Empires" refers to two empires, the Japanese, which dominated Korea through much of the first half of the twentieth century, and the United States, which has dominated the southern part of Korea ever since.
The last part, "The Story of Korea's Fight for Freedom," refers to the struggle Koreans have waged for over a century to free themselves from the domination of these two empires. And when I say the struggle of Koreans, I mean all Koreans, of both north and south. It's clear that North Koreans reject US domination and control, but what's not so clear is that many South Koreans do, as well.
The Pentagon's operational control of the South Korean military illustrates US hegemony over Seoul. The current South Korean government has asked the United States to transfer to it operational control of the South Korean armed forces. The reality that South Korea has to ask for operational control of its own military reveals that the United States is the de facto power in South Korea.
In response to South Korea's request for operational control, the United States has temporized, saying that it's prepared to talk about a possible transfer and has indeed held discussions with its South Korean subordinates. But the conditions under which the United States would transfer control would effectively make South Korean command of its own military a charade. Specifically, one of the conditions the United States proposes is that South Korean troops be placed under the command, not of South Korea's head of its joint chiefs of staff, but of a lower-ranking South Korean general, who would be required to be headquartered at the main US military base in Korea, and would have a US general as deputy commander.
South Korea has a long tradition of US diplomats and military advisors operating in the background as the de facto governors of the state, with South Koreans as the state's public face, creating the illusion of sovereignty. South Korea has been so decisively under US influence that throughout much of its history the South Korean government had been answerable to three people: the US ambassador, the head of the US military in Korea, and the CIA station chief.
There are a few facts which Washington is also hoping to use to block any meaningful transfer of operational control to its client state.
• The Korean War never ended in a peace treaty, and South Korea and the United States are still officially at war with North Korea.
• In this war, South Korean forces fight under the United Nations Command.
• The United Nations Command is officially led by a US general.
The corollary is that so long as a de jure war continues, South Korean forces remain under the UN (hence, US) Command. Therefore, in the absence of a formal peace on the Korean peninsula, South Korean troops remain assets of the Pentagon, even if the United States formally cedes operational control of South Korea's military to Seoul, or to a South Korean general operating from a US military base with a US deputy nearby to ensure his actions remain within the framework of US power.
Washington has never evinced an interest in declaring a formal end to the war, despite North Korea urging Washington on multiple occasions to declare one. Colin Powell, when he was US Secretary of State, reacted to one North Korean request for a peace treaty by replying, "We don't do non-aggression pacts or treaties, things of that nature." That it could no longer use the UN Command as a pretext to control South Korean forces is one reason why the United States is averse to a peace treaty with North Korea.
To be sure, the United States is not entirely averse to peace on the Korean peninsula; it is only averse to a peace that isn't on its own terms. And those terms are North Korea acceding to becoming a satellite of the US economy and outpost of the US military. If North Korea agreed to these terms, the United States would lift its sanctions, cease its military pressure, and declare a formal end to the war. But North Korea shows no sign of submitting to US demands, and therefore, peace on the Korean peninsula will have to be achieved by arriving at mutually agreeable terms. It's important to note, however, that the respective objectives and worldviews of the two sides—one for empire and the other against—are so completely antithetical that the possibility of their arriving at mutually agreeable terms is approximately zero.
In any event, the United States pursues a negotiating strategy congruent with its overwhelming strength: it makes demands, and defines negotiation as the other side's submission. Concessions from the US side (at least ones Washington doesn't intend to revoke at some point in the future) are viewed in Washington as unthinkable, a sign of weakness, at odds with the gross imbalance of power in Washington's favor that characterizes the US-DPRK relationship.
The question we need to ask, then, is why the US negotiating position is one of awaiting Pyongyang's surrender, while dissimulating interest in genuine negotiations? The US historian William Appleman Williams once observed that the United States often rejects the give-and-take of negotiations in favor of the imperial dynamic of, we need, you give.
The first, and most important, answer to the question of why Washington has no genuine interest in negotiating a formal peace with North Korea, is that there is no reason for Washington to make concessions to the country. The Democratic People's Republic of Korea is too small and too enfeebled to pose a threat. From the US perspective, the best strategy is to continue the enfeeblement process—to be achieved through unrelenting military pressure, diplomatic isolation, and economic strangulation—until North Korea surrenders. Pyongyang's capitulation would represent peace on US terms.
Second, the South Korean military is a formidable asset. It is big, powerful, and equipped with advanced US military hardware. And it's integrated into the US military, to the degree that it is, in reality, not a sovereign military, but an inter-operable component of the US Defense Department—what one US historian called an US Asian army in reserve. The continuation of an official state of war on the Korean peninsula affords the United States a pretext to maintain control of this formidable military asset, and to use it for its own purpose. We'll see that the purpose is not the protection of South Korea from North Korean aggression—for North Korea is in no position to wage a war on its neighbor—but to threaten China.
South Korea sent over 300,000 troops to fight for the United States in Vietnam, and did so in return for significant injections of US economic aid—aid which was instrumental in triggering the take-off of the South Korean economy. This makes South Korea both a mercenary state and an accomplice of US imperialism. In return for military favors, Seoul received significant lucre from Uncle Sam. This arrangement was good for South Koreans (minus those who died or were disabled fighting for a US cause in a foreign land) but was detrimental to the Vietnamese, fellow East Asians with a common history of being raped by colonial powers, including the Japanese. South Korea, thus, helped the US empire do to the Vietnamese, what the French and Japanese empires had done before it.
Significantly, US troops were stationed on the Korean peninsula at the time. They had been there since 1945, and from 1950, it was said, to deter North Korean aggression. And yet, one would think that if the North Koreans were truly a threat to South Korea, Seoul could hardly have spared 300,000 troops.
Today, the pretext for the United States' continued presence on the Korean peninsula is to defend South Korea from North Korea, but the argument is transparently false. South Korea, by any measure, is fully capable of defending itself against a North Korean attack. Its population is twice as large as North Korea's and its economy is many times larger (partly as a consequence of the significant injections of US aid it received in return for its mercenary services.) South Korea spends $40 billion a year on its military (and its military spending is increasing robustly every year) while North Korea spends an estimated $5 billion, one-eighth of the South Korean level, and equal to the size of the budget of the New York City Police Department.
What's more, South Korea is equipped with the latest US weapons systems, while North Korea relies on obsolete military equipment procured from the Soviet Union many decades ago, for which it cannot get spare parts and for which a fuel shortage prevents it from operating except infrequently. Part of the US playbook against North Korea is to create ambiguous military situations in which a US or South Korean invasion appears imminent, requiring the North Koreans to scramble their obsolete jet fighters, thus depleting their scarce stores of aviation fuel.
Also, the United States has 26,000 military personnel in South Korea, a trifle against the 625,000 South Korean troops. If North Korea attacked South Korea, who would be defending who?
In 1950, North Korea tried by military means to unify the country, and failed, at a point conditions were far more favorable to North Korean success than they are today. Back then, the South Korean government was weak and had little popular support. In contrast, veteran Korean fighters had returned to Korea from China, where they had taken part in China's civil war on the side of Mao's forces. They were ready to unify their country and overcome the collaborators in the south. What's more, North Korea had the partial backing of the Soviet Union, and full support of Mao. If Pyongyang was incapable of bringing about a military success in 1950 when conditions were infinitely more favorable to its project, it's unlikely in the extreme that the state would embark on the same project today, when it has no international support and South Korea is larger and many times stronger. Hence, the notion that the presence of US forces in Korea is necessary to deter North Korean aggression has no validity.
The truth of the matter is that the South Korean military is an extension of the 26,000 US troops in Korea, whose purpose couldn't possibly be to deter North Korean aggression, since North Korea is too feeble and its military too obsolete to undertake any aggression. With its decaying military hardware and puny military budget, it's barely able to defend itself, to say nothing of mounting an attack. Indeed, it is North Korean weakness that has compelled the country to develop nuclear weapons as a means of self-defense.
The purpose of the South Korean military under US command is to form part of the ring around China, which the United States has been building ever since it "lost China" to the Chinese. China, under the Chinese, has become, in the words of the official US Defense Strategy, a 'great power', something it never would have been allowed to have become under US leadership. Washington says it is engaged in a struggle with China, a country the US Secretary of State Mike Pompeo recently called 'the greatest threat of our time'.
That's the reason US troops continue to be deployed to South Korea; they are the nucleus around which 625,000 South Korean troops are organized for the projection of US power in East Asia against China. South Korea's raison d'etre from the point of view of the US state is to serve as a US power projection platform, or a stationary, unsinkable aircraft carrier under US command, on China's periphery, critical to the US foreign policy project of eclipsing China's independent economic development. US decision-makers have been keen to make China available to US investors and corporations as a sphere for the exploitation of low-wage manufacturing labor, and a vast market for US goods and services, but object to Chinese firms, whether private or state-owned, challenging US free enterprise. In other words, China is coveted by US planners as a satellite economy, but opposed as an independent economic actor.
Another reason Washington refuses to sign a peace treaty with North Korea is that remaining in a perpetual state of war with the North Korean state is part of the pressure campaign Washington has waged against the country from the moment North Korea was founded in 1948. The objective then, as now, is to bring about the collapse of the independence-minded government in Pyongyang in order to replace it with a government acceptable to the United States. This would bring all of the Korean peninsula under the informal control of Washington.
Yet another reason for the United States to oppose a formal peace on the peninsula is to establish a pretext to allow Washington to maintain pressure on North Korea in order to prevent it from developing a successful counter-example to the US-approved model of economic development. Washington says that a country must integrate into the US superintended global economic order, in order to thrive economically. This is a lie. Nicaragua, Honduras, Guatemala, El Salvador, Panama, Costa Rica, and Mexico, all near neighbors of the United States, have long been integrated into the US economy—often at the point of a US gun—and still they wait, and wait, and wait for a promised prosperity that never arrives. Far from being a route to prosperity, an open door to US economic penetration has often been a route to unremitting poverty and permanent relegation to serving as a means to US prosperity and territory from which US businesses suck wealth, leaving the natives with subsistence-level existences.
The United States tells the same lies to North Korea. It must build a US business-friendly investment climate, it must cater to US investors, it must welcome US banks, and it must allow US investors unfettered access to every profit-making opportunity that is latent in the country's labor, land, markets, and resources. It must put the interests of US investors ahead of the interests of its own citizens. That's what empire means: that the interests of the mother country, in particular, the interests of the metropolitan rich, prevail over the interests of the metropolitan powers' satellites. Even more than that, empire means that the metropolitan rich stand on the backs of the hinterland's poor.
North Korea has always rejected the US lie. That's a problem from the point of view of officials in Washington. If North Korea is allowed to pursue an alternative development strategy, one at odds with US prescriptions, which rejects Korea serving as a means to US ends and insists on Korea being an end in itself, and in pursuing its alternative development model it thrives, it becomes a model to be emulated by other countries—one that portends a diminishing set of profit-making opportunities for US investors and the growing courage of subordinate countries to reject their role as victims to be bled white.
Consequently, the United States has always, as a matter of policy, made it its task to ensure that any government that repudiates US lies, will be forced to live under a terrible burden of economic strangulation, isolation, and military threat. As the US campaign plays out, Washington attributes the poverty, chaos, and societal breakdown that ensue, not to the US campaign that caused them, but to the alleged failures of the target country's alternative model of development.
The Wall Street Journal recently ran an op-ed by an estadounidense who had visited Cuba with his church group, and reported that he had witnessed widespread poverty in the Caribbean country. He said that Cubans deserve better, and declared that Cuban poverty is a consequence of the socialist policies of the Cuban government. This was offered as an object lesson to US citizens of what happens when socialists (Bernie Sanders' name was mentioned) come to power. What he didn't mention was that almost from the very first moments of the Cuban Revolution, the US government resolved to cripple Cuba economically. So, writing about Cuban poverty without mentioning US economic sanctions, was like writing about the devastation of Hiroshima without mentioning the atomic bombing that produced it.
William Blum wrote a number of books on US foreign policy, with particular emphasis on US interventions in the affairs of other countries. He also wrote a monthly report called the Anti-Empire Report, an allusion to the United States as an empire. Blum once used an analogy to describe the US practice of sabotaging alternative development models, in an essay he titled, "Will humans ever fly? Smashing socialism in the 20th century."
Imagine that the Wright brothers' first experiments with flying machines all failed because the automobile interests sabotaged each and every test flight. And then the good and god-fearing folk of the world looked upon this, took notice of the consequences, nodded their collective heads wisely, and intoned solemnly: Humans shall never fly.

Fact: Virtually every socialist experiment of any significance in the twentieth century has been either overthrown, invaded, or bombed … corrupted, perverted, or subverted … sanctioned, embargoed, or destabilized … or otherwise had life made impossible for it, by the United States. Not one of these socialist governments or movements – from the Russian Revolution to Fidel Castro in Cuba, from Communist China to the Sandinistas in Nicaragua – not one was permitted to rise or fall solely on its own merits; not one was left secure enough to drop its guard against the all-powerful enemy abroad and freely and fully relax control at home.
The US Empire
There are three reasons I describe the United States as an empire:
1. It acquired most of its North American territory by force, stealing it from the First Americans and Mexicans.
2. Beginning in the nineteenth century, it acquired formal colonies in the Pacific, the Atlantic, and the Caribbean, including Hawaii, Samoa, Guam, the Philippines, the US Virgin Islands, Wake Island, Midway Island, the Northern Mariana Islands, and Puerto Rico, some of which remain de facto colonies today.
3. Today, it uses its vast economic and military power, and its globe-girding network of military bases, to impose its will on all but the few countries large enough to resist it, or committed enough to a meaningful independence, to defy it.
The United States began as 13 British colonies on the Atlantic coast of North America which came together to declare independence from Britain, mainly because Britain was blocking the colonists' expansion westward. What began as a very small country, within a very restricted area, became a vast territory stretching from one ocean to another. The process of continental expansion, of moving ever westward, of expropriating the territory of the First Americans, of annexing parts of Mexico, of settling on other people's land, of driving First Americans into graves and reservations, was one of empire building.
Once this vast continental empire was acquired, the United States embarked on the project of extending its territory beyond the continent. But those parts of the empire that exist beyond the continent are largely hidden today through what the US historian Daniel Immerwahr calls "the logo map of the United States."
The logo map is the usual cartographic representation of the United States as territory that falls exclusively within North America. That representation is what we understand the country to be, and not an empire, even though the territory includes vast tracks of land that were never part of the United States as originally established in the US War of Independence, and even though US power is present on every continent, a reality reflected in the vast network of US military bases and outposts that straddles the globe.
Immerwahr points out that the logo map is a misrepresentation of US territory in total, because US territory extends far beyond North America. The United States formally includes territory in the Caribbean, the Pacific, and the Atlantic. US territories are properly called colonies, and were openly called colonies by US presidents as recently as the first half of the 20th century. Nowadays, they're euphemized as territories, if they're even recognized as US possessions. Often these places are misunderstood to be, not colonies of the United States, but foreign countries.
Puerto Rico, for example, is a colony of the United States. It was acquired by the United States in the Spanish-American War at the end of the nineteenth century. Puerto Ricans have no voting representation in the US Congress. They cannot vote in US presidential elections. The same is true of the US colonies of Guam, American Samoa, the US Virgin Islands, and the Northern Marianas—all US territories in which the residents have no voice in Congress and no say over who will be their head of state. Their status is the same as India's was under British rule.
Stalin once observed that the United States' record in world affairs is exactly the opposite of its view of itself. That the United States could exist as a formal colonial empire—indeed, can continue to exist as one today—while persuading the world that it has always been an anti-colonial power, untainted by the sin of colonialism, as its rivals Britain, France, Germany, Japan, Italy, and Russia were, affirms the point. By one account, Puerto Rico is the world's oldest colony. This means that the United States, which understands itself to be anti-colonial to its core—or at least wants the world to believe this—is in reality the most enduring colonial empire of all.
Hawaii is a state, not a colony, but it was a colony (as the other colony turned state, Alaska was) until 1959. How and why was it acquired? The United States was looking for an island on which to park a few battleships, as the author Sarah Vowell memorably put it—battleships that would be useful in projecting US power into East Asia, and Hawaii fit the bill. Before Korea, Hawaii was the principal US power projection platform aimed at East Asia.
The Philippines served a similar role. The territory was a formal colony of the United States from 1898 to 1946, half a century. And when Washington relinquished its formal control of the country, it insisted on receiving ninety-nine year leases on select military sites, so that the Philippines could continue to act as a US power projection platform important to the US project of dominating East Asia. At the same time, Washington could boast falsely (for it hung on to its colonies of Hawaii, Alaska, Puerto Rico, Guam and so on) that granting the Philippines independence proved that it was an anti-colonial power. By the same reasoning, Britain's granting India independence must have proved that Britain too was an anti-colonial power.
US experts in casuistry, as William Appleman Williams called them, have frequently tried to turn US vices into virtues. For example, it has been argued that a US commitment to liberty is evinced in the manumission of the slaves, a sophistical maneuvering that requires us to forget the very existence of the institution that invalidates the point. In short, if the United States was committed to liberty, it never would have tolerated slavery; if it abhors the enslavement of colonial peoples, it would have never enslaved them. Nor would it tolerate holding residents of its euphemized territorial possessions in colonial subjection today.
Interestingly, there is an event called Pearl Harbor. Pearl Harbor, the event, was the Japanese attack on Pearl Harbor, the place. Pearl Harbor, the place, is a US naval base in Hawaii. The Japanese attacked the base in December 1941—an attack which brought the United States formally into the Second World War. When Pearl Harbor was attacked, Hawaii was a US colony. The attack was part of what the Japanese called the Greater East Asian War, which, from their perspective, was a campaign to liberate the territories of East Asia that had been colonized by the West, and to fold them into what the Japanese called a Greater East Asian Co-Prosperity Sphere, a high-sounding term for an expanded Japanese empire.
The Greater East Asian Co-Prosperity Sphere had a parallel: the Monroe Doctrine. The Monroe Doctrine was a US declaration that the Western Hemisphere, the Americas, would be an exclusive US sphere of influence, closed to European powers. Indeed, William Appleman Williams wrote that Japan saw itself as the United States of Asia whose goal was to impose its own Monroe Doctrine on the Far East.
I mention this because on the day the Japanese attacked the US colony of Hawaii, they also attacked the US colonies of the Philippines, Guam, Midway Island, and Wake Island. Additionally, attacks were launched on the British colonies of Malaya, Singapore, and Hong Kong. In other words, what is now called 'Pearl Harbor' marks the beginning of a campaign to transfer the Asia-Pacific colonies of the British and US empires to the Japanese empire. But if the Japanese attacked eight Western colonies on that day, why is it that the event is commemorated by the attack on only one of them?
Immerwahr argues that omitting US colonies from historical memory serves the purpose of hiding the US empire, of concealing the reality that in 1941 the United States was a formal empire with colonial possessions in East Asia and the Pacific that were coveted by a competing empire, and that the war between these two empires was not a war of democracy against militarism, but a war over who East Asia belonged to. Would it belong to the Japanese, or would it belong to the United States? Of course, there was a third possibility: it could belong to the peoples of East Asia. Korea could belong to the Koreans (a possibility that would have obviated the Korean War), China could belong to the Chinese (rendering the US question "Who lost China?" meaningless), and Vietnam could belong to the Vietnamese (sparing us the Vietnam War.) This was the model—a fundamentally democratic one—that the guerillas who founded North Korea espoused.
Incidentally, the US colonization of the Philippines played an important role in shaping the thinking of Kim Il Sung, who would become the first leader of North Korea. In 1905, Japan declared Korea a protectorate, essentially announcing formally that Korea would fall under Japanese rule. Seeking international recognition for this move, Japan approached the United States and said: "Look, if you recognize our control of Korea, we'll return the favor by recognizing US control of the Philippines." Washington readily accepted and the two empires signed an agreement to formalize their division of East Asia.
Five years later Japan formally integrated Korea into its empire, and Koreans began to work in various ways to free themselves from Japanese tyranny. One such Korean was a man named Syngman Rhee, who would become the first president of South Korea. Rhee spent much of his life in the United States, collecting degrees from Ivy League universities, and lobbying the US government to help free Korea from Japanese rule.
Kim Il Sung chose another route. He went to Manchuria, a part of China which abuts Korea, to fight a guerilla war against the Japanese. Kim thought that Koreans, like Syngman Rhee, who were petitioning Washington to help free Korea from Japanese rule were naïve, since the United States was an empire, with colonies in East Asia and the Pacific, and had, as Kim put it, sold Korea into colonial slavery through its agreement with Japan to recognize Japan's colonization of Korea in return for Japan recognizing US colonization of the Philippines. Kim regarded Rhee as a fool for begging and pleading for help from a colonial power, reasoning that a colonial power would be more interested in dominating Korea than liberating it.
In his autobiography, Kim described the US and Japanese empires as armed robbers: "An armed robber in your house will not spare your life, just because you plead for your life. Other armed robbers standing outside will not rush inside to help you no matter how loud you scream. If you want to live, you must fight off the armed robber yourself."
So, in Kim's view, appealing to one empire to help free oneself from another, was like asking an armed robber waiting outside your door to help you eject the armed robber inside your house.
The Korean War, 1932-Present
To understand Korea today, the division between north and south, and the hostility between the two states, one needs to understand the Korean War. The overt hostilities of the war ended, not in a peace treaty, but an armistice. The war is still nominally in progress.
In the conventional account, the Korean War began in 1950 and ended in 1953. On one side was the UN Command, which included US forces, South Korean forces, and token representations from US allies, all under the command of the United States. On the other side was North Korea initially, and very quickly thereafter, China, which took command of joint Chinese-North Korean forces. The Korean War is sometimes called the Sino-America War, or a war between the United States and China, which, in one respect, it was.
1950-1953 is the conventional dating of the war. But as mentioned earlier, the war didn't officially end in 1953. US forces haven't left the peninsula. The UN Command has not been dissolved. And a peace treaty has never been signed. So the war, while in a dormant phase, continues. We ought to date it, 1950 to present.
But even the conventionally understood 1950 start-date is wrong. June 1950 was the month North Korean forces crossed the 38th parallel, a dividing line drawn by the United States in 1945, and accepted by the Soviets, for separating the US and Soviet occupation forces, who, by agreement, committed to quit the peninsula within five years. The parallel was never an international border; never the border between two countries; and only ever a temporary informal border between two occupation forces. Soviet troops exited the peninsula at the end of 1948. The US occupation has never ended. The latter point underscores a simile. US troops deployed to foreign countries are like cockroaches. Once they move in, it's nearly impossible to get rid of them. Many US citizens find the simile offensive, but to people who endure occupation, the occupiers are, like cockroaches, unwelcome pests.
In the conventional US dating, June 1950, not June 1949, marks the start of the war, but from June 1949 to June 1950 North Korea and South Korea fought along this imaginary line. June 1950 is the point at which North Korean forces, in the conventional US account, committed an act of international aggression by moving across the 38th parallel. The problem with this view is that, for the reasons explained above, the 38th parallel wasn't an international border. Indeed, no one recognized it as such—not the South Koreans, not the North Koreans, and not the US government.
In June 1950, the South Korean government regarded itself as the sole legitimate government in all of Korea and viewed North Korea as a criminal organization illegally occupying territory north of the 38th parallel. At the same time, the North Korean government regarded itself as the sole legitimate government of all of Korea and saw South Korea as a criminal organization illegally occupying territory south of the 38th parallel. Both states declared Seoul to be their capital, and both claimed exclusive jurisdiction over the entire Korean peninsula.
The model of the Korean War as a conflict between two countries does not fit. Two countries didn't exist. One country, Korea, did, but it was claimed by two separate states. It's more accurate to think of the conflict as a civil war between two groups of Koreans for control of a single country. One group comprised traitors who collaborated with the Japanese, while the other was made up of patriots who fought the Japanese. From the perspective of civil war, no invasion occurred in June of 1950, since it was impossible for Koreans to invade their own country. What happened was that the army of one group of Koreans (the patriots) moved into the territory occupied by the army of another group of Koreans (the traitors), with the aim of liberating their country from the traitors and the traitors' patron, the United States.
A parallel can be glimpsed in imagining a conflict between Free France and Vichy France during the Second World War. Could Free French forces invade Vichy France? Would crossing into the territory under the control of the Vichy regime, be an act of international aggression, or simply French patriots trying to liberate their country from traitors collaborating with a foreign invader?
The UN Command operated under a UN Security Council Resolution which authorized the use force to compel the North Koreans to withdraw to the 38th parallel. This, the patriots were forced to do, but the empire-commanded forces quickly proceeded to violate the resolution by moving north beyond the 38th parallel toward the Chinese border. When it was pointed out that if North Korea had committed an act of international aggression by invading across the 38th parallel, then so too had US forces by crossing the parallel in the other direction, the US ambassador to the United Nations countered that the 38th parallel was not an international border but an imaginary line, thus invalidating the initial charge against North Korea. The United States was seeking to have matters both ways, defining the crossing on an imaginary line as an invasion when North Korea did it but not an invasion when by the United States did it.
The double standard reflected the ideology underlying US foreign policy. As explained by the US historian Marilyn B. Young, US foreign policy insists that the intentions of the United States are always good and the intentions of the enemies of the United States are always bad. Therefore, North Korea's crossing the 38th parallel must have been bad, because it was an act of a US enemy, while the United States' crossing of the same parallel must have been good, because it was an act of the United States.
Bruce Cumings, a leading US historian of twentieth century Korea, argues that the civil war between Koreans began, not in 1950, when Kim Il Sung set out to liberate, unify, and revolutionize his country, and not in 1949, when patriot and traitor forces began to fight along the 38th parallel, but in 1932, when Kim Il Sung formed his first patriot guerrilla unit to fight the Japanese, and collaborators, who would become central figures in the South Korean government, chose another route, joining the Japanese army to enforce Japan's colonial tyranny over Korea.
One of those traitors was Park Chung-hee, who was for many years, the military dictator of South Korea. While Kim Il Sung was fighting the Japanese in the mountains of Manchuria, Park was serving voluntarily as an officer in the Japanese Imperial Army, in a counter-insurgency unit in Manchuria, hunting down Korean guerillas, like Kim Il Sung, and the patriots who would later found the North Korean state.
In South Korea, Kim Il Sung is demonized, just as he is in the West. But Cumings reports than in 1989, South Korea's leading scholar of Korean communism was allowed to tell the true story of Kim Il Sung. When it was explained to a group of South Korean students who Kim really was, namely, a patriot hero of the guerilla struggle for Korean independence, the students broke out in loud applause.
Cumings points out that the descendants of Koreans who fought each other beginning in the 1930s as anti-Japanese guerillas versus pro-Japanese collaborators, continue to struggle today against each other as the leaders of North and South Korea. The current leader of North Korea, Kim Jong Un, is the grandson of the guerilla leader Kim Il Sung. The president of South Korea, prior to the current one, Park Geung-hye, is the daughter of Park Chung-hee, the military dictator who, as an officer in the Japanese Imperial Army, hunted down guerillas like Kim Il Sung. Thus, as Cumings has argued, the civil war that began in 1932 between patriots and traitors has never ended and is carried on today by their descendants.
Health Care and the Empire's Economic War Against Korean Patriots
The most significant determinant of the quality and level of health care available to North Koreans today is their government's rejection of empire. This rejection has led to the United States, and its allies, and finally the UN Security Council, imposing punitive sanctions on North Korea, intended to destroy its economy and as a corollary to coerce the government and people of North Korea to surrender their independence and become part of the informal US empire (as their compatriots in the south are.)
No country has been subjected to a campaign of economic warfare as long as North Korea has, and I use the term economic warfare as a synonym for sanctions, sanctions being an anodyne term for what in international law are called coercive economic measures. If the aim of warfare is for one state to impose its will on another—that is, to engage in international coercion to work its will—then we can think of coercive economic measures as warfare conducted through economic means.
The United States has waged economic warfare on North Korea from the very first moments of North Korea's birth in 1948, and the burden on the country of the US-pursued war by economic means has increased since 2006, when the United Nations Security Council passed a resolution enjoining all members of the United Nations to participate in this campaign. Today, North Korea is facing a near-comprehensive sanctions program—an almost complete blockade of trade and its total isolation from the global financial system.
The sanctions have banned the export of coal, of iron ore, and of other key North Korean products, as well as drastically cut oil imports. The amount of refined petroleum North Korea is allowed to import has been cut by almost 90 percent. How is it possible to operate a modern economy under these conditions? Of course, it isn't possible, which is the point.
The sanctions have also undercut North Korea's ability to import food, necessary to alleviate an already existing chronic food shortage, the consequence of previously-imposed sanctions. Food-insecurity has obvious implications for public health.
Sanctions programs often provide exemptions for the importation of drugs and other humanitarian goods, subject to approval. Those approvals are often denied on the grounds that the requested imports go beyond fulfilling a basic humanitarian function, which is regularly defined as the prevention of famine. That's the idea, or at least, that's the way the United States interprets humanitarian exemptions: exemptions should do no more than prevent mass starvation. In other words, under the US definition, sanctions which create enormous suffering and misery are humanitarian, so long as the people subjected to them, don't starve to death. By this definition, locking up people in concentration camps and feeding them a diet only sufficient to prevent organ failure constitutes humane treatment.
But even if North Korea were allowed to import all the food and drugs it requires—that is, even if humanitarian exemptions were truly humanitarian—food and drugs alone would hardly be sufficient to address the public health care needs of North Koreans. Public health requires more than access to food and medicine. It requires access to clean water and ways of transporting drugs, food, and medical equipment to where they're needed. It requires electricity to power medical equipment, to provide lighting in hospitals and clinics, and to provide refrigeration to prevent drugs and food from spoiling.
If you prevent a country from importing trucks, tires, spare parts, and fuel, how can it distribute drugs, food, and medical supplies? How can it run hospitals and ambulances? If you prevent a country from importing machinery and industrial equipment, how can it maintain its sewage and water treatment facilities? How can it maintain its power plants?
In Iraq in the 1990s, UN sanctions prevented the Iraqi government from rebuilding its water treatment and sewage facilities, which the United States had damaged in the Gulf War. This led to outbreaks of water-borne illness, including typhus and cholera. During the Gulf War the United States deliberately bombed water treatment and sewage facilities, with full knowledge of the probable public health consequences. The Pentagon acknowledged in advance of the bombing that there would be outbreaks of water-borne illness.
UN sanctions complemented the effects of the bombing campaign by preventing the Iraqi government from importing the goods it needed to repair the infrastructure the United States had destroyed or damaged. The intent, then, of the Gulf War and the sanctions program that accompanied it, was not only to damage the health of Iraqis but to return their country to the middle-ages—which is precisely what happened. Today, Iraqis suffer the consequences; basic civilian infrastructure remains in ruins; life is one preventable misery piled atop another. A country that had enjoyed during the 1970s what one former US State Department official had called a golden age is now a crucible of human misery, thanks to the war, both military and economic, waged by the United States, and participated in, if not on the military side, then on the economic side, by numerous countries throughout the world, which delude themselves that they are morally above the war-obsessed United States, because they dropped no bombs on Iraq. But they did contribute to the economic war which, as we'll seen in a moment, was very likely more deadly than the bombing war.
Returning to North Korea, the US Treasury Department has effectively blocked the transfer of funds to and from the country, isolating it from the world banking system, so that on top of the prohibitions on goods that can be imported from or exported to North Korea, the US government makes it virtually impossible for North Korea to pay foreign suppliers. The United States does this by refusing to deal with any bank that deals with North Korea, and since no bank cares to be shut out of the US market, banks steer clear of the US-designated pariah state. For example, the World Health Organization has an office in North Korea. To pay its local staff, it needs to procure funds through a foreign bank. The bank is in India. But the bank refuses to transfer funds to North Korea, fearing that if it does so, it will be cut off from the US banking system.
This happens in all the countries the United States embargoes. Few companies or organizations want to transact business with a sanctioned country. The bureaucratic hurdles that must be overcome to get approvals to export goods to a pariah state are so steep that they act as a deterrent It's just not worth the effort to complete all the paper work necessary to trade with North Korea. Additionally, and more importantly, organizations don't want to run the risk of running afoul of the US Treasury Department and becoming the target of secondary sanctions. Accordingly, sanctioned countries have difficulty finding partners to transact business with, even when the business to be transacted is not formally prohibited.
Why have sanctions been imposed on North Korea?
Ostensibly the sanctions were imposed to pressure North Korea to dismantle its nuclear weapons and ballistic missile programs, and that's true of the multilateral UN Security Council sanctions that have been in effect since 2006, but the United States and its allies have maintained sanctions on North Korea from the moment of North Korea's birth, long before North Korea ever had nuclear weapons.
Some of the reasons for imposing the sanctions are really quite deplorable. One set of US sanctions was imposed because, as the framers of the legislation imposing the sanctions wrote, North Korea maintains a Marxist-Leninist economy. The fact that the United States feels it is legitimate to use coercive economic measures to pressure a foreign country to change the way it organizes its economy is indefensible. It is not within the legitimate remit of the US government to decide how another people organizes its economy. Meddling in the internal affairs of other countries is an affront to both the concepts of geography and democracy. US politicians behave as if North Korea is part of the United States, and that Washington has the right to impose US economic preferences on North Korea's citizens. It does not.
Even if North Korea dismantled its nuclear and ballistic missile programs, it would still be sanctioned, because nuclear weapons and ballistic missiles aren't at the heart of why sanctions were imposed. Sanctions were imposed because North Korea has refused to allow its territory to become a satellite of the US economy and outpost of the US military.
Let's consider the casual sequence. North Korea refuses to be absorbed into the US empire. Unwilling to take no for an answer, the United States uses various methods to coerce North Korea into surrendering its sovereignty. To deter the United States, and to defend its independence, North Korea develops nuclear weapons.
Let me draw your attention to the work of Kenneth M. Waltz. Waltz was a high-profile US political scientist, the president of the American Political Science Association, and founder of what is called the neo-realistic or structural realistic school of international relations. Waltz wrote:
Like any dominant power, [the United States] is a looming threat in the minds of many international leaders. When President George W. Bush identified Iraq, Iran, and North Korea as forming an axis of evil in January of 2002, and when he then ordered the invasion of one of them, what were the other two to think? It would make sense for them to believe that they might be next, and in that case to take steps to deter the United States from invading. But how can any state hope to deter a world-dominant power? Conventional defense and deterrence strategies have historically proven ineffective against the United States, so, logically, nuclear weapons are the only weapons capable of dissuading the United States from working its will on other nations.
Waltz was saying, if you're a small and weak country, and you're threatened with invasion by the United States—which, elsewhere, Waltz had pointed out has a penchant for beating up on weak countries—what are your options? The only option is to acquire the one class of weapons capable of deterring the United States: nuclear weapons. Waltz went on to argue that North Korea's interests in nuclear weapons stem from "serious security concerns."
North Korea began thinking about acquiring nuclear weapons in the early 1990s, following the dissolution of the Soviet Union. When the Soviet Union dissolved, North Korea was no longer under the Soviet nuclear umbrella. It was exposed, terribly insecure, and at risk of invasion by the United States.
It's easy to deplore North Korea's decision to acquire nuclear weapons as we in Canada, or South Korea, or Japan, or Germany, sit under the US nuclear umbrella. Countries that live under the US nuclear umbrella feel secure. Since these countries rely on US nuclear weapons for protection, they have no need to develop their own.
Insecure countries, on the other hand, have very compelling reasons to develop nuclear weapons. North Korea found itself in the early 1990s directly targeted for nuclear strike by the United States. The US Strategic Command, the body that operated the US nuclear force, announced that it was retargeting some of its strategic nuclear missiles from the now defunct Soviet Union to North Korea. Shortly thereafter, North Korea announced that it was withdrawing from the Nuclear Non-Proliferation Treaty. The message was: If you threaten us with nuclear annihilation, we have no option but to find a deterrent to your threat.
In 2002, a Pentagon list was leaked of seven countries deemed possible targets of a US nuclear strike. The list included North Korea. Russia, China, Syria, Libya, Iran, and Iraq were also on the list.
The central tenet of nuclear non-proliferation is: don't threaten non-nuclear countries. If you're genuinely concerned about nuclear non-proliferation, you painstakingly avoid creating the conditions that encourage countries to arm themselves with nuclear weapons in order to achieve security. And yet the United States has acted in ways, and continues to act in ways, that virtually guarantee the spread of nuclear weapons from one threatened insecure country to another. The United States is the world's major cause of the spread of nuclear weapons.
Muammar Gaddafi, the former leader of oil-rich Libya, overthrown by Islamist rebels backed by NATO warplanes, had also found himself in a very insecure position after the dissolution of the Soviet Union. The US government didn't like Gaddafi's policies. They were too nationalist for the tastes of US oil companies. Gaddafi tried to rectify his precarious security condition by developing a nuclear weapons program. Gaddafi's program never really got off the ground, but if it had, and had succeeded, it may have provided Libya with the security the radical economic nationalist sought.
However, instead of pursuing the development of nuclear weapons, Gaddafi struck a deal with the West. He was offered concessions, and in return, he abandoned his nuclear weapons program. But before long, he found himself double-crossed. Effectively disarmed, he became an easy target, and was overthrown—indeed, gruesomely murdered—by radical Islamists backed by the United States and its allies.
The North Koreans pointed to the Libyan example as confirmation that they had made the right decision in building nuclear weapons, vowing that they would never let themselves be double crossed the way Gaddafi had.
The Arab nationalist leader of Iraq, Saddam—I call him Saddam because that's how he was referred to in Iraq and how he wanted to be referred to, and also because Hussein wasn't his family name but his father's name—Saddam, also embarked on the development of nuclear weapons, as a means of making his country secure from the growing threats of the United States. To deny him nuclear weapons that would effectively make him invulnerable to US attack, and for other reasons related to the US goal of completely dominating West Asia and its oil resources, the United Nations Security Council, under US pressure, imposed a comprehensive sanctions program on Iraq from 1990 to 2003, much like the one we see today on North Korea.
The sanctions program generated a lot of controversy because there was plenty of evidence it was killing hundreds of thousands of Iraqis through malnutrition and disease. In the controversy surrounding the sanctions, a paper was written by two US academics, John Mueller and Karl Mueller, that appeared in Foreign Affairs (the informal journal of the US State Department.) In their article the two political scientists pointed out that in the twentieth century, sanctions had killed more people than all the weapons of mass destruction in history, including all the chemical weapons used in World War I and the atomic bombs used at the end of World War II.
This was notable, because the Iraq sanctions were ostensibly aimed at pressuring the Iraqi government into giving up its weapons of mass destruction. I say ostensibly because Washington had made clear that the sanctions wouldn't be lifted until the government in Iraq was replaced by one acceptable to the United States. Hence, the goal of the sanctions program went well beyond denying Iraq its weapons programs. In announcing that the sanctions would not be lifted until the Iraqi government was ousted in favor of a US-approved replacement, the United States removed any incentive for Baghdad to relinquish its weapons.
If sanctions were killing more people than all the weapons of mass destruction in history, not only was this a cruel irony, but the sanctions deserved the label 'sanctions of mass destruction' — because that's what they were doing: producing the mass destruction of human life. This was a case of the cure being worse than the disease.
In making this argument, Mueller and Mueller pointed out that the Allied blockade of Germany in World War I had killed over 750,000 people through disease and malnutrition, far more people than were killed in the atomic bombings of Hiroshima and Nagasaki.
The Allied blockade of Germany, then, is one example of mass destruction of human life that exceeds the use of atom bombs. There is also the mass destruction brought about by fire-bombing, that is, through the use of incendiary weapons, including jellied gasoline and napalm, to incinerate cities and cremate the people inside them. The British and US air forces in World War II discovered that it was easier to burn cities to the ground than to blow them apart, and they burned a number of cities to the ground—Hamburg and Dresden in Germany, and over 100 Japanese cities, including Tokyo.
Let's consider the fire-bombing of Hamburg. As Sven Lindqvist recounts in his book A History of Bombing, when the rescue teams made their way into Hamburg's bomb shelters, they were faced with scenes reminiscent of those encountered at the same time by Jews forced to clear the bodies of other Jews out of the gas chambers. What they found was 'intertwined piles of people, killed by fumes and pressed against the vents of the barricaded doors.' Hence, as some have pointed out—the US historian Lewis Mumford, for example—the difference between incinerating civilians in a fire-bombing raid and incinerating civilians in deathcamp ovens are too trivial to mention. Mumford wrote: "In principle, the extermination camps where the Nazis incinerated … helpless Jews were no different from the urban crematoria our air force improvised in its attack by napalm bombs on Tokyo," a reference to the March 9-10, 1945 US fire-bombing of Tokyo, which scorched, boiled and baked to death 100,000 Japanese civilians, as Curtis LeMay, the US general who planned the raid, put it.
After learning to incinerate Japanese cities, LeMay applied what he learned to the project of incinerating all of North Korea, destroying the country so thoroughly that there were only two modern buildings left standing in North Korea's capital, Pyongyang, when the air raids were brought to a halt in 1953. LeMay recounted that "over a period three years or so…we burned down every town in North Korea and South Korea too."
Returning to Iraq, sanctions on the country during the 1990s killed perhaps well over one million people. We know that by 1995 they had killed over 500,000 Iraqi children under the age of five through disease and malnutrition, according to a UN agency, and the sanctions would last another eight years. This was an atrocity the US Secretary of State at the time, Madeline Albright, did not deny. Instead she said it was a tough decision to impose the sanctions that produced death on this scale, but "it was worth it."
Over a half a million children dead as a result of sanctions is more than the combined fatalities of Hiroshima and Nagasaki. This has led some people to equate sanctions to economic atom bombs, recognizing that the effects of sanctions in the destruction of human life can be as great as, if not greater, than a nuclear attack.
Or we can look at this another way. Combined, the fire-bombing of over 100 Japanese cities in World War II and the atomic bombing of two more, produced 500,000 fatalities. Thus, the number of deaths produced by the sanctions of mass destruction inflicted on Iraq in the first five years was greater than the number of deaths produced by the fire- and atom-bombings of Japan during World War II.
Economic atom bombs have been denotated not only over Iraq and North Korea, but over Syria, Iran, Cuba, Venezuela, and Zimbabwe.
Ten years ago, Amnesty International released a report on what it called the crumbling state of health care in North Korea, which the organization blamed on what it said was North Korea's mismanagement of its economy. Misattributing economic breakdown to a country's alleged mismanagement, rather than to the economic warfare that produced it, is a standard practice of Western governments and their non-governmental allies.
Here's what happens: Economic atom bombs are dropped on a country. Its economy collapses. People go hungry. Public health care suffers. And organizations like Amnesty International blame the collapse, not on the sanctions, but on the economic policies of the country under attack. The mainstream media are no different. Read Western newspaper accounts of the economic troubles experienced by sanctioned countries and you will invariably see that those troubles are attributed to mismanagement. Because the ravages of US sanctions are almost invariably inflicted on communist, socialist, and radical nationalist governments— and not on the pro-imperialist, pro-capitalist human rights horror shows of Saudi Arabia, Israel, the India of the Islamophobic BJP, Egypt, Qatar, Bahrain, and the United Arab Emirates, all of which Washington cherishes as allies—US politicians, Amnesty International, and the mainstream news media, are able to intone that socialism or any program intended to uplift the poor, the underdeveloped, or the historically oppressed, is unrealistic, impractical, and bound to produce failure. This is a way to strengthen profit-centered ideology and attack its people-centered challengers.
I wrote a criticism of the Amnesty International report which began with a quotation from a 1997 article in the New England Journal of Medicine. The article was titled, "The sleep of reason produces monsters—human costs of economic sanctions," and the quote I chose was this: "Economic sanctions are, at their core, a war against public health."
Consider that recently economists Mark Weisbrot and Jeffrey Sachs found that sanctions on Venezuela "have inflicted, and increasingly inflict, very serious harm to human life and health, including an estimated more than 40,000 deaths from 2017–2018." That's more deaths than produced by the US-British fire-bombing of Hamburg during the Second World War.
US Secretary of State Mike Pompeo says the Iranian government—whose citizens are being crushed by the burden of massive US sanctions—must do what the United States says "if they want their people to eat." That's called, "Do as we say, or starve." And that's why under international law, sanctions are not called sanctions but coercive economic measures. Sanctions have adversely affected health care in Iran. The Wall Street Journal reported that Iran's "health care system has … been depleted after the U.S. imposed economic sanctions in 2018… hindering imports of certain medicines and medical equipment."
Is Killing Hundreds of Thousands of Iraqis, North Koreans, and Others Worth It?
One might be of the view that no matter how much sanctions are, at their core, a war against public health, that waging a war against the public health of North Koreans is worth it, to protect us from the possibility of a North Korean nuclear strike.
There are a number of problems with this view. No serious commentator believes that North Korea's nuclear weapons pose an offensive threat to the United States, or to South Korea, or to any other country. North Korea's nuclear arsenal is strictly defensive. The country is not in a position to launch a first strike attack on the United States or its allies and survive a retaliatory strike. North Korea would be completely vaporized and the leadership knows it. What's more, no one of consequence in the US state seriously believes that the North Korean leadership is suicidal.
Additionally, as I've already pointed out, Western sanctions on North Korea began decades before the North Koreans ever had nuclear weapons. From this we can conclude that sanctions weren't imposed to punish North Korea for developing nuclear weapons. They were imposed for other reasons. It is meaningless, then, to talk of waging a war against the public health of North Koreans to protect us from the possibility of a North Korean nuclear strike, when an offensive North Korea nuclear strike is not in the cards, and deterring a North Korean nuclear strike has never been the reason for the sanctions.
What, then, is the reason?
It's not difficult to find out. The Congressional Research Service, a think-tank and information service of the US Congress, published a paper on US sanctions on North Korea. Look through the list of sanctions, which is extensive, and you'll find that one of the stated reasons for inflicting economic hardship on North Korea is to punish the state for running, as I mentioned earlier, what the US government calls "a Marxist-Leninist" economy, and for failing to operate what it calls a "market economy."
In other words, the goal of many of the sanctions inflicted by Washington on North Korea (not all of them, but many of them) has been to coerce the North Koreans into opening their economy to US exports and investments. Indeed, at the turn of the twentieth century, the United States adopted what it called the Open Door Policy as the basis for its foreign policy; that is, US foreign policy would promote an open door throughout the world for US businesses. Woodrow Wilson, the US president in the years immediately before and during the First World War argued that those countries that refused to open their doors—either because they rejected free enterprise in favor of public ownership or were radical nationalist and wanted to develop their own industry internally and therefore needed to shut out foreign competition—these countries would have to be coerced to open their doors, to accept free trade, and US free enterprise, even if it meant "outraging their sovereignty." This might mean invasion, or sanctions, or the overthrow of governments—whatever it took to bring about a change that would allow US business people to do business in a previously closed economy.
What this means is that the United States is waging a war on the public health of North Koreans because North Koreans have decided—as they have every right to do—to organize their economy in a manner they believe is most suited to their own needs and interests rather than the needs and interests of US corporations and investors.
So, here's the message: Unless you organize your affairs in the manner we say—in a manner conducive to the interests of the US billionaire class—we will undertake an economic war on you, which, at its core, will be a war against public health.
It's not widely known, but the United States has imposed sanctions on Syria since 1979, and escalated its sanctions in 2003, and then later in 2011. But why 2003?
That was the year the United States and Britain invaded Iraq. And the plan, revealed by the US Congressional Research Service, was for US forces to follow up their invasion of Iraq with an invasion of neighboring Syria to replace the government of Bashar al-Assad with one acceptable to the United States. The year before, Washington had added Syria to its so-called Axis of Evil list, which included initially Iraq, Iran, and North Korea, and then was expanded to include Syria, Cuba, and Libya.
That Washington was planning to invade Syria in 2003 was confirmed recently by Lawrence Wilkerson, who had been chief of staff to Colin Powell, the US Secretary of State at the time. Wilkerson told Aaron Maté of the investigative news organization, The Grayzone, that
"The next plans were for Syria. Syria just fell right in line with Iraq, because we thought it was going to be swift, quick, roses in the street, candy in the bars, and so forth, everything was going to be over very quickly. Rumsfeld [the Secretary of Defense] thought we were going to be out of Iraq by August [2003] and we'd bounce right over into Syria. And we thought that Syria would be sufficiently cowed by how fast we did Iraq, and it wouldn't be very hard in Syria. And then we'd move on from there. I actually saw the contingency planning for that, the classified contingency planning."
Assad has the same commitment to political and economic independence that Saddam had, one based on economic and foreign policies that stress Arab independence. Washington disapproves. If you read US government documents on Syria, you'll see that they're teeming with complaints about Syria being insufficiently accommodating of foreign investment and US free enterprise. Damascus is also denounced for supporting independence movements.
When the Pentagon discovered that Iraqis were resisting their occupation, the generals decided that a follow-up invasion of Syria was a bridge too far, whereupon the US political leadership concluded that the goal of replacing the Assad government with one acceptable to the United States—one which would implement the open door policy in Syria and renounce Syria's support for liberation movements—would have to be brought about by other means.
One of those means would be sanctions. Hence, coercive economic measures were stepped up in 2003, and by the spring of 2012, The Washington Post would report that sanctions had "forced Syrian officials to stop providing education, health care and other essential services in some parts of the country."
Thus, long before the outbreak of the so-called Arab Spring in 2011, the United States was waging an economic war on Syria's education, on its health care, and on its other essential services.
In 2011, the EU, Turkey, the Arab League, Canada and Australia joined the US assault on the essential services of Syrians, including their health care.
In May of last year, the UN's Special Rapporteur on Syria described the sanctions as effectively a total blockade.
And while exceptions are theoretically constructed to allow the flow of humanitarian relief into Syria, a report prepared for a UN commission pointed out that there is "perilous reluctance among western suppliers and banks to offer humanitarian goods and related finance, in part, for fear of sanctions issues, such as fines for inadvertent technical violations."
The Special Rapporteur also observed that
"The uncertainty around what transactions do, or do not violate the unilateral coercive measures, have created a 'chilling effect' on international banks and companies, which as a result are unwilling or unable to do business with Syria."
Thus, the entry points through which humanitarian aid is supposed to flow exist in theory alone and not in reality.
Sanctions have severely limited the Syrian government's ability to purchase the drugs and medical equipment it needs. As a consequence, Syria's public health care system—once one of the best in Arab Asia—is in a state of virtual collapse, as is North Korea's. Significantly, both countries refuse to become economic and military satellites of the United States.
Commenting on the sanctions, the veteran foreign affairs correspondent Patrick Cockburn observed that the US, EU, and Canadian sanctions resemble the sanctions the UN imposed on Iraq—the ones that killed over 500,000 Iraqi children under the age of five in the first five years of the 13-year-long economic strangulation campaign. The de facto total blockade of Syria also calls to mind the Allied blockade of Germany, which killed over 750,000 German civilians during World War I.
Madeline Albright said that killing 500,000 Iraqi children through sanctions-related disease and malnutrition was worth it. Worth what? What did the United States gain in exchange for the lives of over half a million Iraqi children under the age of five?
It gained opportunities for major US investors. Washington expanded its control over a West Asia pullulating with profit-making opportunities and rife with strategic significance. The profit-making opportunities of West Asia's petroleum resources are obvious. But there's also a strategic significance that's less obvious. Western Europe and East Asia are dependent on West Asian oil. If you control West Asian oil and its transportation routes, you control Western Europe and East Asia, and control of these regions translates into profit-making opportunities for US businesses.
Recently, US Secretary of State Mike Pompeo was in Belarus, trying to persuade Belarus to move out of the orbit of Russia and into the orbit of the United States. Russia is Belarus's major source of oil and natural gas, so severing ties with Russia can't be accomplished without complications. But Pompeo assured the Belarussian president that if his country joined the US empire that "Our energy producers stand ready to deliver 100 percent of the oil you need at competitive prices." And that's what US control of West Asia means. It means leverage over countries that have no internal sources of petroleum—countries such as Japan, Germany, France, South Korea, China, and Belarus.
There are a few countries that were standing or continue to stand in the way of total US domination of the stupendous material and strategic prize of West Asian oil and natural gas, as a US State Department official once called it: Gaddafi's Libya, Syria, Saddam's Iraq, and Iran.
Soon after the demise of the Soviet Union, Paul Wolfowitz, who was then the US under-secretary of defense for policy, informed US General Wesley Clark that:
With the end of the Cold War, we can now use our military with impunity. The Soviets won't come in to block us. And we've got five, maybe 10, years to clean up these old Soviet surrogate regimes like Iraq and Syria.
He could have added North Korea.
How has the United States been cleaning up those old Soviet surrogate regimes? Partly by sanctions. In other words, the public health of a number of countries abroad is adversely affected by the foreign policy of the United States and its allies.
US foreign policy is shaped by the profiting-making imperatives of the most politically consequential sector of Western society, namely, corporations and major investors operating within the context of a capitalist system, who insist on open doors abroad, and access to every profit-making opportunity the world has to offer.
The implication is that the public health care systems of North Korea, Cuba, Iran, Syria, and Venezuela, are profoundly affected in a very adverse way by the profit-making imperatives that condition and guide the foreign policy choices of Western states.
Sanctions are intended to cripple economies and undermine public health for three reasons:
First, to create enough misery that the population of the crippled country attempts to relieve its misery by overthrowing its government. This ends the sanctions and relieves the people's misery but also clears the way for the installation of a government acceptable to the United States which will open the country's doors to US business and allow the US military access to the country's territory.
Second, to make an example of what will happen to any government that defies the US open door policy and chooses to implement communist, socialist, or radical nationalist policies.
Third, to turn public opinion against economic programs that reject free trade, free markets, and US free enterprise, by sabotaging them and then misattributing their sanctions-induced failures to the rejection of US free enterprise, rather than to the sanctions which were imposed with the deliberate aim of undermining them.
Sanctions are a weapon of US foreign policy for destroying any way of living that does not comport with the profit-making imperatives of the US business community. They destroy economies by design, gut public health care, create hunger, spread disease, and kill silently in numbers that regularly exceed the fatality rate produced by military means. Sanctions are not an alternative to war; they are war.
The Empire That Worships Mars
All empires worship Mars, the god of war, but the United States stands apart, not in the usual ways its experts in casuistry profess, but in warranting the status of being perhaps the most bellicose empire in modern history. Harry Stout estimates that over a period of 233 years, from 1776 to 2009, the United States engaged in 309 military interventions or nuclear standoffs, an average of 1.3 per year. This does not include covert activities, blockades, proxy wars, assassinations, or threats of war. A country with a record of aggressiveness this egregious cannot be expected to be interested in peace anywhere, let alone on the Korean peninsula.
US bellicosity is a means to the end of US expansionism. From its birth, the United States has unremittingly expanded, first territorially, and then informally. In only four cases of the 309 military interventions Stout identified were US actions taken in response to an attack on US soil. These were the War of 1812, the December 1941 Japanese attack on US colonial possessions in the Pacific, and the Al-Qaeda attacks on the World Trade Centre attack in 1993 and 2001. Significantly, all of these attacks were related to US expansion. The War of 1812 was a struggle between an established empire, the British, and a nascent one, the United States. The 1941 Japanese attack occurred as part of the struggle between the US and Japanese empires for control of East Asia, while the Al-Qaeda attacks were part of a struggle between the United States and the Islamist organization for control of Arab West Asia. In over 98 percent of the interventions, US forces attacked foreign soil.
The engine of US expansionism is the need of US businesses for new markets and fields for investment, and the fear of US planners that if US businesses cannot expand unchecked, that the US economy will settle into a secular stagnation, and demands will arise for major economic reforms, if not revolutionary change. There are few territories remaining in the world that have not been folded into the US economy (often at the point of a US gun), and Washington acts vigorously to absorb the hold outs. Among them is North Korea. Also, Cuba, Iran, Syria, and Venezuela. And more significantly, Russia and China.
The US war on Korea began not in 1945 but in 1871, when US forces invaded Korea, to punish the natives for refusing to trade with US businesses. Today, Washington continues to punish North Korea for the same reason. Washington deplores Pyongyang's refusal to accommodate US free enterprise. It also punishes North Koreans for insisting that their country not to be used as territory for US military bases.
In light of US bellicosity and US expansionism, it's difficult to accept that peace between the United States and North Korea, on terms agreeable to both sides, is even remotely possible. The one condition that might make the United States consider such an agreement—the need to deter a genuine North Korean threat to US security—is not even remotely present. North Korea, a small, enfeebled country, poses not the slightest threat to the United States. The DPRK is, unfortunately, the only interlocuter genuinely committed to arrive at a mutually agreeable peace. That's because peace serves North Korea's interests. As we've seen, it doesn't serve Washington's, unless it's achieved on Washington's terms.
A US-DPRK peace depends on the United States turning its back on its worship of Mars. Reversing centuries of US bellicosity depends on the United States radically re-engineering its economy so that it's no longer dependent on global expansion. Removing the US economy's dependence on global expansion means removing profit-making as the economy's engine and replacing it with a consciously guided plan to satisfy the material, social, and psychological needs of US citizens at home, and practicing what the leading US historian of the first half of the twentieth century, Charles Austin Beard, called self-containment. Whereas today labor is but a means to create profits, the work people do needs to become the means to widen, to enrich, and to promote the existence of all who work. Not only would a radical re-engineering of this type improve the lives of the many (though not of all—billionaires would no longer live in the lap of luxury on the backs of others), it would significantly reduce (though not eliminate) the reasons for conflict among states. At that point, peace between the United States and North Korea would become an achievable reality rather than what it is today: a pleasant fantasy for dreamers.
As to South Korea, its liberation depends, ultimately, on economics. Slavery ended when its economic logic was no longer supportable. Colonialism ended (where it ended) when the revolt of the natives made the economic logic of colonialism indefensible. US neocolonialism in Korea will end when one or both of the following conditions are met: (1) The revolt of the natives undermines the economic logic of neo-colonialism. (2) US citizens revolt and change the expansionary logic of their economy.
Stephen Gowans is the author of Israel, A Beachhead in the Middle East: From European Colony to US Power Projection Platform (2019); Patriots, Traitors, and Empires: The Story of Korea's Fight for Freedom (2018); and Washington's Long War on Syria (2017). All are published by Baraka Books, Montreal.
When the CIA chief, now Secretary of State, Pompeo came to North Korea on May 10 to prepare further negotiations, the North Korean side warned that Washington was wrong in its thinking:
Once they arrived, Pompeo met for about an hour with Kim Yong Chol, discussing the Trump-Kim summit and Pompeo's schedule, before Kim hosted a luncheon on the hotel's 39th floor, where he formally welcomed the Americans.
...
Kim then told the Americans that "we have perfected our nuclear capability," adding that "this [meeting] is not the result of sanctions that have been imposed from outside."
One condition North Korea had asked for at the beginning of the negotiation cycle was a freeze of 'strategic' military exercises by South Korea and the U.S. in exchange for a freeze of nuclear and missile tests by North Korea. This was understood by both sides. The condition had held for a while but a few days ago the U.S. and South Korea announced a new exercise:
SEOUL, May 10 (Yonhap) -- South Korea and the United States will begin massive combined air force drills this week, officials here said Thursday, in an apparent move to strengthen their hand ahead of denuclearization talks with North Korea.
The two-week Max Thunder exercise will begin on Friday, involving some 100 warplanes, including eight F-22 radar-evading fighters as well as an unspecified number of B-52 bombers and F-15K jets, the officials said.
It is the first time that the allies have decided to deploy eight F-22 jets to a combined exercise. Observers said the planned show of formidable air power appears aimed at further pressuring the North to give up its nuclear ambitions.
F-22 stealth fighter and B-52 are nuclear capable and thus strategic assets. Incorporating them in an exercise breaks the previous understanding. In response to the exercise North Korea canceled high level talks with South Korea:
The North's Korean Central News Agency said the Max Thunder drills between the South Korean and U.S. air forces are a rehearsal for invasion of the North and a provocation amid warming inter-Korean ties.
...
"This exercise targeting us, which is being carried out across South Korea, is a flagrant challenge to the Panmunjom Declaration and an intentional military provocation running counter to the positive political development on the Korean Peninsula," the KCNA report said. "The United States will also have to undertake careful deliberations about the fate of the planned North Korea-U.S. summit in light of this provocative military ruckus jointly conducted with the South Korean authorities."
The Washington Post published a half-truth story today about the U.S. occupied al-Tanf border station between Syria-and Iraq. Downplaying the possibility of military action around al-Tanf it inserts this strange nugget:
Mattis's main focus of late has been preparing for possible conflict with North Korea.
Why is the Defense Secretary Mattis preparing for conflict with North Korea? Why is this his "main focus"? Ain't we all gonna have peace and love after Donald Trump and Kim Jong-un meet on June 12 in Singapore? No? Why am I not surprised?
I suspected all along that the whole theater between Trump and Kim Jong-un is a setup designed to fail. North Korea offers a phased denuclearization in exchange for a peace treaty and (partial?) U.S. withdrawal from South Korea. The U.S. is unlikely to accept that. For U.S. hawks nothing less than total capitulation is acceptable. But even if North Korea offers all its nukes at once the U.S. will demand more. It will likely ask for intrusive verification access to all North Korean military facilities and the like.  North Korea will surely reject such inspections as a danger to its defense capabilities and as a breach of its sovereignty. The Trump administration will spin that into a reason to heat up the conflict.
That would be a replay of the situation in 2008. Following the six-party-talks North Korea blew up (vid) the cooling tower of its sole reactor. It submitted information about its nuclear program as had been agreed. The U.S. did not fulfill its part of the deal, taking North Korea off the "terrorist supporter" list, but demanded additional verification access. That ended the deal.
An America that has adopted a Shakespearian theater as its political system, where all norms of civil conversation have long been thrown out the window, where venomous gossip and backstabbing have become accepted social instruments. An America where anything goes as long as it sells. 
In an intriguing development, while Trump pleased the Washington Post, New York Times, CNN and MSNBC, his declared arch-enemies until the rockets flew, his own base turned on him. While the 'liberals' (what's in a word) cheered and smelled the blood, the right wing reminded the Donald that this is not what he was elected on – or for.
Can Trump afford to lose his base? Isn't the right wing supposed to be the side that calls for guns and bombs? It's unlikely that he can do without his base, it would weaken him a lot as the Lady Macbeths watch his every move looking for just that one opportunity, that one moment where his back is turned.
As for the right wing not being the bloodthirsty one, that is quite the shift. Not that it's a 180 on a dime, it has been coming for a while. It's not just interesting with regards to Trump, there are many war hawks who -will- see their support crumble too if or when they speak out for more boots in deserts. Maybe John McCain should consider changing parties?
So yeah, what does North Korea see? Should it be afraid? Will it have become more afraid? Kim Jong-Un will have watched for China's reaction, much more important to him that what the US does. And China has condemned the attack. It would do the same if America were to attack North Korea, and a lot stronger. Therefore Kim Jong-Un doesn't believe Washington will dare attack him.
An interesting line from Chinese state run newspaper Global Times illustrates how China sees the world, and the US in particular, at present: 
"A weak country has no diplomacy. As a hundred years have passed, China is no longer that [weak] China, but the world is still that world."
That is how China, and in its wake, North Korea, see America. And so does Russia. Americans may -and do- think that they are still no. 1, and the most powerful, economically, politically, militarily, but that's no longer what the rest of the world sees.
The isolated, hermit kingdom of the DPRK is shrouded in secrecy, It's nearly impossible to get any reliable information from behind the bamboo curtain. Nonetheless, every week, on T.V. and online, we are bombarded by the bizarre media-spectacle of North Korea. From nuclear apocalypse and prison camps to banned sarcasm and compulsory identical haircuts - any shred of information regarding North Korea becomes a viral media hit, regardless of how dubious the story is.
But that's all about to change.
Two Aussie boys decided to take matters into their own hands and go to North Korea to find out the truth for themselves. Join us as we look past the click-bait and unpack the forces behind the way our media represents the "Democratic People's Republic of North Korea".
A forum was held the day before the Foreign Minister's meeting on Security and Stability in Vancouver, at the University of British Columbia's Institute of Asian Research entitled "Getting North Korea Right:  Canadian Options and Roles".  This was a publicly held event with the "expert" "talking heads" of think-tanks. The moderator was an Asian International Relations expert, Dr. Paul Evans, who is now the head of the Institute of Asian Research.  The five speakers were Eric Walsh: Canadian Ambassador to the Republic of South Korea, Scott Snyder: Senior Fellow and Director of the Program on U.S.-Korea Policy, and New York Council of Foreign Relations, Kyung-Ae Park: Korea Foundation Chair, School of Public Policy and Global Affairs Director, and Canada-DPRK Knowledge Partnership Program, Brian Job:  Professor of Political Science, UBC, Brian Gold: Department of History and Classics, University of Alberta. All panel participants were to attend the following days' Foreign Ministers' Meeting on North Korea.
The events' speakers discussed Canada's role in mediating the "international community's" response to North Korea through sanctions, non-proliferation and diplomacy.  The stated goal of the pre-meeting was to have public discourse on the crisis in North Korea, a day in advance of the major international diplomatic event being held in Vancouver. The actual purpose of the pre-meeting was to soft sell the major military role that Canada plans to play in open sea interdiction to a Canadian audience on tightening sanctions on North Korea. This soft sell was necessary to back the hard sell for military action being made by Chrystia Freeland to 20 foreign ministers the following day.
Canadians mostly consider themselves non-militaristic, but as intelligence and military officials know around the world, the Canadian Navy are experts at interdictions at sea and are more preferred in interdiction than the U.S. Navy.  Canada has had much experience perfecting these capabilities in interdictions off the coast of Africa, as well and in the Persian Gulf during the two Gulf Wars.
Further, what most Canadians and perhaps the general population in the West do not know, is that Canada is an important partner in the NATO/NORAD and UN command and intelligence structures and does most of the top military coordination in exercises and operations between the nations of NATO currently exercising on the border with Russia, and especially in the Ukraine.  Most officers in the Canadian military are trained in a comprehensive way that allows them to operate in an integrated manner with US, UK, NATO, and U.N. forces around the globe. Throughout all U.S. global military actions, whether in the Gulf and Afghan wars, or currently all over the world, Canada's military and military intelligence, considered the best in the world, has worked hand in hand with the U.S. military in special operations and counter intelligence. 
Of the five speakers, the presentation by Scott A. Snyder of the NY Council on Foreign Relations was the most revealing of the actual intentions of the following days' conference organizers.  Snyder used the concept of a rheostat to describe the situation.  He said, China was holding the rheostat over North Korea, that the U.S. was holding the rheostat over China, and that the "International Community" was holding the rheostat over the U.S.  The significance of this is the acknowledgement that pressure on the U.S. is coming from the "collective" global community of extra-governmental, international, and non-national institutions and structures, including NGO's, civil society, and the international financial community. Canada, as the host nation for this Foreign Minister's meeting, is leading the "International Community", which means that Canada is one of the leading countries holding the rheostat over the U.S.
 It should be noted that the New York Council on Foreign Relations, where Snyder is a senior fellow, is an outgrowth of the British Liberal Imperialist Fabian Society. Its core thinkers over the last century, especially since WWII, created the unipolar doctrine of the "International Community" which Snyder references.  This "International Community" does not include, at its core, Asia, Africa, Latin America, Russia, now Turkey, and possibly France, and India; that is most of the world.  In other words, the "International Community" that Scott Snyder references is not international; nor are the Color Revolutions, the illegal invasions, and the sanctions that are being carried out in the name of the "International Community" International.  These actions are hybrid warfare designed to pressure or break apart countries from within, who may have the potential of working within the new "multipolar" world framework being promoted by Russia and China.  This "multipolar" framework is based on the New Paradigm, which is being introduced to the world economically by China via the Belt and Road Initiative (BRI.)
Snyder, in his presentation, said to expect pressure to be placed on North Korea, and suggested it be done as a "nut cracker" with the intention to split North Korea internally, especially its elite, in order to open the door for civil society groups (NGO's, Churches etc.) to come in under the guise of humanitarian assistance, and foment internal dissent, hand in hand with the brutal blockade and interdiction being organized by Chrystia Freeland at the Korean Security Conference the following day. Snyder also further elaborated on the need for "maximizing the thresholds of pressure" to bring North Korea to diplomacy, as a "calibrated scalpel, not a blunt instrument like a hammer."
It is quite clear that threats of provocation to what is becoming a rapidly growing nuclear-armed state, which is allied to another nuclear-armed state, have nothing to do with concerns about global security or human rights. China has already warned that their leadership will only pick sides in the conflict if the United States strikes first. A simple solution, therefore, would be for the US not to strike at all.
It is for these reasons that Donald Trump stated in 1999 that the US should negotiate with North Korea as a first resort. Now that he is in the nuclear-code hot seat with a decaying presidency on the verge of failure, he has changed his approach.
People sitting behind their computer screens claiming the US should have blown up North Korea a long time ago fail to realize that the US already did just that, as well as the fact that the US has specifically cultivated the conditions under which a state like North Korea would want to acquire nuclear weapons in the first place. These people also fail to realize that the US and South Korea simulate an invasion of North Korea every year and have also planned to simulate nuclear strikes, as well. In its regular joint exercises, the U.S. has even flown bombers low to the ground on the North-South border, dropping 2,000-pound (900 kilograms) bombs.
Who is provoking whom?
The reason the United States continues to raise tensions with Pyongyang and threaten a conflict is not out of a concern for the protection of her Japanese or South Korean allies, as one may initially be led to think. The United States in the region has a central objective that does not concern Kim Jong-un or his nuclear weapons. Rather, it is driven by the perennial necessity to increase forces in the region for the purposes of maintaining a balance of military force (Asian Pivot) and ultimately trying to contain the rise of the People's Republic of China (PRC). One might even argue that this strategy poses dangers not only to the entire region but, in the case of a confrontation between Washington and Beijing, the entire planet, given the nuclear arsenal possessed by the United States and the People's Republic of China.
In this respect, the triangular relationship between China, North Korea and South Korea takes on another aspect. As always, every action is accompanied with a reaction. The statement that Beijing would prefer to get rid of the DPRK leadership is without foundation. Central in the minds of Chinese policy makers is the threat of a US containment that could undermine the country's economic growth. This strategic planning is well known in Pyongyang, and explains in part why the DPRK leadership still proceeds with actions that are not viewed well by Beijing. From the North Korean point of view, Beijing derives an advantage from sharing a border with the DPRK, which offers a friendly leadership not hostile to Beijing. Pyongyang is aware of the economic, political, and military burden of this situation, but tolerates it, receiving the necessary resources from Beijing to survive and develop the country.
This complex relationship leads the DPRK to carry out missile tests in the hope of gaining many benefits. First of all, it hopes to gain a regional, and possibly a global, deterrence against any surprise attacks. Secondly, it forces South Korea to have a symmetrical response to DPRK missile tests, and this strategy, coming from North Korea diplomacy, is far from improvised or incongruous. In recent years, South Korea's response has come in the form of the Terminal High Altitude Area Defense (THAAD) system, designed to intercept missiles. As repeatedly explained, it is useless against North Korean rockets, but poses a serious threat to the Chinese nuclear arsenal, as its powerful radars are able to scout much of China's territory, also being ideally positioned to intercept (at least in theory) a responsive nuclear strike from China. In a nutshell, THAAD is a deadly threat to China's strategic nuclear parity.
The Chinese have made it very clear what they want to see in the Korean Peninsula: total denuclearisation, with North Korea giving up its nuclear weapons and ballistic missiles and the US withdrawing all its troops from the Korean Peninsula, and with North Korea establishing diplomatic relations with South Korea and the US and reforming its economy and political system on Chinese lines.  The Chinese are no doubt confident that were that to happen the two Koreas – North and South – would be drawn into China's orbit, and would become for China an important economic partner and a counter-balance to Japan.
In order to achieve this the Chinese will exert pressure on North Korea – including by way of sanctions imposed via the UN Security Council, though they adamantly oppose sanctions imposed unilaterally – but they will act decisively to stop any attempt to overthrow North Korea's government.
This is a difficult policy to implement given North Korean attitudes to China, if only because it creates a standing temptation to North Korea's leaders to increase tensions with the US in order to obtain greater support from China.  A wise US policy would understand this, and would see that responding to North Korean actions by increasing tensions further will only increase China's support for North Korea, which is exactly what North Korea wants.
A much wiser policy – indeed in the context of the regional tensions in the Korean Peninsula the only wise one – is to work with the Chinese to achieve the broad settlement of the conflict in the Korean Peninsula that the Chinese want and which is also in the US interest.  That means doing what the Chinese suggest, which is talking to Pyongyang.
Even without atomic weapons North Korea has the means to wreak devastation upon South Korea and other nations in the region such as Japan. It has not done so for the very good reason that any such conduct would invite instant and massive retaliation. As obnoxious and difficult as the present North Korean regime may be, they are neither stupid nor suicidal.
It should be obvious that the only solution likely to work is a diplomatic one. Following a joint meeting in Moscow earlier this month, Presidents Putin and Xi proposed a "joint freeze" solution under which North Korea would cease its nuclear and ballistic missile testing in exchange for a cessation of conventional military exercises by the US and South Korea. This would be followed by the resumption of multilateral talks involving China, Japan, North and South Korea, Russia and the United States. Both China and Russia had previously imposed sanctions on North Korea and worked together in recent months to co-ordinate their approach to North Korea. Whilst avoiding a general condemnation of the North Korean regime, they have sought to emphasize that a defusing of the crisis is in North Korea's economic and political self-interest. That the Americans should immediately reject even those modest proposals for a negotiated settlement should not be surprising. It is entirely consistent with the historical pattern of conduct outlined above, where what commitments the US did enter into were immediately undermined by its own behaviour.
It cannot be in anybody's interest to have an outbreak of war. Unless there is a fundamental change in policy and approach, particularly but not only by the United States, a war seems more likely than not. All parties should seize upon the Russian and Chinese initiative as the representing the best opportunity of avoiding such an outcome.