Multiple people have sent me the same story, on various blogs, in the last 48 hours. Just released medical studies show that mRNA COVID "vaccines" teach the human immune system to ignore and tolerate coronavirus-spike-protein, and also cancer-cells.
 We have multiple kinds of immunoglobulins ("antibodies") that we make to help us maintain health.
IgM is the rapid-response immunoglobulin, like EMS.
IgG comes in just before 2 weeks, and is the long-term learned antibody response. There are 4 kinds of IgG examined here, IgG1-4.
IgG 1-3 antibodies bind to foreign proteins, like viral membranes, coat them, prevent them from working, and prepare them to be chewed-up by certain types of white blood cells. 
IgG4 is different, a tolerance-antibody, which tags a thing in the body as "Don't-Destroy".
IgG4 responses are appropriate when the body is repeatedly exposed to non-harmful things like ragweed-pollen, which should not be ferociously attacked, because that causes more harm than ignoring them. When a person gets "Allergy Shots" of small amounts of what they are allergic to over a long time, and slowly increasing the amount, they are training this kind of immune response to ignore the allergen.
The Pfizer/Biontech mRNA product is what has been primarily tested, and it is assumed that the Moderna product, being so very similar, has the same effect of inducing IgG4 antibodies to the spike-protein of SARS-CoV2, as well as IgG3 antibodies, "blocking antibodies" early-on. The graphs show that after the first and second shot, the blocking antibodies increase and predominate, but as the months go by, following the second shot, the IgG3 blocking antibodies wane, and the IgG4 tolerance-antibodies increase. 
This is the same time frame that we have seen for the transition from "vaccines" inhibiting the coronavirus initially, but seeming to make infection with the coronavirus more-likely after 5-6 months. The world is now 3 years into this pandemic, and should be over it for the most part, but cases of infection are increasing across the world, notably in the more "vaccinated" countries and cities. The coronavirus levels in city sewage are the highest that they have ever been. in highly-"vaccinated" cities.
After a third "booster" injection of mRNA "vaccine", there is essentially no measurable IgG3, just high levels of IgG4. The immune system has been taught to ignore the SARS-CoV2 spike protein from January 2020. There is more to the virus than the 20% which is the spike-protein. People who caught COVID before getting mRNA "vaccine products" will still have their natural antibodies to the other 80% of the virus, but those who were mRNA "vaccinated" first, will probably have little to no antibodies other than those induced by the injection. Most of the human population has a gaping hole, the very same gaping hole in its immunologic defenses. 
Igor s Newsletter - Booster-Caused IgG4 Immune Tolerance Explains Excess Mortality and "Chronic Covid"
The world is therefore extremely susceptible to an infection which will breach that hole in the defenses of the "vaccinated". An engineered military coronavirus could be designed specifically to exploit that vulnerability, but coronaviruses will naturally mutate to whatever works, and exploit it without laboratory assistance. The current strains of coronavirus in circulation are very contagious, especially to the "vaccinated" and "boosted", but not often fatal, since they do not bind to ACE-2 receptors in the lungs and blood-vessels, as the pre-Omicron strains all did. The Omicron and later strains bind to the upper airways, like a "normal cold".
Arkmedic's blog - Two papers have appeared in quick succession that just need to be put together
Unacceptable Jessica - The immunological mechanism of action for lost immunity, a shift to tolerance and autoimmunity from the shots
Alex Berenson - Do Covid mRNA vaccines damage our ability to control the coronavirus after a booster shot?
The same NK-cells ("natural killer cells") that destroy viral-infected-human-cells also destroy mutated cells which become cancers if they multiply unchecked.
The suppression of this cancer-surveillance function leads to rapid growth of existing cancers. This is seen with people who have been undergoing treatment for cancer, and suddenly worsen after "vaccination" and "boosting". It would also allow new cancers to develop from mutated cells, which would take a little longer to notice, but would present as "suddenly developed cancer". This is happening, too. I recently posted this story below.
Academic Medical Oncologist Angus Dalgleish in the UK has been trying to get government agencies to evaluate the sudden rash of cancer recurrences, new diagnoses and deaths among the "vaccinated". Other cancer specialists agree with me about vaccine harm, but the authorities still won't listen
To summarize the timeline of adverse events we can say that some people get severe reactions like anaphylaxis and heart-inflammation quickly, which may kill them within hours to days. Other clotting disorders may kill them from bleeding, perhaps into their brains, within the first 2-4 weeks following the first or second injection. Production of large blood clots that block the lungs, major arteries, coronary arteries, or arteries feeding the brain, eyes or other vital organs may cause severe disability or death. Autoimmune disease, caused by similarities between parts of the spike protein, and normal proteins in the body, can cause chronic inflammation of organs like the liver and heart. Spike-protein in the bloodstream can cross into the brain, and cause it to be inflamed from autoimmune disease.
The function of the mRNA "vaccine products" is to get into human cells and induce them to produce and release January 2020 COVID spike-protein, which process continues for half a year, based upon spike-protein being found in the blood of "fully-vaccinated" 2-shot recipients at 6 months following the second injection. mRNA usually is degraded by enzymes in human cells after a few minutes, but the mRNA in these "vaccine products" has been modified so that it is not  ever broken down by those enzymes. 
What we see happening is analogous to the person getting "allergy shots" to become tolerant to pollen allergies. There is a long-term presence of January 2020 COVID spike-protein in the bodies of mRNA COVID "vaccine product" recipients. 
It stands to reason that this is what induces the IgG4 "tolerance antibody" response by the immune system. That has not yet been "proven", but it is a useful way to look at what has now been revealed, and it fits well with our understanding. It provides a working hypothesis, unless that hypothesis must later be revised for new information about the mechanisms of action of these experimental products in human immune systems.
Regrets:
Professor Shmuel Shapira, who headed the Israel Institute for Biological Research from 2013 to 2021, and led Israel's domestic coronavirus vaccine development program, has castigated the Health Ministry both over its push to impose lockdowns in 2020 and 2021, as well its support for the mass-vaccination campaign beginning in December 2020.
In a series of tweets, Professor Shapira criticized the Health Ministry for deeming Pfizer s mRNA vaccines safe and effective, and lamented having received three doses of the vaccine himself. "I am telling the unpleasant truth out the vaccine that is neither effective nor safe, " Shapira wrote. "I was wrong 3 times: In the first shot, in the second shot, and in the third shot."
Who said that those who are injected do not admit that they were wrong? People keep forgetting Israel was volunteered as the Lab of the World. There was hardly any data but very brief and minimal size clinical studies.
Global Disaster. Govt. Database Shows 10,000% Increase In Cancer Reports Due To Covid Vaccines. The damage caused by the coronavirus and the halting of studies in Israel (second place in the world) reveal a wave of problems in reading comprehension. So we will explain to you slowly and in easy Hebrew. _Hello First Grade: Those who are opponents and victims of injecting what is ineffective and unsafe are not opponents of vaccines, and certainly not vaccine deniers.
Jessica Rose Ph.D. has more on the cover-up of deaths and adverse events from COVID "vaccination". Information, already released, is "disappeared". Unacceptable Jessica - The lost myocarditis, death, neuropathy and pulmonary embolism safety signals as part of the free text purge from the VAERS Foreign data set
Questions about fertility issues, stillbirths, and neonatal deaths began to be raised last winter when Scotland experienced a month of higher infant mortality than at any time over the past three decades. Then in the spring of 2022, roughly nine months after most young adults were jabbed with the COVID shots, COVID data analysts began noticing unusual drops in birth rates. The hope was that these numbers were just short-term aberrations due to some unknown transient cause. But months later, the evidence is growing too strong to ignore, suggesting a much longer-term problem, which bizarrely has garnered little concern from policymakers, governments, the medical establishment, or the media. It ranks alongside died suddenly both in terms of its magnitude to humanity and the shocking degree of silence in response.
In fact, some media outlets were even celebrating the low birth rates without expressing any curiosity as to the sudden cause.
Sweden is a perfect country to study because it never locked down and should not have been affected socially by the lockdowns. Yet not only did the Swedes experience a sharp decline in births nine months after their vaccination program, the numbers are further deteriorating over time.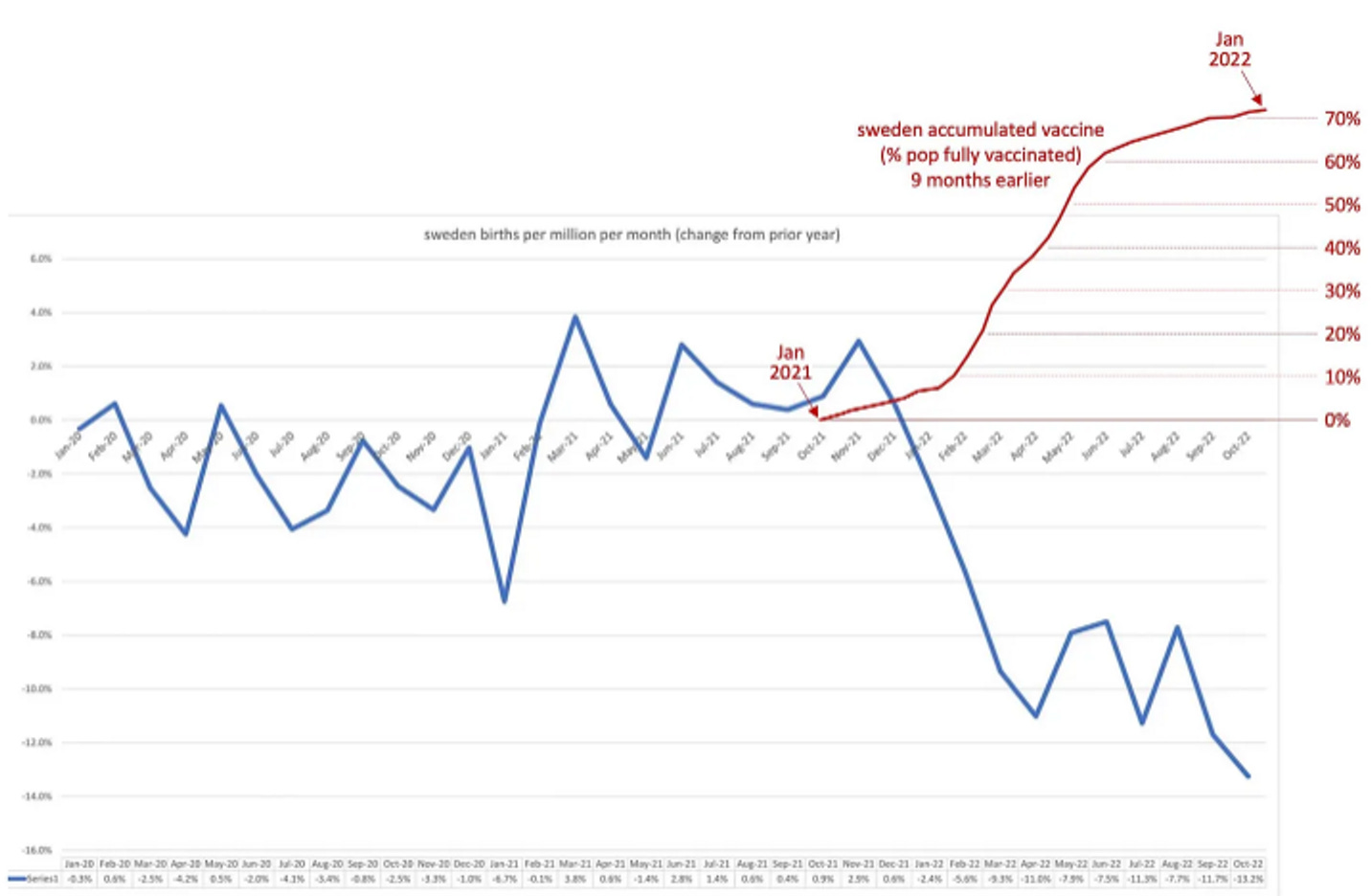 Furthermore, any hypothesis as to the cause of the plummeting birth rates would also have to logically account for the rise in neonatal deaths. For example, lockdowns would not explain why the babies being born are experiencing more health problems. The spike protein embedded in the babies blood, however, would.
Israeli researcher Josh Guetzkow obtained neonatal death data from Israeli health insurance fund Maccabi, which covers 25% of Israelis. He found a tripling of neonatal deaths in two of the quarters post-vaccination.
What if the  world is "sane" but the owners want to quietly kill half of us? In a sane world, the makers of these therapies would be behind bars, but instead they are getting a promotion to concoct even more products with this same dangerous technology.
Typically, failure of a corporate partner is an impetus for a government to break the partnership. In the case of vaccines, however, the more they fail, the more they are elevated, subsidized, and even mandated. Unless their definition of failure is the opposite of how humanity would define it.
Our resident physician John Day in Texas comes with an update on his situation. It seems his clinic no longer seeks to fire him for refusing to be vaccinated, they now claim it's for cause (it's not). A doctor who has been free to decide medical treatments for and with his patients for many years, all of a sudden cannot decide that for his own body.
And of course it's not just America, and it's not just doctors, it's also pilots and nurses and soldiers and police men and women, and vaccine mandates are being introduced in many countries. That will deprive many fields in our societies of their leaders, and leave them occupied by followers only.
People who think for themselves, and wish to decide for themselves (as is their right), are being put out by the curb, and by the thousands. The resulting changes in society will be devastating. Losing all those years of experience and wisdom and kindness and intelligence will make us all a lot poorer. And why? It's obviously not about logic, and it's not about health. John:
---
John Day MD: Precariously Supported,
Yesterday was an odd day in several aspects. I had worked a long Friday at the clinic again, which did not go badly. I left nothing unfinished. We drove to the Yoakum homestead Friday night and got a good night of sleep.
Somehow, I felt very heavy and slow on Saturday and Sunday, so I trudged through three to four hours of pushing the little Honda mower, and did work in the garden, but ploddingly. I planted garlic for the winter/spring season, and tended the garden.
I continued to feel a weight of unease, and as we started the drive back to Austin, Sunday afternoon, I had a sense that I should really buy winter veggies to put in at the clinic garden, which I started in 2016, and tend for my coworkers. Putting things off until the end of the month, in my last two weeks of work there, seemed awkward.
We picked up a lot of winter greens and salad starts in little pots on our way into Austin, some for our Austin kitchen garden, but most for the clinic garden. I did a last harvest of the blackeyed pea row, then cut down the vines, and took them to some chickens that a friend of Jenny's raises.
Yesterday (Monday) morning I worked in our kitchen garden again, preparing the beds for fall and winter, cleaning up the summer debris, and also planting an orange seedling in the bed in front of the house, where the February freeze had killed the one fruitful tree.
After eating, I went over to the clinic with an orange seedling, to replace the two that the February freeze had killed, and all of the winter salad and cooking-green seedlings to fill a couple of rows. I went through the entrance, put on a mask, and went through to the garden in the break area, with shovels and clippers, saying "hi" to a few people and smiling with my eyes. I went out through the garden gate, and brought in the orange tree, then the veggie starts.
The orange tree needed to go in the large bed, which has a Mexican avocado seedling tree, and a banana plant that actually survived February. Mainly it has a lot of sweet potatoes. It's a fairly large bed, and this has been a very good year for sweet potatoes. I filled the three gallon bucket that the tree was in with sweet potatoes, from just a few square feet that I cleared and dug up, before planting it, maybe one percent of that bed.
While I was digging up the sweet potatoes and digging the hole to put the orange tree in, my flip phone rang. I figured it was Jenny. I brushed some of the dirt off my hands and answered it. It was the nice and very well-mannered youngish man, who is currently Director of Human Resources, telling me that my last day of work had been changed from the last Friday of October to the Friday just passed, which was different from what I had been told last week, when the reason for my firing was changed from vaccine-mandate non-compliance, to all of the wrongs I have committed in the period of time since that mandate was announced.
It was a lousy spot for him to be put in, and he seemed uncomfortable having to put it into polite words. He had been trying to call me while I was working on our home garden, but I had not been carrying the phone. I told him that I was at the clinic garden, putting in some things for winter, and that he could talk to me in person. My presence in the garden was unanticipated, though I have worked on my day off frequently in the past couple of months.
We talked as I planted the orange tree and put the big sweet potatoes in the pot, handing it over to a couple of nurses taking their lunch. They had helped dig sweet potatoes last year, and I knew they wanted some. He politely explained that I was not to re-enter the building, and that my desk would be cleared out and boxed for me. The explanation was so polite that I sought clarification. I did negotiate that I could pick up a few notes at my desk with his presence and supervision, which we then did. My badge didn't let me in this time. He had to use his. As we walked through the clinic to my desk, most people had their eyes down. A few coworkers looked me in the eyes, and I smiled with my eyes. I was comfortable in myself, and emanated that (I think).
We grabbed a few boxes and made short work of the packing-up. I got everything, and we carried the three boxes to my little twenty four year old Ford Ranger pickup truck together. We went back to the garden and break-area through the gate, He thought it best that I just leave without planting the vegetables, but I prevailed upon him to keep his agreement to let me clean out the rows and do the planting.
He actually had a fair number of gardening questions, which I answered as I cleared the rows and planted for winter. I worked expeditiously, taking about twenty to thirty minutes, as I explained the quality of the soil, and how building soil is one of the main objectives in successful gardening. If you don't have enough garden to out produce what the squirrels, birds and other critters can eat, they will eat it all. You need a big enough garden patch.
We walked back to the truck with shovels and clippers, talking about what's next. The clinic will still pay me for these last two weeks of October, but my patients who are scheduled will not get to see me for a last visit. I have been doing everything possible to avoid leaving loose ends, and to write thorough chart notes, so it will be easy for the next doctor. I have tried to make suggestions for which doctor or practitioner might best match the needs and personality of each patient. I passed my list to give to the Director of Adult Medicine, who has been working hard and well on this transition. It's not a complete list…
I am left to wonder why the clinic took surprise action to remove me from patient-care, while still paying my salary for two weeks. I suspect there was free-floating anxiety about what I might say or do. I had been informing people of the actual circumstances of my leaving, being fired for non-compliance with mandatory vaccination. The management has been consulting with attorneys the whole time, and somebody else is contesting her firing for non-compliance with that mandate, I am told. Governor Abbott did say that vaccine mandates are not tolerable in Texas, Monday of last week. I suspect that my being fired-for-cause, other than non-compliance with COVID vaccination might be more plausible when the date of my firing is moved forward from the prior date of my termination for non-compliance
I do not intend to contest my firing through recourse to the law. The only law I am really, currently concerned with is the Law of Karma, and I am very concerned with that law. I am constantly aware of the implications of Karma as we wade further into this rip-tide of history.
Human Horticulturist